The first storm of the year hit "Ali" that hit the U.K. over the past week bringing high winds and heavy rainfall. Metro Rod Mid Wales and Shropshire have been inundated with calls of broken and overflowing Gutters. On this occasion we were called to a JD Wetherspoons site the Black Boy in Newtown. The complaint was for broken Guttering and water overflowing the Gutters onto the street and rear carparks. The engineer arrived and straight away noticed that all the down spouts for the guttering were blocked. The water was flowing over the tops of the Guttering on to passers by. We sent another engineer with our Metro Vac unit to help the engineer clear the issue. Our state of the art Metro Vac system enables us to reach heights without ladders making it a much safer option for the customer. It also has a camera attached on the vacuum spout which gives us a crystal clear Picture of the Gutter. Having these pictures gives the engineer an easy view of what blocking or what needs to be removed. It also gives the customer clear evidence that the gutters are now clear and have been cleaned giving customer satisfaction.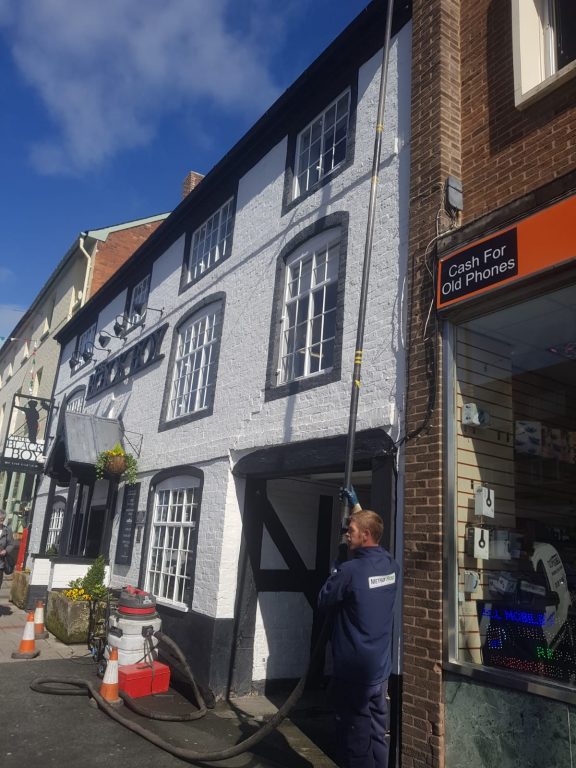 Our engineer Gary hard at work cleaning Gutters with the Metro Vac System.
We managed to clear all the Guttering and the customer was more than happy with the outcome. If you are having any problems with your guttering don't hesitate to call us on 01938554050 and we will endeavour to assist you with any issue.