We are fully committed to servicing all customers in the current circumstances. Our engineers are working hard 24/7 to support all domestic and commercial customers.
Welcome back to our series of articles giving a more in depth look at your drains. This week we're sticking with the theme of surface water drainage to take a look at soakaways.
When rain falls onto your roof it drains into the gutters, into the downpipes and then where? Most people don't know what happens after the downpipe stage but the chances are the water will be directed to a soakaway. A soakaway is essentially a means of collecting water at a certain point underground where it can the 'soak away' into the surrounding earth in a reasonably controlled way. It can be something as simple as a hole filled with rubble and coarse stones, to a specially designed 'soakaway crate' which is a plastic structure that performs the same functions. The advantages of using the crate is it is easier to construct a specific sized soakaway for building regulations purposes and it is generally quicker to install. The advantage of using rubble and coarse stone in your soakaway is it should be very cheap!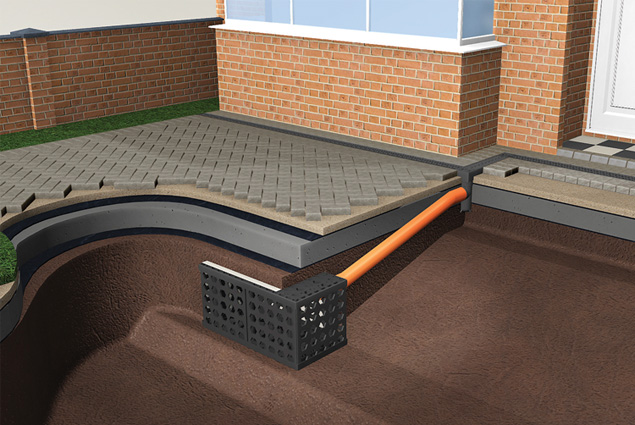 Soakaways are considered to be a very eco-friendly approach to surface water drainage. This is because it uses few materials and also it deals with the surface water on or close to the area where it fell. This means less water entering the general drainage and sewer systems which puts less wear on those systems, and also prevents water being transported and treated through foul water systems needlessly, and also the surface water is less likely to become polluted before it returns to the ground.
There are regulations around soakaways and their installations. Usually they need to be at least 5m away from your building and 2.5m away from any boundary. It's also important to check the area around the soakaway. Ground with lots of clay will stop the collected water from dispersing into the ground and will lead to water logging and pooling on the surface above the soakaway.
Although soakaways are pretty simple as far as drainage goes they still need to be looked after and maintained to stay effective. As with all drains roots are the enemy of soakaways! Roots from vegetation can get into the soakaway itself and clog it up, meaning water isn't able to filter into it and causing flowing and water logging so it's important to keep vegetation and trees away from the vicinity of the soakaway. Also over time a soakaway can silt up and so stop being effective, once this happens the soakaway needs to be excavated for access and jet vacced to remove the silt and restore it's capacity.
Here at Metro Rod Birmingham we can excavate, repair and replace your soakaways should they become blocked or otherwise ineffective. From smaller domestic installations to larger commercial grade soakaways we are your number one choice for fixing your drainage issues, call us today for a free site assessment on 0121 776 8838.
Connect with us on Linked In – CLICK HERE
Like us on Facebook – CLICK HERE
Follow us on Twitter – CLICK HERE