We are fully committed to servicing all customers in the current circumstances. Our engineers are working hard 24/7 to support all domestic and commercial customers.
Drain mapping, also known as asset mapping, uses GPS technology to accurately plot the location and layout of your drainage system and its key features. A drain map also identifies the size, depth, directional flow and access point of each pipe.
Why is Drain Mapping Important?
A drain mapping survey is an important tool that's used throughout a wide range of industries. Without an in-depth drain survey, several problems could occur during your building project or you may realise you're not fully prepared to deal with flooding and other hazards if they arise.
Building Projects
If you're planning a new building project, a drain map is essential. In many cases, drain mapping is also required to secure planning permission and avoid any unwanted delays in the project later on. Without a drain mapping survey in place, you won't know the size and layout of all assets within the drainage system and run the risk of damaging your drains during the project. Existing damage in the system may also go unnoticed, which can be costly to fix further down the line.
Flood Risk and Environmental Planning
A drain mapping survey is also needed to prepare flood risk management plans and when working with chemicals or trade effluent to help you mitigate the risk of any spills or cross contamination. For example, by knowing the entire infrastructure of your drainage system, you can develop a plan to respond to a fire, flooding, chemical spill, or any other emergency as quickly as possible.
Companies that discharge trade effluent into a public sewer due to their business practices, such as food, drink or chemical manufacturers, have a legal and environmental requirement to know where their trade effluent discharges and ensure their drainage system is in good condition.
Failing to check and maintain your drains regularly can lead to blockages or burst pipes. If this happens, there's the risk of flooding or worse, cross contaminating the water supply if there's a chemical spill or a backflow of sewage water from a blockage. Also, many regulated commercial sites such as COMAH (Control of Major Accident Hazards) or EPR (Environmental Permitting Regulations) require drain mapping as part of their compliance.
What Happens in a Drain Mapping Survey?  
To perform a thorough asset mapping survey, a cutting-edge GPS system is used. This works by using OSGM15 coordinates and a GPS signal to plot the assets and provide accuracy up to 2cm. After setting up the drain mapping equipment, a Metro Rod drainage engineer will start by using GPS technology to plot the exact location of different drainage features. These include manholes, gullies, and drain pipes. The engineer will also use the drain mapping survey to identify whether the drains are foul or surface water drains and their directional flow.
Whilst on-site, a CCTV Drain Survey could also be carried out to check the condition of the drains and identify the need for any repairs.
What is Included in the Survey Report?
Once the data from the drain map has been collected, an in-depth report is provided. The information within the report consists of four key components: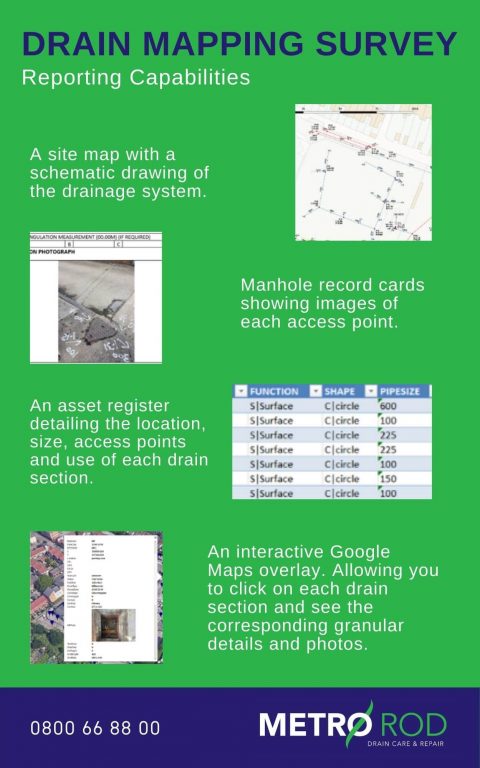 How Metro Rod Can Help
An assett mapping survey is essential when planning a building project, managing the risk of floods, reducing the likelihood of environmental hazards, and ensuring your business complies with current regulations.
At Metro Rod, we are specialists in drain and asset mapping. All our engineers have the knowledge and technical expertise to fully understand your requirements and provide you with an expert drain mapping service, along with advice on maintaining your drainage system and recommending solutions to prevent disruption in your business.
If you're reviewing your risk management plans or starting a new building project and require a drain mapping survey, contact your local Metro Rod depot or call us on 0800 66 8800.