We are fully committed to servicing all customers in the current circumstances. Our engineers are working hard 24/7 to support all domestic and commercial customers.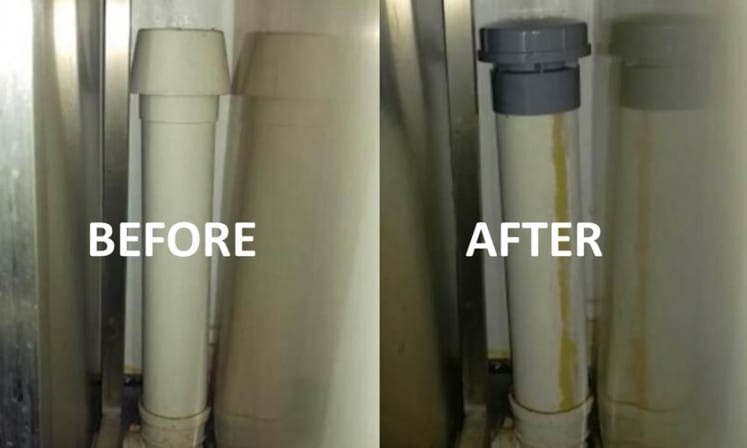 A pub in Aylesbury called us and asked that we come out to explore a bad smell in their kitchen. Our engineer, Mark, was sent to the pub to investigate. He checked the area for manholes and pipework and found that there were no blockages causing any smells. He deduced that the reason for the bad smells was a Durgo valve on some pipework behind the sink.
The purpose of a Durgo (or Air Admittance) Valve is twofold; they are positioned above a waste trap to allow air to flow in to prevent a vacuum from obstructing water flow in the pipe and they also prevent smells from escaping. In this case, it was clear that the valve was not working as it was supposed to.
To fit in with the pubs' schedule we worked out the best time for us to return to replace the valve. Seb was the engineer who carried out this work and he returned the next day at a time when the kitchen would not be too busy so that we would not disrupt their work. The old valve had been affixed to the pipe using the solvent weld method, which requires an application of an adhesive that melds the two sections of PVC together, bonding them inextricably together. This meant that Seb needed to cut the section of pipe that was welded to the valve, which was what he did first. Afterwards, he used the same method of using solvent glue to fix the new valve onto the pipe and the job was done.
Seb kept the manager informed during his visit, which he was grateful for. We received some great feedback from him as he ranked us as 5/5 for the quality of the work and the conduct of our engineer, as well as praising our "clear communication."