Metro Rod celebrate 2 years with Franchise Brands Plc
Metro Rod Northampton is pleased to be part of the franchise brand Metro Rod who has now been trading for 35 years and was acquired by Franchise Brands Plc in April 2017.
Founded in 1983,  they expanded their services offering with the launch of Metro Plumb in 2016. It is a leading provider of drain clearance and maintenance service to the commercial market.
They now have 40 drainage franchises throughout most of the UK and serves national businesses across multiple sectors including facilities management, retail, water utilities, social housing, hospitality, and insurance, as well as local businesses and other customers in the private and public sectors. The franchises help to service these businesses in their local region on a 24/7/365 basis with the help of the central support centre, and we at Metro Rod Northampton is pleased to be part of this franchise covering Northamptonshire.
The companies strategy is focused on at First-Class Customer Experience, Metro Rod Northampton follows this strategy with the help and support from Metro Rod who provides training and development to our staff.
Franchise Brands Plc has four principal brands and Metro Rod are 51% of this split.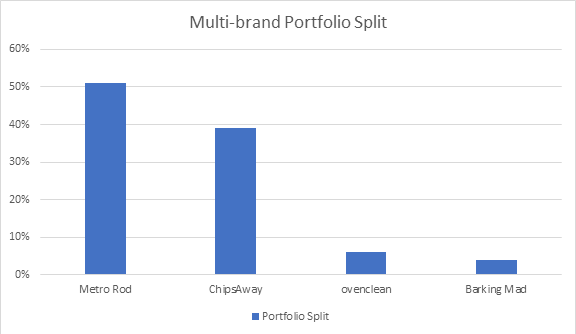 Read more about Metro Rod's history