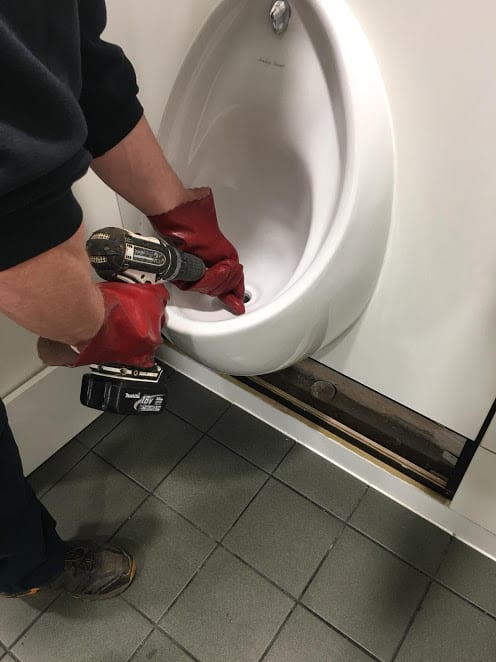 Metro Rod Guildford are not just about unblocking drains or resolving an issue with a blocked toilet. Whilst these services are everyday occurrences for our skilled and trained engineers we also provide maintenance services  which ensure our customers' drainage issues are solved before they have even noticed them.
In this picture we are using an Electro Mechanical Cleaning (EMC) machine to keep pipework free of uric scale in high-usage office toilet facilities. Scale. which is essentially deposit of salt crystals, can quickly build up and cause blockages in small bore pipework if left unchecked and our pre-planned maintenance services ensure that our many commercial customers are undistracted by any such drainage problems.
Metro Rod Guildford are proud to serve all our customers, whether householders, local businesses or household name "blue-chip" companies. Whether you have a single blocked drain or require help with a CCTV survey,drain repair or drainage installation we can help. Based in Guildford we also serve customers in Basingstoke, Woking, Aldershot, Farnborough, Camberley and surrounding areas.
As part of the network of Metro Rod Local Service Centres we are available 24/7/365 and will deliver a safe, professional and honest service day or night.