We are fully committed to servicing all customers in the current circumstances. Our engineers are working hard 24/7 to support all domestic and commercial customers.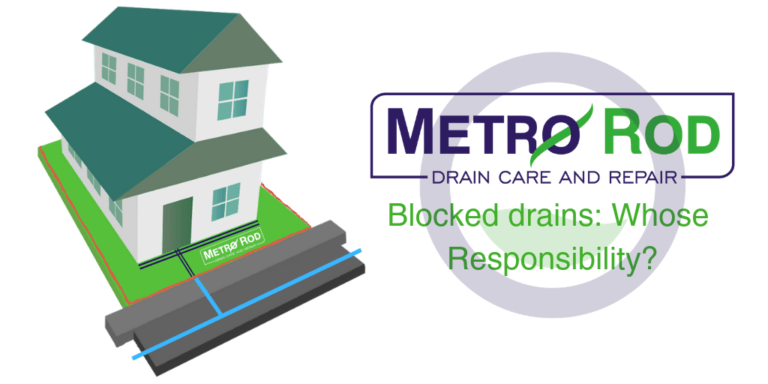 A blocked drain, blocked toilet or other drainage issue presents you with a real problem and at Metro Rod Reading we understand that you want the situation resolving quickly and efficiently. Our team of drainage engineers are on hand 24/7/365 unblocking drains in Reading and all surrounding areas such as Caversham, Woodley, Earley, Tilehurst, Newbury, Henley and Marlow.
A common problems that business and property owners face when deciding how to respond to a drainage problem is the fact that responsibility for fixing leaks and blockages varies depending on where the problem arises.
It's therefore vital that as businesses and residents of the Reading area you understand which parts of your property's drainage system you are responsible for:
A business/property owner is responsible for all pipes, gutters and drains in and around their building, including drains leading up to the boundary at the property's edge. Also any pipes leading to a private septic tank or cess pit. If you have a blockage, flooding or structural drain defect there, it's up to you to put it right. In this circumstance call Metro Rod Reading on o118 950 4477 and we will be happy to send one of our trained and fully equipped drainage engineers to provide a prompt, safe and value for money solution for you.
The local water and sewerage company (Thames Water in the Reading area) is responsible for the public sewers carrying sewage and rain water from your property's boundary local wastewater treatment works. Shared drains where several properties' drains meet before joining the public sewer are also their responsibility to maintain and the diagram below helps to explain this by showing responsibilities in an example involving a row of houses (in this instance the water Company is identified as Southern Water). Note the shared drain in the garden of the second property from the right. If both these adjoining properties are experiencing issues then it is highly likely that a shared drain is involved and the Water Company should be your first call.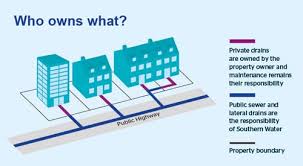 The local authority (council) is responsible for road drainage and kerbside  gullies which drain surface water from the highway, as well as for the drains in council-managed properties. Any flooding or bad smells from this source should therefore be initially addressed by contacting your local council.
Efficient handling of problems with drains should be a top priority for any business, as a failure to do so can result in business interruption with key facilities breaking down and loss of revenue resulting. Drainage issues can even lead to a flooding, pollution incident and / or sewage spills with the commercial costs of putting this right compounded by the regulatory penalties that  businesses can accrue if authorities find out that they are not following the established guidelines for disposal of wastewater in an environmentally correct manner. There are many examples of businesses facing severe financial penalties which could have been avoided by correct maintenance of their drainage systems.
Metro Rod Reading are the drainage experts. Whether your drainage problem is on a commercial site or residential property don't hesitate to contact us for help and advice with how to resolve your drainage issue. We will provide you with a safe, professional and honest service day or night.
We are always happy to offer Property Managers and Facilities Managers a free initial site assessment visit.
You can contact us by:
Calling us on 0118 950 4477
Going to www.metrorod.co.uk/local/reading/
Emailing us at [email protected]
Connecting with Andrew, our Managing Director on LinkedIn