We are fully committed to servicing all customers in the current circumstances. Our engineers are working hard 24/7 to support all domestic and commercial customers.
Blocked drain: Whose Responsibility?
Do you have a blocked toilet? Is your sink blocked? Do you need your drain cleaning? Blockages can be very persistent, and we know to figure out what the problem is, and how bad it has got is stressful, but who is responsible for clearing the blocked drains?
There are multiple factors that can determine whether a blocked drain is your responsibility and when it's not. Before taking any action, it is important to know whose responsibility it is to unblock drains.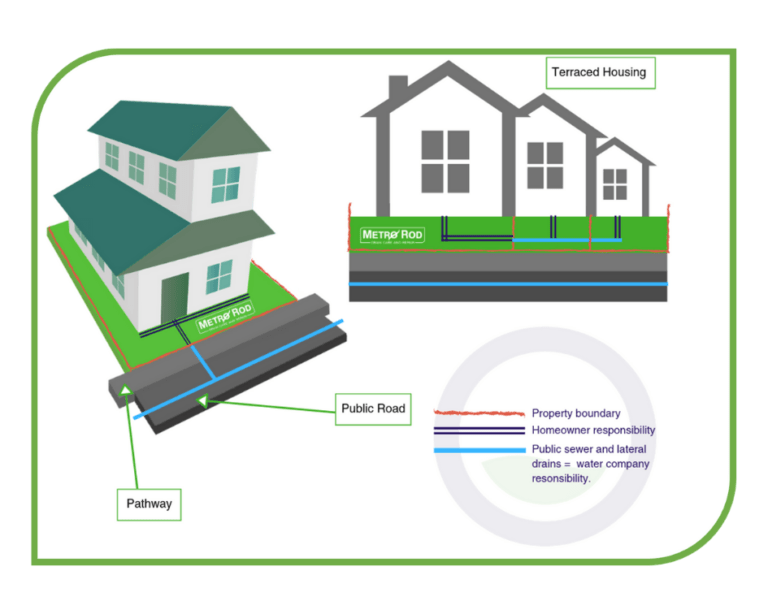 Where is the blocked drain located?
Typically the drains that are within your property boundary are your (the homeowners) responsibility. This includes any drains that take wastewater directly away from your home. If the blocked drain is located within this boundary, give Metro Rod West Yorkshire a call.
Homeowners are responsible for all general maintenance of drains connected to your home. Whether it is drain repair or the need to unblock drains, it's up to you to arrange a fix unless the drain blockage is in a lateral drain*. A blocked lateral drain will not be your responsibility to clear but your local water authorities.
*The lateral drain is part of your private drain that runs outside of your boundary.
Is the problem located in the sewer?
An inspection of the drain could find that the blocked drain does not lie in your property boundary but is a problem located in the sewer system and not your drain. Sewers are publicly owned and therefore maintained by your local water company. Sewers channel wastewater from your private drains (carrying water from your toilets, sinks, showers etc) and your neighbours.
If you find that your blocked drains are in fact blockages in the sewer system then this blockage is not your (the homeowners) responsibility.
Professional drain repair and blocked drain maintenance:
As a professional drainage company, Metro Rod has been unblocking and cleaning drains for over 36 years! Yes, 36 years, which means we have been able to perfect the way to unblock drains.
All our engineers are highly trained with a van equipped with the most up to date equipment to clear any blockage that presents itself to us. We have specialist electro-mechanical machines that negotiate pipework with multiple bends to remove wipes and clear the blockage leaving the pipe free flowing.
Metro Rod has a proactive and innovative approach to safety. From using handheld technology for carrying out point of work risk assessments to using 'no-dig' technology to minimise the risks associated with traditional excavation related works, we build safety into everything that we do.
This is then verified by external accreditation partners who look at the way in which we work, our systems and controls, and how well they are communicated and utilised in the field.
Metro Rod is very proud of our accreditations as an indication of the effectiveness of our safety arrangements.
View Our Certification
Construction Line
Safe Contractor
CHAS
Environment ISO 14001:2015
Quality ISO 9001:2015
H&S OHSAS 18001:2007
Achilles
Water Jetting Association

You can contact us to unblock drains and provide drain repair, toilet unblocking, gutter cleaning or drain clearing. We also provide PPMs (Pre-planned Maintenance), CCTV Surveys, septic tank management and emergency tanker services. If you are interested in drain repair or any of our other services, please see the areas Metro Rod West Yorkshire cover below:
| | | |
| --- | --- | --- |
| Bingley | Horbury | Pontefract |
| Birstall | Huddersfield | Pudsey |
| Bradford | Ilkley | Queensbury |
| Castleford | Keighley | Settle |
| Dewsbury | Knottingley | Shipley |
| Driglington | Leeds | Skelmanthorpe |
| Glasshoughton | Liversedge | Skipton |
| Guiseley | Meltham | Slaithwaite |
| Halifax | Menston | South Elmsall |
| Haworth | Mirfield | Tadcaster |
| Heckmondwike | Morley | Tingley |
| Hemsworth | Normanton | Wakefield |
| Holmfirth | Ossett | Wetherby |
| Honley | Otley | Yeadon |
Our team of engineers can provide solutions for any given drainage problem. If you require assistance and need to unblock your drain, then please contact Metro Rod West Yorkshire below;
Visit our website:
Metro Rod Leeds & Wakefield, Metro Rod Bradford & Huddersfield
Email us on [email protected]
Call us on 01484 844100.
Leave Us Some Feedback
At Metro Rod, we appreciate feedback from our customers so that we can continue to improve our services. If you have recently had drain repair or any other work carried out by Metro Rod West Yorkshire, please feel free to leave us a review on either the following: