We are fully committed to servicing all customers in the current circumstances. Our engineers are working hard 24/7 to support all domestic and commercial customers.
Drain Repair: Is drain damage covered by home insurance?
Toilet water rising? Will it not flush? You will notice blocked drains rather quickly. When your drains are damaged or blocked, we understand you want to get this fixed quickly and effectively. Is drain repair covered by your home insurance?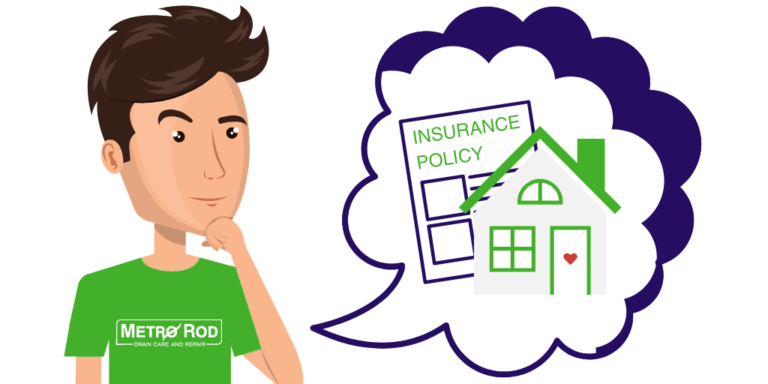 Don't let drain repair drain your pockets! What are you responsible for?
As of late 2011, the legal requirement for homeowners to maintain shared 'private' drains and blocked drains outside property boundaries changed, water companies are now responsible for such drain repair. Check out more here: Water and sewerage services – if you're in the Leeds, Bradford, Huddersfield and Bradford areas, Yorkshire Water would be the water company responsible.
You're responsible for your drains and your drains only! Check out our recent blog post in regards to who's responsible for what here: Blocked Drain: Whose responsibility? – if you're in the Leeds, Bradford, Huddersfield and Bradford areas, give us a call or drop us an email if you're in need of any advice.
Drain Repair and Home Insurance
Whether your drain repair is covered by your home insurance will, as you may expect, depends on the insurance company you use and the specific policy you have chosen. Generally, most policies will cover 'accidental damage' drain repair, however, we all know, insurance wording can be confusing and sometimes deceptive. This can then allow an insurance company to refuse to pay out due to a 'technicality'.
Corrosion, for example, is seen a natural deterioration and not 'accidental damage', therefore any drain repair will not be covered by the home insurance.
Any drain repair for collapsed or damaged drains caused by neglect or misuse will not be covered by your home insurance – this will be drain repair required to be paid for by yourself. An example of misuse would be flushing wet wipes or sanitary products down your toilet or allowing grease, oils or fats down the sink. The case behind most blocked drains and drain repair are fatbergs. A fatberg is a thick mass that can be found in your drains, formed by the combination of non-biodegradable solids such as wet wipes and cooking fat. For more information on this, check out: Unblock Drains: We rely on our pipes, don't flush your wipes!

Drain Maintenance – PPM'S (Pre-planned Maintenance) and CCTV Surveys
The maintenance of your drains on your property is your responsibility. To protect yourself from the hassle of blocked drains and/or drain repair it's essential to keep on top of regular drain maintenance. This includes regular inspections and cleaning to keep them in the best possible condition and prevent damage or collapses by wear and tear or neglect. Here at Metro Rod West Yorkshire we routinely carry out Pre-Planned Maintenance (PPM) works across Leeds, Bradford, Huddersfield and Wakefield.
Facing reoccurring blocked drains or need to inspect your drains? CCTV survey is the answer. A CCTV Survey can accurately diagnose any underlying issues, which is critical for cost-effective maintenance. Metro Rod West Yorkshire (Leeds, Bradford, Huddersfield and Wakefield) are the industry-leading experts in CCTV Surveys, pre-planned maintenance and drain repair, with innovative technologies.
The iTouch Live CCTV System, for example, allows us to provide completely transparent and virtual, real-time reports directly to you. Using iTouch Live, the data collected from the site is streamed in real time to the local office for processing. In most cases, your inspection report has already progressed to the next step before our engineer has finished packing up his tools. With geography no longer a factor, our team of technical support managers are also able to provide instant technical assistance to each of our local offices, ensuring that even the most complex of cases is analysed efficiently. All of this means that we can conclude each of our inspection reports far more quickly than before, allowing us to closely evaluate the problem and report back to you on the most effective solutions to your problem.
As an alternative to the iTouch Live CCTV survey inspection, we can also offer reports using the traditional WINCAN reporting software.
Metro Rod is very proud of our accreditations as an indication of the effectiveness of our safety arrangements.
View Our Certification
Construction Line
Safe Contractor
CHAS
Environment ISO 14001:2015
Quality ISO 9001:2015
H&S OHSAS 18001:2007
Achilles
Water Jetting Association

You can contact us to unblock drains and provide drain repair, toilet unblocking, gutter cleaning or drain clearing. We also provide PPMs (Pre-planned Maintenance), CCTV Surveys, septic tank management and emergency tanker services. In the below areas and interested in drain repair or any of our other services?
| | | |
| --- | --- | --- |
| Bingley | Horbury | Pontefract |
| Birstall | Huddersfield | Pudsey |
| Bradford | Ilkley | Queensbury |
| Castleford | Keighley | Settle |
| Dewsbury | Knottingley | Shipley |
| Driglington | Leeds | Skelmanthorpe |
| Glasshoughton | Liversedge | Skipton |
| Guiseley | Meltham | Slaithwaite |
| Halifax | Menston | South Elmsall |
| Haworth | Mirfield | Tadcaster |
| Heckmondwike | Morley | Tingley |
| Hemsworth | Normanton | Wakefield |
| Holmfirth | Ossett | Wetherby |
| Honley | Otley | Yeadon |
Our team of engineers can provide solutions for any given drainage problem. If you require assistance and need to unblock your drain, then please contact Metro Rod West Yorkshire below.
Visit our website:
Metro Rod Leeds & Wakefield, Metro Rod Bradford & Huddersfield
Email us on [email protected]
Call us on 01484 844100.
Leave Us Some Feedback
At Metro Rod, we appreciate feedback from our customers so that we can continue to improve our services. Please leave us a review on either the following: