We are fully committed to servicing all customers in the current circumstances. Our engineers are working hard 24/7 to support all domestic and commercial customers.
Metro Rod Manchester and Macclesfield is the number one choice of drain care and repair service provider for businesses across all sectors and industries. We provide drain unblocking solutions and maintenance to our clients on a 24/7 basis, throughout Manchester, Stockport, Macclesfield and surrounding Cheshire.
Not a fan of text-heavy content? Along with drain unblocking, see how we can help you or your business in this short animated video!
Interestingly, one of the most niche sectors in which we work is the food manufacturing sector, on behalf of Kellogg's. With a huge factory based in Trafford Park, Manchester, Metro Rod Manchester and Macclesfield provide the full range of drain unblocking services to the Kellogg's factory, and have been doing so for over 15 years!
Comprising of 6 storeys, and housing an active workforce manufacturing products for nationwide distribution, it's hardly surprising that the Kellogg's Manchester factory subcontract a dedicated drainage contractor for their ad-hoc issues needing drain unblocking.
Due to the sheer size and nature of Kellogg's, they must employ a contractor that adheres to their strict health, safety and hygiene regulations when allowing access to their site to complete drain unblocking. This makes Metro Rod Manchester and Macclesfield the perfect fit for Kellogg's needs.

Typical drain unblocking maintenance at their Trafford Park site mainly consists of reactive callouts to unblock drains, sinks and toilets across all floors when necessary. In addition to this, Metro Rod Manchester and Macclesfield have also carried out CCTV drain surveys as well as larger scale drainage works, using one of the 2 industrial tankers owned by, and freely accessible to Metro Rod Manchester and Macclesfield, to empty and clean slot drains and gullies.
Our last visit to Kellogg's at Trafford Park was at the beginning of April 2019 to carry out reactive drain unblocking to a blocked gully on the 3rd floor. The task was passed over to our 24 hour National Support Centre at 18:31, and our engineer, Phil, was on site carrying out work at 19:00! Due to the nature of the blockage, it required a 2nd engineer to attend alongside Phil to complete the drain unblocking works by means of high-pressure water jetting. A call was made to another on-call engineer, Josh, who was fortunately just finishing a job in Stockport. He then made his way over to Trafford Park and met with Phil on site shortly after and got the work done. Once the drain unblocking was complete, the engineers conducted a water test to double check that the flow had been 100% restored before leaving site.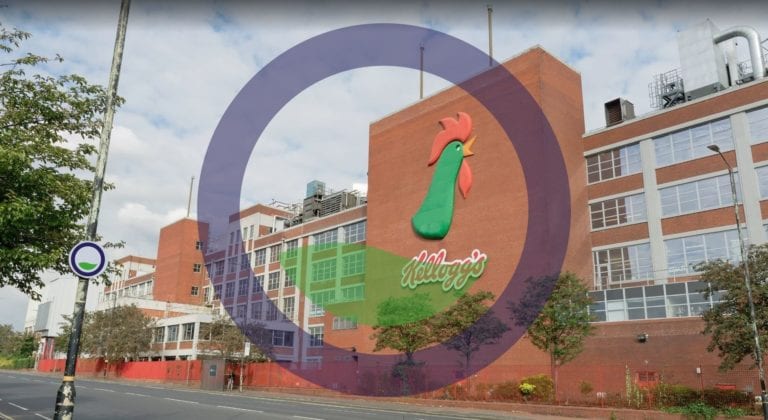 Metro Rod Manchester and Macclesfield are proud to be the number one choice of drain unblocking solutions for such a prestigious household name, and look forward to continuing to work alongside Kellogg's and their Trafford park team in the future.
More Information
If you want to find out more on how Metro Rod Manchester and Macclesfield can help your business or household with regards to drain unblocking solutions or the rest of our full range of services, see our services page here. We can also offer bespoke pre-planned maintenance that suits your needs. Just get in touch with one of the friendly team at Metro Rod Manchester and Macclesfield.
For information on the areas of Manchester and Stockport that we cover, see here. Alternatively, for Macclesfield and surrounding Cheshire, see here.
Be sure to keep up to date with our drain unblocking services, news and more by Liking our Facebook page and Following our Twitter page.
Lastly, if you have had any drain unblocking work done by any of the engineers here at Metro Rod Manchester and Macclesfield, please feel free to leave us a review on either Google here or Facebook here.
Phone: 01625 879035
Freephone: 0800 66 88 00
"We guarantee our clients a safe, professional and honest service day and night."