We are fully committed to servicing all customers in the current circumstances. Our engineers are working hard 24/7 to support all domestic and commercial customers.
It's building up to that time of year again! Children and Teens everywhere across the UK are starting to get excited, the prospect of a lie in, no school uniform and Mum stressing about trying to keep them entertained for a few weeks. That's right, school holidays are fast approaching!
School drainage systems are constantly being put under pressure.
Large amounts of people in one place using toilets up to three or four times a day. Something is bound to go wrong!
So with the long holiday break fast approaching, now is the perfect time to have any maintenance you think your school may need! With the schools closed, our engineers are able to undertake works with no disruption to the children's and teacher's daily routines!
How big is the problem with school drainage systems?
Let's look at some figures! On average, primary schools across North Wales hold 210 children. If each child visits the toilet twice whilst they are in school (once a break time, once a lunch, minimal) that's 420 flushes of a toilet, 420 times a sink is ran to wash hands. On average a toilet cistern will use up to 7 gallons of water in one flush. That's 2,940 gallons of water from just one small school, just from children flushing toilets, about 13,638 litres! Imagine the chaos if we considered larger colleges and high schools! This just highlights how much pressure schools are in to keep their drains flowing freely.
If there is even a slight blockage somewhere along the line, this could cause major issues. From toilets backing up, to gullies over flowing, to manholes blocking. Blocked drains are a serious health and safety hazard especially where children and schools are concerned. Metro Rod are on hand to help our local schools, colleges and universities in whatever capacity during this back to school period.
The best way for schools to ensure their drainage systems are running at peak capacity is to keep on top of regularly maintaining the drains' cleanliness. We can carry out and programme specialist Pre Planned Maintenance on school drains to help with this (see here for a full breakdown on how we carry these out).
But what else can we provide to our education system?
We're not just available to carry out Pre-Planned Maintenance of cleaning toilet and urinal pipework during the school break, we can do so much more for your schools, colleges and universities!
Roof/Gutter Cleaning – for smaller guttering systems, we are able to use out MetroVac system, no need for scaffolding, we can clear them from ground level!
Surface Water Cleaning – With the use of our Tanker we are able to jet down and suck up debris in car park/playground/external gullies. Is there a gully in your car park tha's always overflowing in the rain? Chances are it's in need of some TLC from us!
Grease Trap Management – most schools'/colleges'/universities' canteens will have a grease trap installed. This is to help break down the grease, fats and oils that are produced on a daily basis when they are disposed of. We are able to empty these traps and ensure the management system is in top condition. Keeping on top of this ensures they're working for year to come!
If you know a school in need, or if you're in estates/school maintenance in the North Wales/Chester/Wirral areas, contact us using the below to discuss how we can help keep your drainage systems in tip top condition!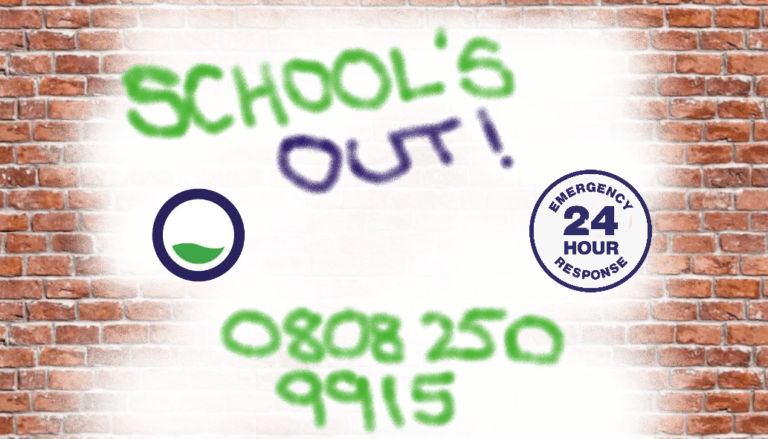 Are you in need of a reliable and efficient drainage or plumbing solution? Metro Rod Deeside can help you and your businesses or homes with our drainage and plumbing services! Check out our contact details below!
Call us on; 0808 250 9915
Visit our websites; North Wales Area
Email Us; [email protected]
Find Us On; Twitter or Facebook or LinkedIn
Or connect with Eleri, our Marketing Manager on LinkedIn too!
Metro Rod Deeside operate 24/7 and calls will always be answered directly by an experienced on call manager who can start diagnosing any drainage problems. Our on call manager will also assign you to an engineer who can be on site within a matter of hours. We operate throughout North Wales, including Anglesey, Chester and Wirral areas. We're able to deal with problems such as;
Blocked drains (internal or external)
Sink, urinal and mainline drain blockages
CCTV surveys of drainage systems
Tanker Services
Graffiti Removal
Robotic Cutting
Drain repairs – no dig or excavations
Preventative maintenance