We are fully committed to servicing all customers in the current circumstances. Our engineers are working hard 24/7 to support all domestic and commercial customers.
The Metro Rod Hull, Lincolnshire and Peterborough (HLP) team came to the rescue for a school in Lincolnshire, where the school playground and staff car park was constantly being flooded and couldn't be used by the children, and indeed the staff on occasions. Metro Rod HLP are the commercial drainage experts with over 35 years experience working with schools, colleges, and universities to provide complete clean water in, waste water out solutions.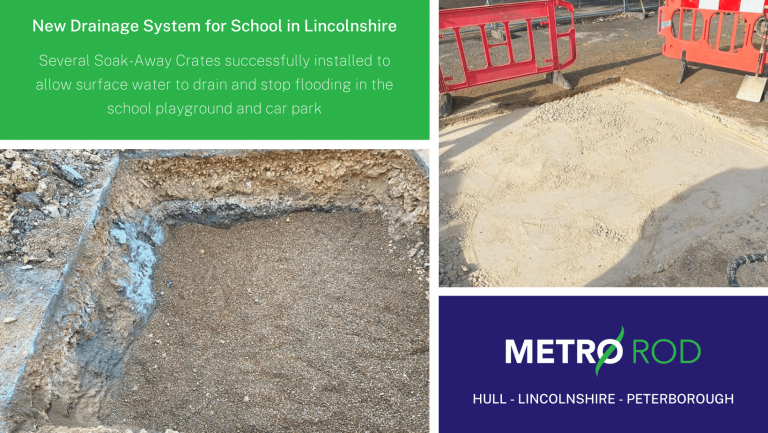 Given that the premises didn't have a main surface water drainage option, the Metro Rod HLP team had to find the right sustainable solution for the school that would resolve their flooding problem, and would no longer create such disruption to school activities, and free the area for the much needed car parking for the staff.
Following a percolation test to determine the suitability and permeability of the underground substructure, the team were able to locate the ideal locations for several soak-away to be installed. Metro Rod HLP advised the school on the best drainage solution to meet their needs which included the installation of a soak-away crate system, as part of an efficient drainage solution, to effectively allow surface water to drain and reduce the risk of flooding in the future.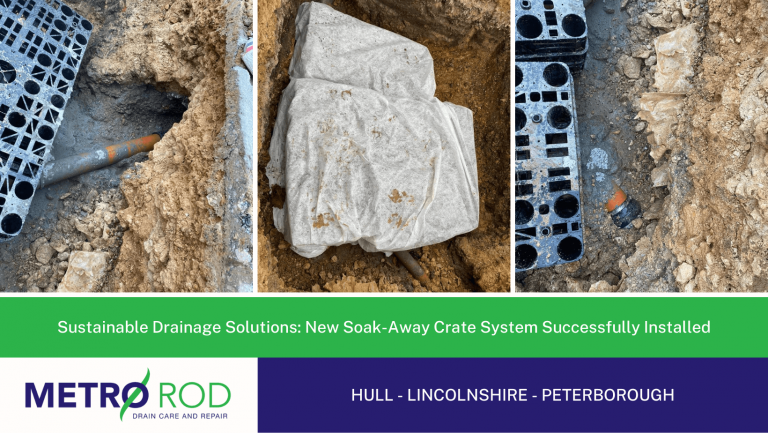 The school's new drainage system was installed successfully and enabled playground activities to continue undisrupted, and provide the much needed car parking spaces back to the school staff.
Metro Rod Hull, Lincolnshire and Peterborough provide a full range of expert drainage and pump services for the facilities sector, including:
Pre-planned maintenance
Drain unblocking
Drain cleaning
Drain repairs and pipelining
CCTV Drain surveys and sewer inspections
Tanker services
Grease trap management
Pump station maintenance
Gutter maintenance and cleaning
Gully emptying
Plumbing
No matter how complex the drainage problem or challenging the access, Metro Rod HLP's engineers are quick and efficient to respond, and provide the best service to any commercial drainage problem.
Contact us for a free site assessment:
Call us on: 01522-246933 or 01733-211832 or 01482-810013
Email: [email protected]