We are fully committed to servicing all customers in the current circumstances. Our engineers are working hard 24/7 to support all domestic and commercial customers.
Metro Rod Mid Wales have had a busy time with Drainage problems following the heavy flooding that hit the area. The rainfall experienced in May and June caused severe problems to Drains across Mid Wales. The amount of water that fell in Welshpool had left considerable damage to homes and businesses alike. Overflowing culverts, rivers and streams added to major problems around the towns Drains. The towns Drainage system has been unable to cope with the amount of water that fell. Over the 2 months and ongoing into July we are still receiving calls. Blocked Drains have been common place as the unusual prolonged dry spell has turned mud and silt into a solid mass.  We have also been busy cleaning up all the sediment left over from receding water levels.
Council stretched
With the Councils resources stretched, more calls came in with tenants and the public complaining of flooding. Nearly all main roads and streets were unusable with local emergency services urging people to stay indoors. Many properties had damaged drives, paved areas and some gardens being completely ruined or washed away. All gardens effected had no Drainage in place to cope with the amount of water that fell. Metro rod Mid Wales dealt with the Drainage and re-landscaping of tenants gardens some patios and drives re-layed also. The excavations team kicked into overdrive to clear up any unwanted mess to then add effective Drainage to the gardens and properties so they met with the tenants and councils approval.
We have also completed works using our Vactor tanker, Van packs and engineers that are willing to get dirty. Schools, local businesses and the local hospital have all seen our engineers clearing the drains and gully's. Hopefully the water levels behave and we now have clean drains to cope!
If you have Been effected by any flooding or have any drainage issues or just have a query please contact the local office on 01938554050 or e-mail us on [email protected]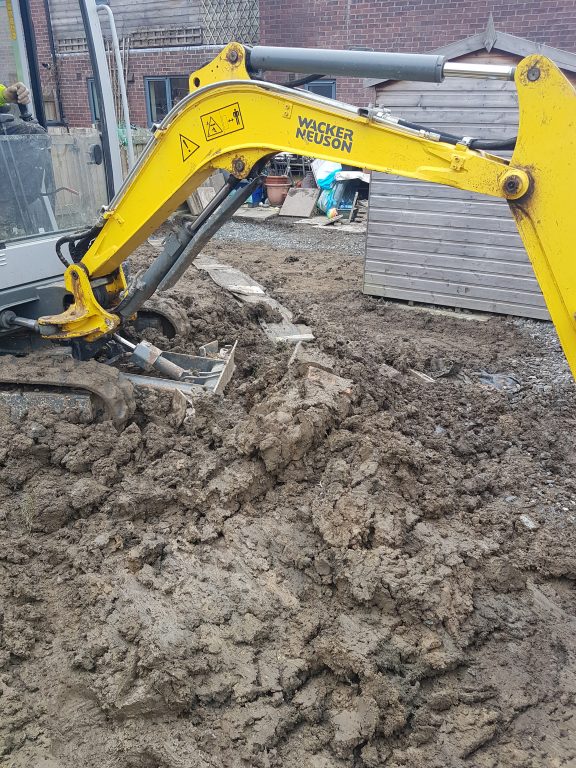 One of the properties where no drainage had left the grass die and leave a mound of clay.