We are fully committed to servicing all customers in the current circumstances. Our engineers are working hard 24/7 to support all domestic and commercial customers.
Over the school year, facilities suffer a large amount of wear and tear. This means that the drains can become blocked and causes a lot of hassle!
Metro Rod Birmingham offer the following services that will help your drains to stay maintained:
• CCTV surveys
• Pre-planned maintenance
• Emergency call outs
• Gutter clearing
• Metro Plumb which covers aspects of plumbing
Pre-planned maintenance is a service that will benefit schools the most, it will ensure that your drains are maintained throughout the year. Also, having pre-planned maintenance booked in means that you can choose what day and time suits you best, this could be during the school holidays or when the school day finished, resulting in the pupils not being distracted. Pre-planned maintenance is otherwise known as preventative maintenance. It is known as this because it helps to prevent blockages further down the line. It also helps to maintain your drains due to them being frequently cleaned, removing all build up in your drains.
All engineers are DBS checked and guarantee to be with you the same day. For the security of your school, we will be able to tell you the name and number plate registration of the engineer for your safety and will charge no extra for call outs.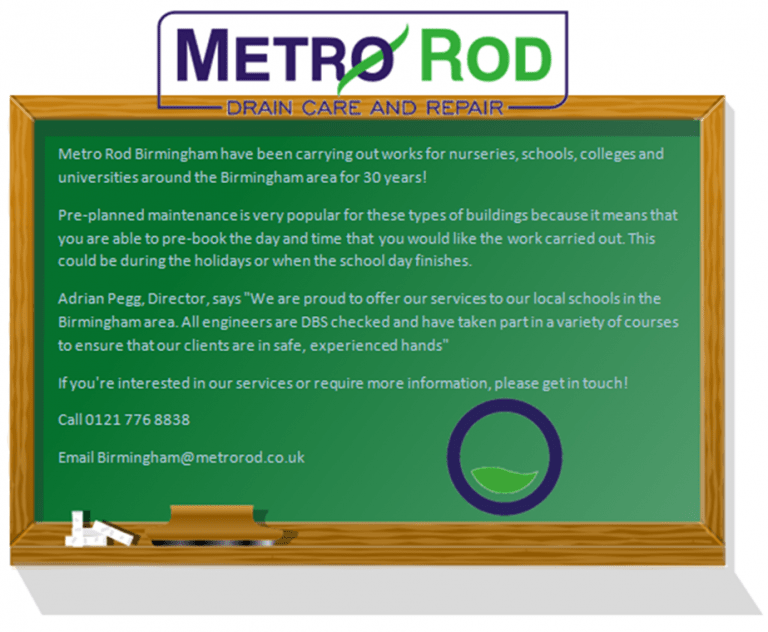 How to identify a blocked drain:
• Slow draining water in sinks and toilets
• Foul smell coming from drains, this could be a build up of food, toilet paper, wet wipes or fatty grease
• Over flowing drain or manhole
Causes of a blocked drain:
• Fat, oil and grease build up
• Flushing to much toilet paper down the toilet
• Drain age
• Tree roots growing into drains that can cause cracks and splits in drains
• Uric scale – made up of uric salt crystals that is found in urine, over a long period of time, this can coat the pipe walls and dry up, this can then restrict the flow of water and cause a blocked drain
Preventing a blocked drain:
• Not flushing a large amount of toilet paper down the toilets at any one time
• Getting grease traps fitted and maintained – Metro Rod offer this service to all clients as it will stop grease being flushed through drains and decrease the cause of blocked drains
• CCTV surveys on drains will allow you to get to know the insides of your drains, this will help you to know the parts of your drains that are blocked, getting blocked or cracking. Metro Rod will then be able to fix this issue for you by either lining your pipes, high pressure water jetting them or replacing them.
• Pre-planned maintenance will be the best way to prevent this, as we will be able to attend as frequent as you would like to ensure that your drains are always running at full flow and that no blockages are beginning to form. We will also be able to make recommendations to you to maintain your drains and prevent blockages.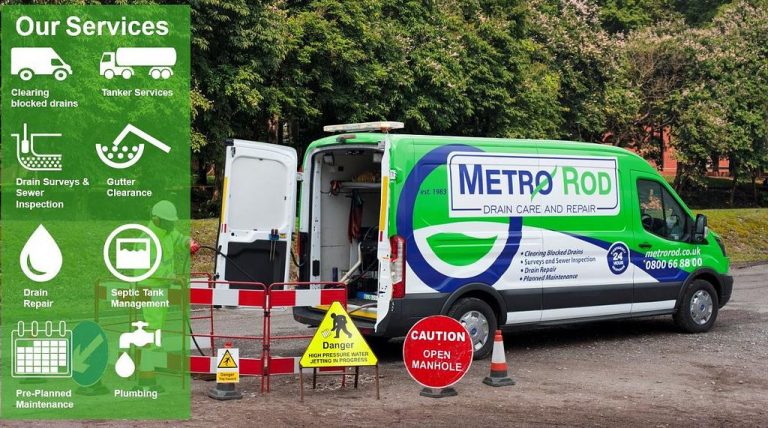 If you would like further information on our services, please get in touch!!
Call 0121 776 8838
Email [email protected]
Like us on Facebook CLICK HERE
Connect with us on LinkedIn CLICK HERE
Follow us on Twitter CLICK HERE