We are fully committed to servicing all customers in the current circumstances. Our engineers are working hard 24/7 to support all domestic and commercial customers.
The winter months and cold weather can cause havoc for our drains if they are not properly looked after and maintained.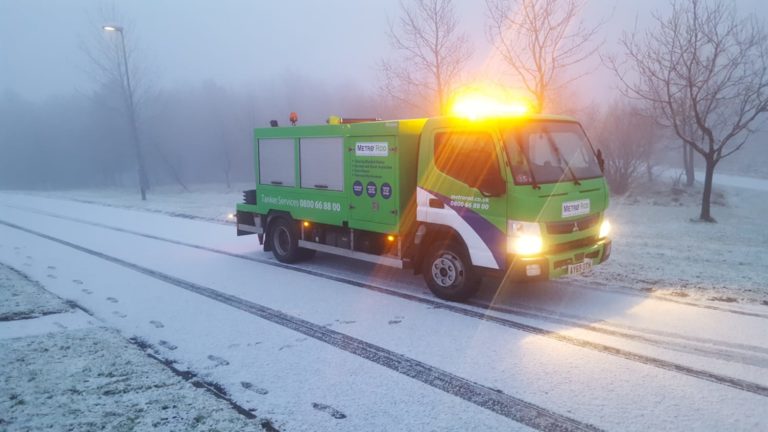 When the temperatures drop and it feels dark most of the time, the last thing you want to be dealing with are drainage problems. Metro Rod Cumbria want to make sure your drains stay in top working order this winter with some advice on what to expect in the cold weather. During winter it is important to look after your drains as they are more likely to encounter problems in the cold weather and the increased use over the holidays.
The cold weather is a danger to your both your inside and outside pipes. With the water flowing regularly the cold increases the chances that the water will freeze and turn to ice. Initially a small amount of ice in your pipes might just cause a blockage, but as the weather stays cold the amount of ice will grow as more water freezes. The frozen mass can end up obstructing the flow of water, as well as causing the pipes to crack. When water freezes it expands, this is dangerous as it can cause your pipes to crack and maybe even burst. This is especially true is the pipe is located within your home as in serious cases it could cause structural damage and cost a lot to fix.
Tips for Drains Over Winter
Here are Metro Rod Cumbria's best tips and tricks to keep your drains working well over winter.
Instead of pouring fats and grease down the sink, you should let them solidify and then scrape them into the bin. The cold will make the liquid fat and grease solidify in your pipes quicker which causes what is known as fatbergs. These fatbergs clog up your drains, restricting the flow of water and can need a professional to fully clear it.
As extra precaution, you should pour some boiling water down your drains to help soften and remove any solidified grease buildup. This can prevent it building up to a mass that is too big and hard to remove yourself.

 

Ensure that all storage tanks and pipes are covered and insulated, as this will keep the heat in and prevent them from freezing over and cracking.
If you want to be cautious this winter Metro Rod Cumbria offer CCTV surveys, which can check over your drainage system to make sure it is in good working order. If you suspect you have any problems then you needn't worry as we are open 24/7 to assist you with any problems. 
Metro Rod Cumbria offer services from dealing with blocked drains, drain repair, CCTV surveys and septic tank maintenance. We believe in simple things and make sure we follow them through; available 24/7, professional, value for money service during and after the job and peace of mind in the fact that all our engineers are highly trained, DBS checked and fully insured.
Make sure you get in touch with us through any of the following:
Enquire through our website: https://www.metrorod.co.uk/local/cumbria/
Get in touch with us via email: [email protected] 
Call us on 01228 648050
We any drainage needs, we are the drainage experts. We look forward to hearing from you soon!