We are fully committed to servicing all customers in the current circumstances. Our engineers are working hard 24/7 to support all domestic and commercial customers.
Metro Rod Liverpool (Drain Unblockers) Take on Capital Liverpool's Goal Blocker!
Metro Rod Liverpool are well known locally for being expert drain unblockers (amongst many other skills!) but when we heard that there was a competition being held by one of our local Radio Stations to score as many penalties as possible in 60 seconds to win a night out for all staff we knew that we would have to get involved, and we had to aim to win!
In the days leading up to the competition the engineers were all practicing their ball shooting skills in our depot in Bootle, Liverpool and having mini arguments between themselves as to who was going to be taking the penalties, obviously between dealing with drain blockages, CCTV Surveys and the like.
When Capital Liverpool arrived at our depot we learned that there didn't have to be just one penalty taker, much to the delight of our engineers!  The goal was set up, Adam (one of the hosts), got in goal and Gemma (another host) adjudicated.  On the blow of the whistle the shots started flying in, not always into the goal though, some of them shot into the sky and some into the side of our building, one of the shots broke through the net and another knocked the goal side on!  Adam managed to block several shots but we did score many, we asked for VAR to be consulted for a few decisions but were told that unfortunately this wasn't available to us!
At the end of the session it was determined that we had scored a total of nine goals.  After a long wait of two weeks whilst other local Liverpool businesses took part it was determined that we had scored the same amount as another company (Mersey Container Services) and so we had to answer a question live on air.  If only we had consulted The Sport Review before the call we may have known the answer to the question "How tall is Harry Kane in cm?" and won the competition.  Unfortunately we didn't answer correctly and so didn't win.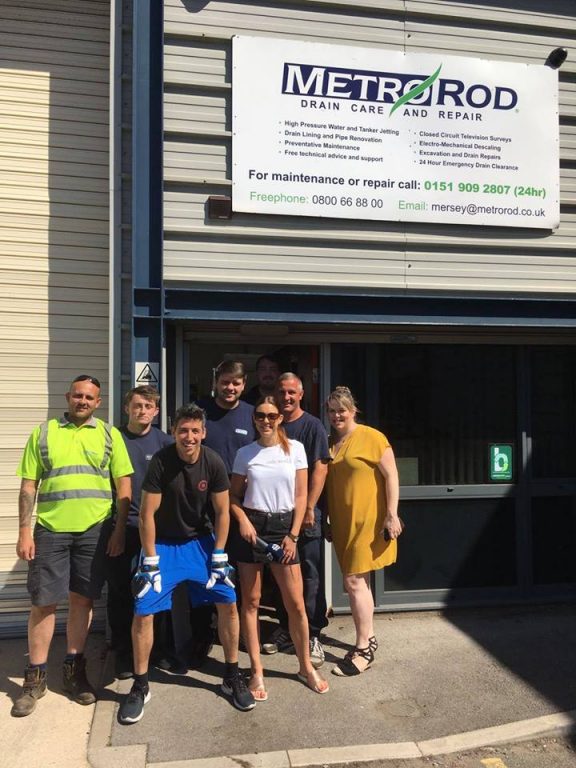 We were thrilled however to be featured on Capital Liverpool's promotional video about the event – take a look at it here!
Although we are obviously not experts at football (or at knowing premiership footballer's heights!) we are the experts when it comes to any drainage issues.  We are a local drainage and reactive plumbing company, operating throughout Liverpool, Warrington, Runcorn, Widnes, Southport, Skelmersdale and St Helens and the surrounding areas from our depot in Bootle and we provide services such as unblocking toilets, unblocking pipes, clearing blocked gutters and downpipes, CCTV Surveys as well as all other drainage works.
If you need further information about us or any of our services please either;
Click on our Website
Call us directly on 0151 909 2807
Email us directly on [email protected]
Tweet us on Twitter
Message us on Facebook
Connect with Jenny, our Business Development Manager, on LinkedIn.
We hope to hear from you in the near future!