We are fully committed to servicing all customers in the current circumstances. Our engineers are working hard 24/7 to support all domestic and commercial customers.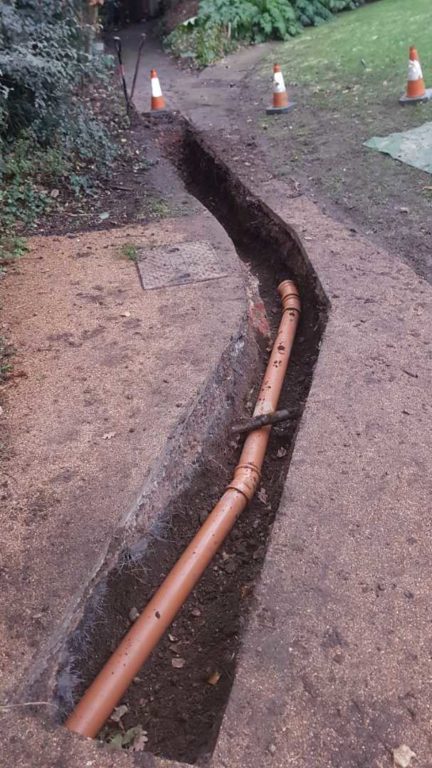 When it comes to drain care Metro Rod's work in London covers a full range of works across many different sectors and customer types. Whatever your drainage issue we at Metro Rod Central London are here to assist you whether you are a householder in Camden with a blocked drain needing high pressure water jetting, a construction site in Westminster requiring a CCTV drain survey or an office block,  restaurant or museum in Knightsbridge requiring a maintenance clean of your site drainage system.
London is one of the world's liveliest and  most diverse Cities (the present pandemic notwithstanding) with a vibrant arts scene at the heart of what makes it so. At Metro Rod we support many of London cinema's, theatres and music venues ensuring that site drainage systems are clear of the problems that can arise in any building with high usage of it's facilities.
Recently we have been delighted to carry out works improving the site drainage system at one of London's most iconic theatre venues…the famed Open Air Theatre within Regents Park. The theatre is particularly well known for it's summer stagings of William Shakespeare's classic works and as the photograph above shows our work there was not Much Ado About Nothing, involving excavation and installation of new drainage pipework. We were happy to carry out work As You Like It and Measure for Measure for our customer and the expertise and safe working of our skilled drainage engineers ensured there was no Comedy of Errors and that, as usual, All's Well that Ends Well when Metro Rod are involved.
Metro Rod provide drainage solutions 24/7/365 so it doesn't matter if you are looking to restore A Midsummer Night's Dream or if your problem is The Winter's Tale with your drain's overflowing in The Tempest…….at Metro Rod we will be with you quickly and effectively to provide a safe, professional and honest resolution to any drainage issue.
Contact Metro Rod Central London
Call:  0203 875 6780
Email: [email protected]