We are fully committed to servicing all customers in the current circumstances. Our engineers are working hard 24/7 to support all domestic and commercial customers.
BEING PREMIER DRAINAGE CONTRACTORS IN THE WIDER LIVERPOOL AREA WE CARRY OUT CCTV SURVEYS AND COME ACROSS BLOCKAGES ON DRAINAGE SYSTEMS EVERY SINGLE DAY OF THE YEAR…
However, our engineer had a pretty scary find on a site in Southport earlier this week!
Barry, who has worked for Metro Rod in Liverpool since 2016 was on a site in Southport that was having a CCTV survey of their drains and they came across a rather large blockage.  The camera was just showing a mass and high pressure water jetting wasn't doing much to resolve the issue.
AS THE SECTION OF DRAINAGE WASN'T DEEP BARRY DUG DOWN…
The blockage seemed to be a big mass of concrete but, as he was to find out, there was something enclosed within!  Barry says "As I started to pick away at the concrete there was suddenly a little eye looking at me!  I was worried, all of a sudden I could be holding an animal – or worse!  I continued to pick away and after not too much time I discovered the cause of the blockage…."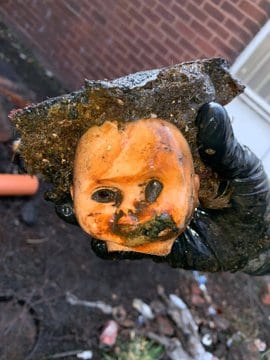 It was the head off a toy plastic doll!
As drainage contractors across the wider Liverpool, Warrington, Southport, St Helens, Skelmersdale, Widnes and Runcorn areas we usually find that drains are blocked by wipes, underwear, sanitary items and nappies but we have found fruit, beer cans, a razor and even car tyres and traffic cones blocking drains before, but a dolls head encased in concrete is certainly a new one to us!  Why not have a read of this article, explaining a little more about other blockages that we have found on various sites across our region?
If you need the expert services from Metro Rod for any drain blockages, CCTV surveys, gutter cleaning, graffiti removal, excavations, investigations into bad smells or slow running facilities either internally or externally please don't hesitate to get in touch.
Business Development Manager, Jenny Schofield, added "We have a wide customer base in the local area and enjoy that we can provide similar services for our local schools, hospitals, retail sites, hotels and factories but we always have room for more – we are always expanding and investing and have recently begun training up our new General Operatives to be the drainage experts of the future!"
If you need to get in touch with us here at Metro Rod you can either:
Email us on [email protected]
Call us on 0151 909 2807
Go to our website, www.metrorod.co.uk/Liverpool
Take a look at our Twitter or Facebook pages
or connect with Jenny, our Business Development Manager on LinkedIn.
We are available 24 hours a day 7 days a week and all calls directly to us are answered by an on call manager who can start to help you immediately!