We are fully committed to servicing all customers in the current circumstances. Our engineers are working hard 24/7 to support all domestic and commercial customers.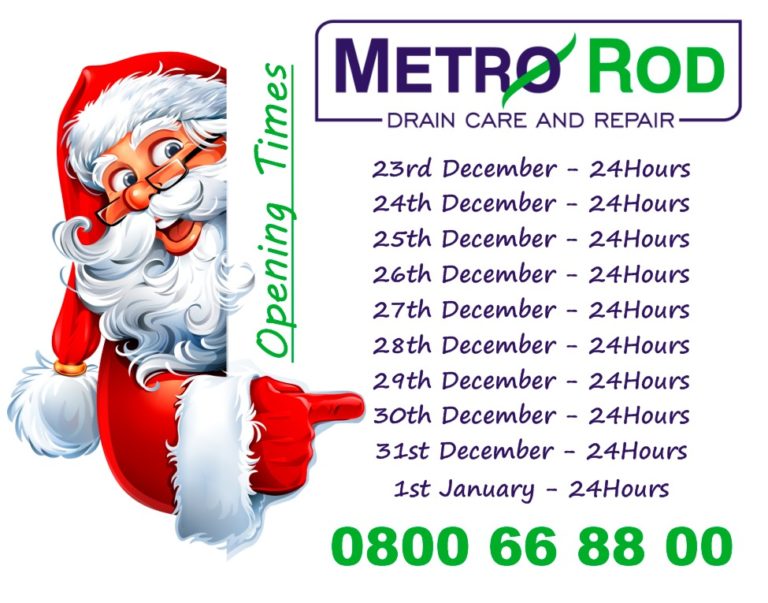 A blocked drain or blocked toilet at Christmas time I can be no fun at all and this is a time of year when our service to customers in Slough, and indeed across the Thames Valley from Swindon to Hungerford, Newbury, Marlow, Henley, Maidenhead, Reading, Windsor and all points in-between, is particularly important .
Whilst no-one enjoys Christmas more than we do our team are dedicated to ensuring that any crisis call-outs receive a response which means that your Christmas is not ruined by a drainage emergency.
We serve both residential and commercial customers ……anyone who has a drain on their property in fact…..and our range of work covers all aspects of drain care and repair :
• Clearing blocked drains and toilets 
• Drain inspection & CCTV Surveys
• Drain Repair & Excavation
• Pipe Lining & Renovation
• Tanker Services
• Pre-Planned Preventative Drain Maintenance cleans
• Gutter Cleaning
Over the Christmas period we are primarily involved in clearing blocked drains. Whether you are a home-owner about to sit down to Christmas dinner with the family , a restaurant with 50 pre-booked guests waiting eagerly for their turkey treat  or a pub with a packed house on New Year's Eve a blocked drain or toilet could represent a major problem. Fortunately our trained team of engineers remain on-hand to swiftly diagnose and correct the problem for you.
All our team have strong local knowledge of the Slough area and of Berkshire and the Thames Valley as a whole. Every Metro Rod Slough engineer also carries on their van a full range of drain cleaning equipment including
• High Pressure Water Jetting 
Our engineers are fully trained to use the powerful jetters safely and clear your drain as effectively as possible. High pressure water jetting is most often the solution to blocked drains, the powerful force of water is able to shift stubborn build-up of substances, even cement.
• Electro-Mechanical Cleaning
This process of uses a motorised tool to rotate a cable or spring stored in a drum within the tool. We feed the cable into the blocked pipe and rotate the cable. This has the effect of breaking up any material which has accumulated in the pipe and most of this will be largely removed on the cable and the remainder flushed harmlessly away into the drainage system. Our cables are flexible and will pass around several bends easily. Metro Rod Slough has a full range of electro-mechanical cleaning machines available for a variety of pipe sizes from plastic kitchen pipes to underground drains.
We wish all of our customers a problem-free and Happy Christmas and New Year, safe in the knowledge that Metro Rod Slough will still be unblocking drains when required.
To find out more about how Metro Rod Slough can support YOUR business or solve any problem with your drains just  call us on 0808 208 2654 .
Alternatively you can call our emergency helpline on 0800 66 88 00 24 hours a day.
You can also contact us by:
Going to www.metrorod.co.uk/local/reading
Emailing us at [email protected]
Connecting with Andrew, our Managing Director on LinkedIn