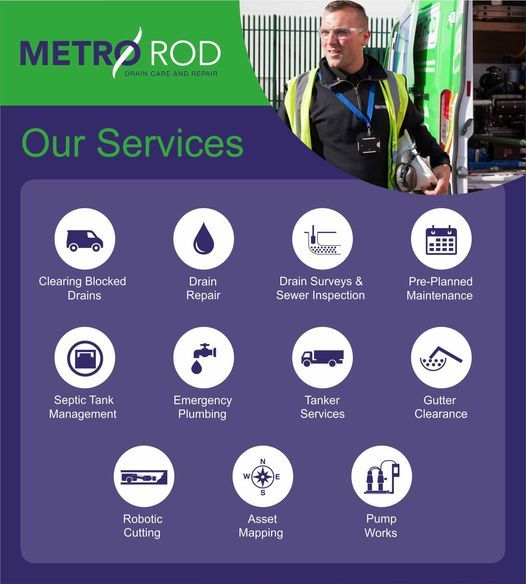 When we at Metro Rod Central London are asked "What is it you do ?"  the first response that comes to mind to easily explain our core function is to say "We unblock drains". And we do …it's true. Every day of the year our trained drainage engineers are out there 24/7 using high pressure water jetting and electro-mechanical cleaning equipment to clear blockages in drainage systems for London businesses and residents, whether it be a single blocked sink or a major fatberg which has temporarily closed down an entire commercial building.
However at Metro Rod we also carry out a wide range of drain care and repair services as well as this emergency reactive unblocking function. Take a look at the image above to see the scope of services we can offer and these include many types of pre-planned works for London Property Managers, Maintenance Managers and Facilities Managers.
Central to our function is pre-planned maintenance work in the capital's many high usage buildings and facilities where a "prevention rather than cure" approach to potential problems with site drainage systems is recognised as the professional approach. Typically a combination of CCTV survey, drain cleaning and drain repair works keeps drainage systems free-flowing and our typical working environments include :
multi-storey offices and commercial buildings in Central London where it is essential to keep vertical soil stacks free of build up of scale and other obstruction
Sports stadia, museums, leisure centres, cinemas, shopping centres and other "heavy traffic" public sites where keeping the drainage system free-flowing and hygienic is essential to effective operation
Restaurants, pubs, coffee shops, hotels and other hospitality outlets where regularly keeping drainage systems free of build up of FOG (fat, oil and grease) is vital
Construction sites where CCTV inspection of ground drainage, both pre and post build, gives peace of mind to developers and their clients alike
London is diverse and vibrant , and so is Metro Rod's workload. We are here to support YOU in London, whether you are a home-owner, a business-owner or a Property or Facilities Manager.
Call us on 0203 875 6780 at any time to seek our assistance or discuss how Metro Rod can help.