We are fully committed to servicing all customers in the current circumstances. Our engineers are working hard 24/7 to support all domestic and commercial customers.
School is almost 'Out for the Summer'!
The end is in sight – it's only five more weeks until schools across the UK break up for a well earned six week holiday.
Metro Rod are one of the main UK drainage companies who keep the schools across the country running smoothly.
Throughout the UK there are over 30,000 schools; approximately broken down as follows – 22,000 primary schools, 4,000 secondary, 2,300 independent and 1,200 special education schools, with the majority of these being in England. On average a primary School holds around 280 pupils with a secondary school holding an average of 948 pupils and rising. Any school drainage system is therefore put under a severe amount of stress with it having to cater for so many pupils and staff. There's the boys, girls and staff toilets, the canteen, water fountains, playgrounds, gutters and car parks. The list of areas Metro Rod Bedford can help with, and maintain, goes on and when a problem doesn't get identified until one of these things stops working, it can cause escalating effects at a school premises.
Drainage Problems
Issues with drainage can cause a bit of a domino effect with the first falling silently and unnoticed. Generally with drainage you don't know there's an issue until it's backing up in the playground or filling your classrooms with the smell of sewage.
Most common drainage Issues:
Scale – This is usually caused by inappropriate substances being put down the drain, (usually fat and grease, although at a school – who knows?!). This is then compounded by lack of maintenance and can be a main cause of blockages.
Cracks –  Cracks can be caused by a whole host of things, the weight of traffic over the pipe, roots, ground movement, subsidence, droughts and many other factors. Cracks in a pipe can obviously cause water to escape, cause subsidence, allow roots to infiltrate to the pipework, loss of toilet facilities and lack of water pressure. Metro Rod Bedford can take a detailed look at yoru underground pipes by carrying out a CCTV drainage survey.
Root infiltration – Roots in and around schools finding their way into the pipework is common but never a good sign. Once they've got in once,  they will get in again, root infiltration can cause blockages, cracks, collapses and other issues.
Blockages – As you can see all of the issues above can result in blockages. couple any of these hidden issues with the wrong items being flushed or put down the sink and the result is anything but pretty. Toilets, urinals, sinks… the list goes on but usually stem from incorrect substances being put down the drain. If this gets too severe this can cause loss of facilities, that pungent sewage smell that has all the children reeling and unable to concentrate and eventually flooding.
The Figures
Metro Rod Bedford know that the best form of defence is a strong offence and that best practice is maintenance, pre-planned maintenance to be exact, that can be arranged around your school and its requirements to ensure that if there is an issue it is dealt with before the threat of school closures rears it head. We are a genuine 24 hour company so can arrange these visits when it's most beneficial for your school and avoid disrupting your pupils progress and if issues arise in the interim we can come and get them sorted that day, all it takes is a phone call.
Call Metro Rod Bedford and Milton Keynes on 01582 666543 or 0800 668800 out of hours and one of our professional engineers will be with you before the school bell rings!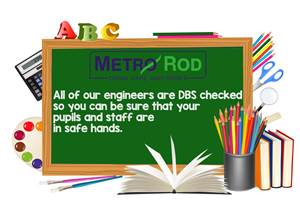 What's more – all of our engineers are DBS checked, so you are always in safe hands. So – with just five weeks to go until the pupils leave for the summer, why not call us to discuss a free site survey that we can carry out whilst your premises are closed for summer?
You can also email us [email protected]
Looking forward to hearing from  you soon.