We are fully committed to servicing all customers in the current circumstances. Our engineers are working hard 24/7 to support all domestic and commercial customers.
When it comes to drain repairs some of your first questions will be; 'is it covered by insurance?' 'do I have to pay?' 'is it my responsibility'?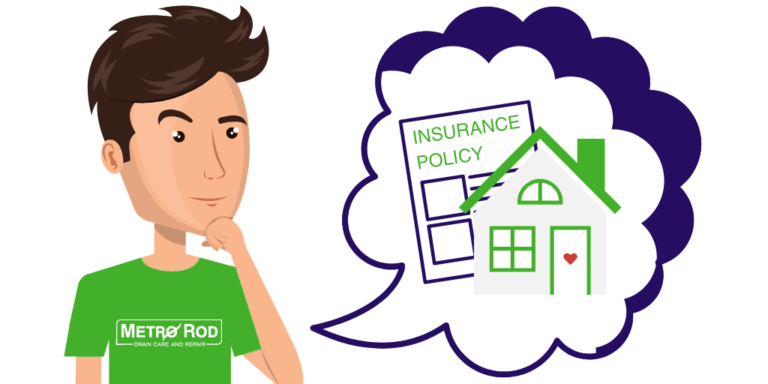 Whether you have a blocked toilet, leaking pipe, or bad smells coming from the drainage system you'll want a quick and reliable fix. Metro Rod Bristol are experts when it comes to drain repairs so we should be your first point of call. Once you have been reassured that the problem is under control, you'll want to know whether or not the call out will be covered by insurance. Below is some information we have put together which may help answer any questions you have about drain repair, responsibility and insurance.
Drain repairs covered by insurance?

 
Whether or not a drain repair is covered by insurance will depend on your insurance provider and the policy you will have taken out. Generally most insurance companies will only cover 'accidental damage' to a drainage system which is quite vague and confusing wording as it is hard to know what will qualify as accidental damage. For example, corrosion to drains is seen as natural activity and therefore is not accidental and is unlikely to be covered by your insurance. 
Similarly any drain repairs that are needed as a result of misuse and neglect will not be covered. This includes damaged caused by flushing wet wipes, cotton wool down the toilet or washing fat, grease and other foods down the sink. 
What are you responsible for?
As of late 2011, the law changed so that water companies are now responsible for the maintenance of shared 'private' drains and drains that are outside of the property boundary. 
You are only responsible for your own drains. This includes any drains that take wastewater directly away from your house. If you need any repairs or unblocking on these drains then give Metro Rod Bristol a call and we'll be happy to help.
An inspection of the drain could show that the problem isn't located within your property, and could be in the sewer system which would make it the water companies responsibility.
Drain Maintenance
Another service that Metro Rod Bristol offer is drain maintenance. Regular maintenance can help spot problems on your property before they become more serious which can in the long run save you money and prevent unnecessary stress and panic. We offer CCTV Drain Surveys or Pre-planned Maintenance which we use regularly to help spot a number of small problems before they mothball. You can find out more about the benefits of a CCTV Drain Survey by clicking here. 
Metro Rod Bristol offer services across Bath, Bristol & Trowbridge, from dealing with blocked drains, drain repair, CCTV surveys and septic tank maintenance. We believe in simple things and make sure we follow them through; available 24/7, professional, value for money service during and after the job and peace of mind in the fact that all our engineers are highly trained, DBS checked and fully insured.
Make sure you get in touch with us through any of the following:
Enquire through our website: click here
Get in touch with us via email: [email protected]
Connect with us on LinkedIn: click here
Call us on 0808 208 2616
For any drainage needs, we are the drainage experts. We look forward to hearing from you soon!