We are fully committed to servicing all customers in the current circumstances. Our engineers are working hard 24/7 to support all domestic and commercial customers.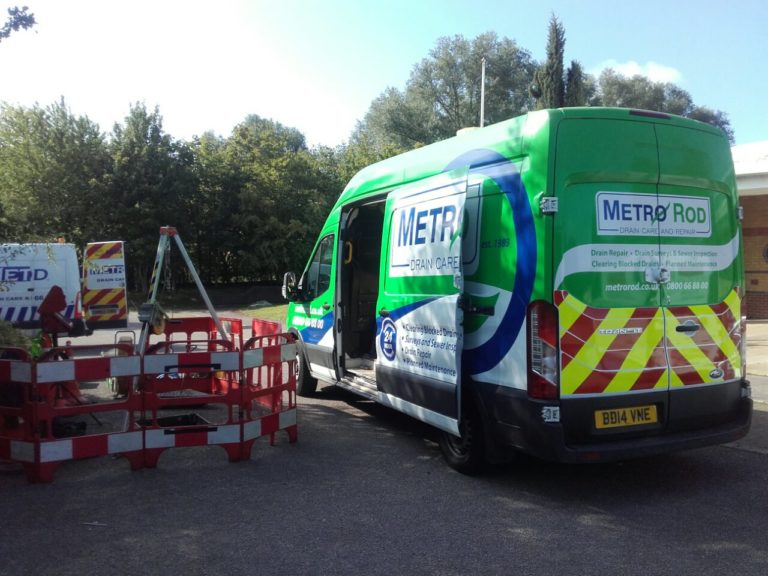 Drain care and meteorology  may seem to have little in common at first thought but at Metro Rod Swindon we often find that drainage problems can be highlighted by certain weather conditions, for example :
hot , sunny weather can bring "bad smells" caused by blocked drain pipes to the fore
heavy rainfall will often expose blocked drains as the drainage system struggles to cope with carrying the increased volume of water, resulting in flooding and even pollution incidents
Other than it making driving around Wiltshire, Berkshire and the Thames Valley region more challenging for our team of drainage engineers though it's perhaps difficult to see why fog would make any difference to us …..but it does !
That's because n Metro Rod Swindon's world of drain care and repair "FOG" has a quite different meaning, being short for
Fat
Oil   and
Grease
which inevitably enters the drainage system wherever food is regularly prepared. In Swindon , and other towns across the Thames Valley such as Reading, Maidenhead, Slough, Windsor, Marlow, Henley, Newbury and Marlborough  there are hundreds of such establishments such as
Restaurants
Cafe's
Takeaways
Pubs, bars and inns
Hotels
Schools and colleges
Bakeries
and many other public buildings with catering facilities.
Over time, unless drains are maintained FOG will accumulate inside drain pipes and, in extreme cases, even cause giant "fat bergs" . Click here for a link to Thames Water information about fatbergs and the major problems they can cause.
As the Thames Water article states "Cooking oils and fats need to be left to cool and solidify before being disposed of in the bin, instead of putting them down the drain. If in doubt, remember to bin it – don't block it".
Fortunately there are also grease management systems and grease traps designed to intercept FOG and solids before they enter your wastewater system and cause blocked drains. Swindon and Thames Valley restaurants and catering establishments where grease is an inevitable by-product must conform to legal requirements for grease management.
A grease trap tank such as the one in this image acts as a reservoir holding wastewater and food solids that enter the trap from site kitchen sinks.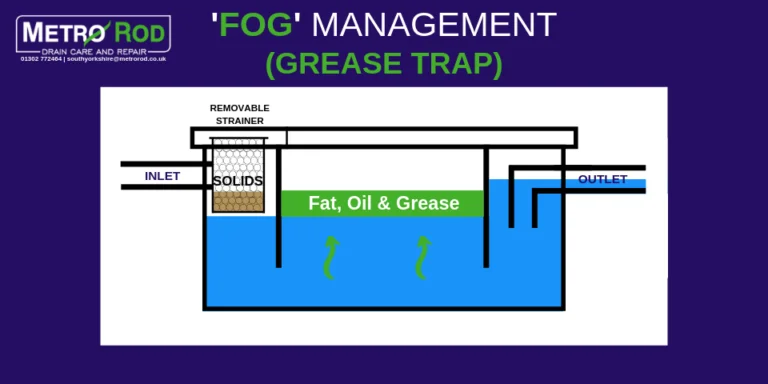 As the wastewater cools, the fat, oil, and grease (FOG) harden and the food solids settle. The FOG, being lighter than water, floats up to the top of the grease trap. The wastewater is forced through the grease trap and out to the sanitary sewer. The FOG and food solids remain in the tank, increasing in volume daily. Food solids and grease sludge (brown grease) settle to the bottom of the grease trap.
An effective grease trap will need emptying and Metro Rod Swindon's vacuum tankers are ideally placed to carry out this essential maintenance work.
If you take a bucket of water and pour in some FOG, the FOG will float to the top of the bucket and harden. A grease trap functions in the same way with the FOG filling a grease trap from the top of the tank to the bottom. The FOG fills the grease trap from top down gradually displacing the wastewater from the middle of the grease trap and out into the sewer system. In-ground grease interceptors work in the same method but on a larger scale and our vacuum tanker service is deployed to empty these installations at many Swindon area and Thames Valley sites.
Do you need to install a grease trap ?
Replace a grease trap ?
Empty and maintain an existing grease trap ?
Have ANY drain care issue, whether a blocked sink, blocked toilet, blocked drain, pre-planned maintenance or CCTV survey need ?
Contact Metro Rod Swindon using any of the following methods for a safe, professional and reliable service day or night :
Call us on 0118 950 4477
Go to www.metrorod.co.uk/local/reading/
Email us at [email protected]trorod.co.uk
Connect with Andrew, our Managing Director on LinkedIn