Essential Information for the Hospitality and Leisure Sectors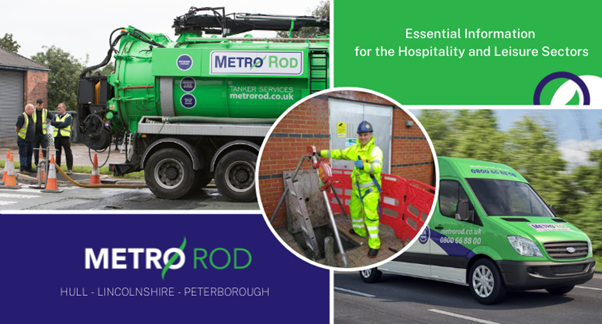 As the hospitality and leisure sectors open up across the UK, lots of obvious measures for safety and cleanliness have been put into place.

The deep cleaning of all public facilities and food preparation areas is complete.

Servicing and maintenance of kitchen and bar equipment, which has been stood dormant, has been done.

Management and staff are all trained and up to scratch on the latest government regulations to keep themselves and their clients safe.

But… there's a deep, dark, smelly secret lurking below the surface of some businesses… One which may have escaped the attention of managers who have been working flat out preparing for business to begin returning to something like normal…

Whether you are the manager or owner of a hotel, B&B, caravan park, holiday park, swimming pool, or any other hospitality or leisure business, pipes and drains being left unused for months can have created a problem which are now just waiting to happen. And no one wants any further disruption!

That's why we've put together this comprehensive guide on areas of your service operations to look out for including a handy Site Manager Checklist so you can make sure it's all covered!

Drains
We are seeing issues with drains due to the extended lockdown. The lack of use, and so little flowing water, has meant that build-ups have occurred and new damage can have been caused and so far gone undetected. Cracks in pipes over the winter months, tree root damage, or a build-up of debris restricting water flow, could all be lurking underground waiting for the most inconvenient moment to let you know it's there!

Signs that your drains are beginning to block include your plugholes glugging, the water level rising in the toilet after flushing, bad smells, water emptying slowly, reflux from pipes and plugs, as well as overflowing external manholes and gullies. If you experience any of these, please take swift action.

We know drains are often out of sight and so out of mind, but we are receiving so many calls from companies who are having further disruptions to their opening hours due to problems underground, we really would recommend you consider having investigations made. Metro Rod not only clear blocked drains but using our CCTV system we can travel through them to do a health check and ensure there is no damage lurking in the depths. We can investigate damage, clean drains, clear blockages and make any necessary repairs.

We have a number of techniques to clear, maintain and repair your drains. These include high-pressure drain jetting and electro-mechanical cleaning. Should tree roots be an issue we can remove them using robotic cutting. Should your drains become blocked, and we have one of the UK's wonderful heavy downpours resulting in your car park or other external areas being flooded, we have tanker services to remove the water.

Kitchen Grease Trap Cleaning & Maintenance
Prior to lockdown your FOG (Fat or Grease) Management System, grease trap, should have been emptied. However, we want to bring this to your attention because we know that in a small number of organisations this was actually overlooked as everyone tried to come to terms with the devastating news of closure due to lockdown. If you were one of these organisations, simply get in touch – we can dispose of FOG substances and create an ongoing maintenance plan for you, so you don't have to give it another thought in future.

Toilets
Not a very sexy subject, but the lack of flushing of toilets over the last year or so can have caused substances to have built up in urinals and pipework. This could well be something that has gone undetected in the deep cleaning process when preparing to reopen.

However, if left unchecked, blockages could occur over the next few months with a result of facilities having to be closed temporarily. And we know that's something no one wants to go through. We understand that having to close toilets can damage your business reputation immediately. Many people rate the company's standards on the bathrooms, don't they.

We would recommend taking action now and calling in someone like ourselves to run a descaling process to ensure everything is fully functional before a blockage has chance to occur. We are here to keep everything free-flowing for you!

Mini Treatment Plant
If your business has a Mini Treatment Plant then this is something you can ill afford to be out of commission. No one wants the inconvenience and issues that this could bring. Closing facilities, if not the whole business, temporarily could be catastrophic in the current climate.

As with your drains, the lack of use over the last year or so can have caused issues which may go undetected for a while now in use again. But if they develop then its a huge amount of disruption. Far better to get it checked out sooner rather than later and then ensure it's maintained regularly. Our pre-scheduled maintenance plans will see your plant serviced and kept running efficiently and to full capacity.

We are here to provide the usual emptying services which you would expect and, in addition, can offer repairs, desludging and unblocking services.

Pump Services
If your pump is not serviced and regularly maintained, that foul smell will surface.

We are receiving calls from more and more businesses are developing a build-up of waste in their pump chamber because of the low usage over a period of time. Fat, oil and grease which would normally have moved along has had a chance to solidify and is now firmly stuck. When this prevents your floats or sensors activating the pumps, you have an urgent issue.

We would urge you to take action now before the worst happens. A good clean and clearing of any blockages, followed by routine servicing and maintenance are all services we can help you with, as are any repairs required. We even design and install pump stations should the need ever arise.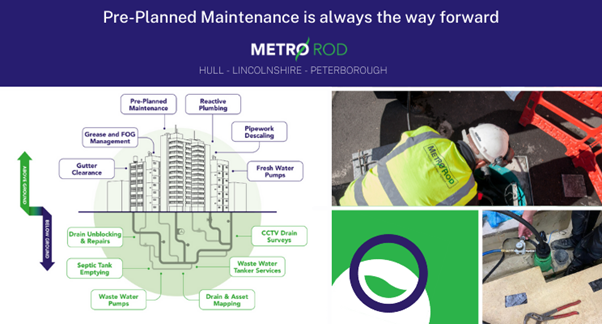 Below is a list of areas which you need to ensure you have covered in your business. All of these are services which we provide and can be provided either on an ad hoc or pre-arranged maintenance contract.
 Drain Maintenance and Repair
– ensure your drains remain free of debris and build-up and have no structural damage
 CCTV Drainage Damage Surveys
– avoid undetected damage from tree routes, cracks, and deposit build-ups
 High-Pressure Drain Jetting
– clearing drains which show signs of blockages
Pump Chambers Service and Maintenance
– ensuring your water comes in and your waste flowing out!
Mini Treatment Plant Service and Maintenance
– keeping your facilities sanitary
 Grease Trap Cleaning & Maintenance
– avoid disruption to your kitchen service
 Gutter Clearance and Cleaning
– avoid structural damage from damp and keep your outside facades pristine
 Drain Maintenance and Repair
– ensure your drains remain free of debris and build-up and have no structural damage
 CCTV Drainage Damage Surveys
– avoid undetected damage from tree routes, cracks, and deposit build-ups
Urinal and Pipe Descaling
– avoid closures through unseen build-ups
Bathroom Facilities, inc sink, toilet and shower trap repairs and replacement
– keeping your facilities up to standard
Gully Emptying
– avoid hazardous and unhygienic standing water on your property
Tanker Services
– clean out drains and sewers and remove surface water, as required
Pre-Planned Maintenance Contracts
– never get caught out again


Choose Drainage Experts You Can Trust
At Metro Rod we pride ourselves on our work with the hospitality and leisure industry in Hull, Lincolnshire, and Peterborough. We have an unrivalled response time to call outs and are available 24/7, any day every day. Whatever the issue, we can resolve it for you and keep your drains flowing with our Drainage, Plumbing and Pump Maintenance Service Plan.

Contact us for a free site assessment or CCTV survey, to catch any issue before it stops you operating. We also have maintenance contracts in place for many of our customers. We want to keep your premises and business safe and fully operational, and we truly believe that this is more essential now than any other time in business.

If we can help protect, prevent problems, or get your business flowing again, just let us know.

Contact us today.
Call us on: 01522-246933 or 01733-211832 or 01482-810013
Email: [email protected]