Education Sector – Case Study – Local School in Sowerby Bridge
Blocked drains, blocked sink, blocked toilet, or flooding issues can cause significant inconvenience to education premises, and in worst case scenarios, can lead to the temporary closure. The education sector is a large part of what we do here at Metro Rod West Yorkshire. Whether it's emergency reactive work on blocked drains, pre-planned maintenance or plumbing services. If you're a Facilities, Operations or Estate Manager for any education institutions across West Yorkshire give us a call as we are your local drainage company with 30 years expertise in unblocking blocked drains, drain repair, PPM and CCTV surveys.
Recently Metro Rod West Yorkshire was called to solve an ongoing issue of blocked drains and flooded tennis courts at a local school in Sowerby Bridge. The school has used Metro Rod West Yorkshire for many reactive emergency call outs such as blocked drains, blocked toilets, CCTV Surveys and more.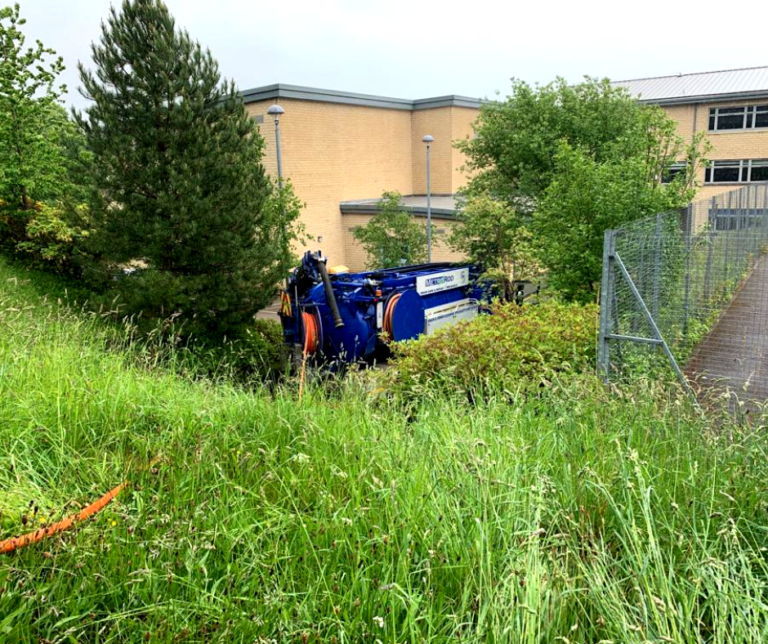 After the phone call regarding the flooded tennis courts, one of our engineers went to the site to look at the site, evaluate and report back to the office. The engineer was able to report to the Metro Rod West Yorkshire team that the flooded tennis courts were due to blocked drains overflowing and running down the banking. Due to the logistical position of the blocked drains, it was not accessible by usual conventional methods.
From the report of the first engineer, a plan was put together by Metro Rod West Yorkshires tanker driver and managing director Dave Carter. Dave has worked in the drainage industry for over 25 years. His experience, drive and commitment allow Dave to professionally and efficiently tackle any drainage and plumbing problems. The plan was put forward to the facilities management company who confirmed the works.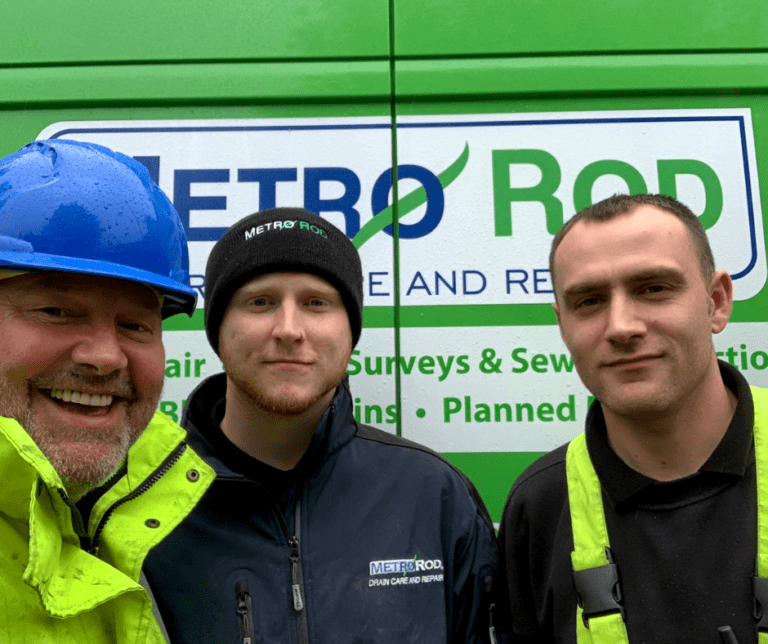 From Left to Right: Dave Carter (Managing Director), Jordan Carter (Technical Surveyor) and Karl Streets (Tanker Engineer).
Dave and our tanker driver returned to site with Metro Rod West Yorkshires high volume Jet Vac tanker and hired Jetchem remote reel to jet the blocked drains, remove the roots and soil deposits. The remote was rented from Jetchem. Designed for superb performance in a very compact package, delivering high quality combined with high performance and ability to cope with the most demanding of tasks, efficiently and reliably.
Due to the awkward location of the blocked drains at the top side of the school in a remote, secluded area, we used a remote reel to drive through the wooded area to the blocked drains. Using our high-volume Jet Vac tanker, we connected the remote reel to then jet the blocked drains from the remote location. After clearing the blocked drains, we used a camera and sonar probe to survey the pipework which enabled us to locate a buried manhole further down the banking and left the pipework free flowing. However, due to the findings of a buried manhole, this means further work will need to take place.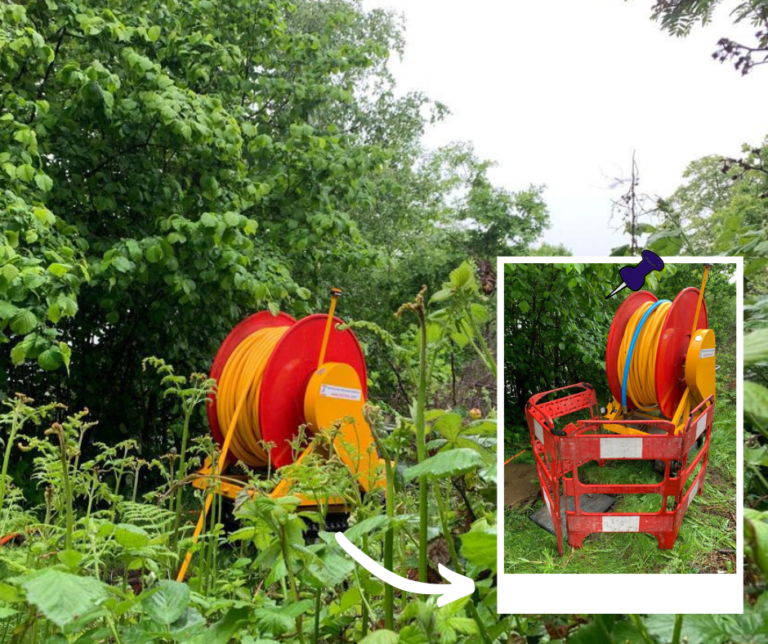 Here's a previous testimonial from the Assistant Facilities Manager:

"Metro Rod West Yorkshire team are fantastic! Extremely helpful and understand the needs of our contract. The office team are friendly and approachable, willing to assist wherever possible. We recently had a collapsed drain which was promptly attended, surveyed and further works suggested. Works were carried out at a time to suit us and to ensure there was no disruption to our clients and site. The works were undertaken by 2 friendly and informative operative who discussed the issues as the excavation took place. We felt very confident that the work undertaken was done to a high standard and in our best interest. Cost effective and rapidly resolved the issue. Highly recommend them!"
The best way for schools to ensure their drainage systems are running at peak capacity is to keep on top of regularly maintaining the drains' cleanliness.
To avoid the inconvenience of blocked drains, a blocked toilet, or a blocked sink, Metro Rod West Yorkshire provides Pre-Planned Maintenance (PPMs) for a number of educational premises. We can propose bespoken maintenance plans (PPMs) to prevent the inconvenience of temporary closures.
A PPM agreement will help to prevent blocked drains emergencies from occurring.
Contact us, and we can arrange for one of our team to attend the site at a time convenient to you and assess your exact requirements:
Step 1
A Technical Site Surveyor will visit your premises to carry out a FREE site survey. They will analyse previous drainage problems and highlight areas of concern.
Step 2
We usually recommend an initial clean that will return the pipework to full flow and optimum performance.
Step 3
A tailor-made programme is prepared showing which part of your system requires more frequent attention.
Step 4
By prior arrangement and at a time which is convenient to you and your business, our engineers will carry out scheduled works as agreed. A tailor-made solution for your business.
Need Our Services?
You can contact us to unblock blocked drains and provide drain repair, toilet unblocking, gutter cleaning or drain clearing,  PPMs (Pre-planned Maintenance), CCTV Surveys, septic tank management and emergency tanker services.
If you are interested in PPMs to prevent blocked drains or any of our other services, please see the areas Metro Rod West Yorkshire cover and our contact details below:
| | | |
| --- | --- | --- |
| Bingley | Horbury | Pontefract |
| Birstall | Huddersfield | Pudsey |
| Bradford | Ilkley | Queensbury |
| Castleford | Keighley | Settle |
| Dewsbury | Knottingley | Shipley |
| Driglington | Leeds | Skelmanthorpe |
| Glasshoughton | Liversedge | Skipton |
| Guiseley | Meltham | Slaithwaite |
| Halifax | Menston | South Elmsall |
| Haworth | Mirfield | Tadcaster |
| Heckmondwike | Morley | Tingley |
| Hemsworth | Normanton | Wakefield |
| Holmfirth | Ossett | Wetherby |
| Honley | Otley | Yeadon |
Visit our website:
Metro Rod Leeds & Wakefield, Metro Rod Bradford & Huddersfield
Email us on [email protected]
Call us on 01484 844100.
Leave Us Some Feedback:
At Metro Rod, we appreciate feedback from our customers so that we can continue to improve our services. If you have recently worked on blocked drains, provided drain repair or any other work carried out by Metro Rod West Yorkshire, please feel free to leave us a review on either the following: