Are you sick of having a blocked drain? Do you want to keep your drains clear and free flowing? Then prevention is the best cure. Discovering a blocked drain can ruin anyone's day, by following Metro Rod Coventry & Leicester tips into your usual cleaning routine can greatly reduce the chances of you having to deal with a blocked drain.
You will need the following:
Safety glasses
Rubber gloves (elbow length if possible)
Baking powder/ Bicarbonate of soda
White vinegar
Hot water
A container for collecting fats
Get yourself prepared:
With any cleaning job involving chemicals it's always best to be prepared. Rubber gloves are essential they will help protect your hands from all the nasty stuff and make it easier to pick debris. Protective glasses are also essential to prevent chemicals from getting into your eyes.
Not all drains are the same:
You will need to check some drains in your home more regularly than others, such as your bathroom sink, shower and bath. These drains are more likely to block in your home.
Commonly, drains/waste pipes will become blocked due to a combination of soap scum, toothpaste and hair, but over the years Metro Rod Coventry & Leicester have seen some unusual objects down the drains i.e. Beer cans, Bricks, Children's toys and yes….. jelly!!!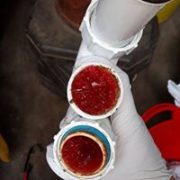 Jelly causing blockage.
Use boiling water on your drains weekly:
Boiling water is a simple yet effective natural drain cleaner and a great way to reduce the build-up of fat, grease and oils in your pipes.
Treat your drains with a Bio-enzymatic cleaner:
A bio-enzymatic is the best type of drain cleaner. It is an excellent product to treat a build-up of fats, bacteria, mould and other organic materials. Bio-enzymes products break down the wastes and soils into smaller pieces, the smaller pieces then form into two basic compounds – Carbon Dioxide & water, the soils will then break down until diminishes.
You can buy bio-enzymatic drain cleaner from most DIY shops relatively cheaply.
Flush drains with baking soda and white vinegar: 
Another alternative to keeping your drains clean and free flowing, is by combining baking soda or baking powder with white wine vinegar.
When the mixture is poured down the drain, you will see it fizz up, when the mixture fizzes it sticks to the dirt/debris to break them down. Leave the mixture down the drain for 5 minutes before flushing the drain with boiling water.
Pour all fats into a container:
Prevention is the best cure, so you should always make sure that excess fat from your roast dinner, ends up in a container rather than down the drain. One of the most common causes of blocked drains is from fats, grease, food debris.
To avoid blockages never flush the following down your drains: 
Plastic
Food
Sanitary products
Condoms
Harsh chemicals such as acid
Jelly!!!!!
In most cases, the above tips should help to prevent blockages and keep your drains clear and free flowing.
If you need further advice on keeping your drains clear, or help with getting them unblocked, we are just a phone call away, so why not give us a call anytime any day.
Areas we cover:
Metro Rod Coventry & Leicester cover the following areas: Alcester, Anstey, Ashby De La Zouch, Beaumont Leys, Bedworth, Braunstone, Coalville, Coventry, Hinckley, Leamington Spa, Leicester, Loughborough, Market Harborough, Meriden, Narborough, Nuneaton, Oakham, Rugby, Rutland, Southam, Stratford Upon Avon, Warwick.
We also provide the following services:
If you require our assistance, please don't hesitate to give your local  drainage company a call today….
Get In Touch With Us:
Visit: Metro Rod Coventry
Call us on: 02476 664610
Email: [email protected]
Leave Us Some Feedback
 At Metro Rod we appreciate feedback from our customers so that we can continue to improve our services. If you have recently had works carried out by Metro Rod Coventry & Leicester, please feel free to leave us a review on either of the following: