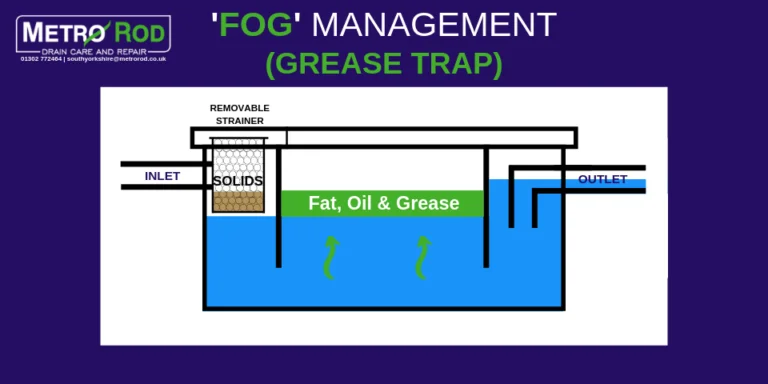 Drain care in London takes many forms depending on the nature and usage of the drainage system experienced across the capital's many business, commercial and residential sites. It's not always just about clearing a blocked drain, blocked toilet or blocked sink but sometimes more about ensuring adequate planned maintenance and management systems are in place. Handling "FOG" accumulations is one example of this.
London has a tradition of "Fog", with "pea-soupers" being historically atmospherically described by famous authors such as Arthur Conan Doyle and Charles Dickens and still seen periodically today.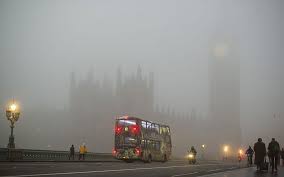 In Metro Rod's world of drainage "FOG" has a quite different meaning, being short for
Fat
Oil   and
Grease
which inevitably enters the drainage system wherever food is regularly prepared. In London there are thousands of such establishments such as
Restaurants
Cafe's
Takeaways
Pubs, bars and inns
Hotels
Schools and colleges
Bakeries
amongst others.
Over time, unless drains are maintained FOG will accumulate inside drain pipes and, in extreme cases, even cause giant "fat bergs" such as this London fatberg which received major media coverage in 2017
Fortunately, there are grease management systems and grease traps that are designed to intercept FOG and solids before they enter your wastewater system and cause blocked drains and London restaurants and catering establishments where great is an inevitable by-product must conform to legion;native requirements for grease management.
A grease trap tank such as the one in the photograph above acts as a reservoir holding wastewater and food solids that enter the trap from site kitchen sinks. As the wastewater cools, the fat, oil, and grease (FOG) harden and the food solids settle. The FOG, being lighter than water, floats to the top of the grease trap. The wastewater is forced through the grease trap and out to the sanitary sewer. The FOG and food solids remain in the tank, increasing in volume daily. Food solids and grease sludge (brown grease) settle to the bottom of the grease trap.
An effective grease trap will need emptying and Metro Rod Central London's vacuum tankers are ideally placed to carry out this essential maintenance work.
If you take a bucket of water and pour in some FOG, the FOG will float to the top of the bucket and harden. A grease trap functions in the same way and FOG fills a grease trap from the top of the tank to the bottom. The FOG fills the grease trap from top down gradually displacing the wastewater from the middle of the grease trap and out into the sewer system. In-ground grease interceptors work in the same method but on a larger scale and our large vacuum tanker empties these installations on many London sites.
Do you need to install a grease trap ?
Replace a grease trap ?
Empty and maintain an existing grease trap ?
Metro Rod Central London are here to help , Contact us today using any of the methods below 
by emailing us on [email protected]
Going to our website
or connecting with Gary, our Commercial Director on Linked In
We look forward to hearing from you soon