Gutters, what do they have to do with drains!?
When we here at Metro Rod in Liverpool explain to customers that we carry out gutter cleaning works we are often met with a look of disbelief – "Gutters? What do they have to do with drains?"  A lot more than you may actually think!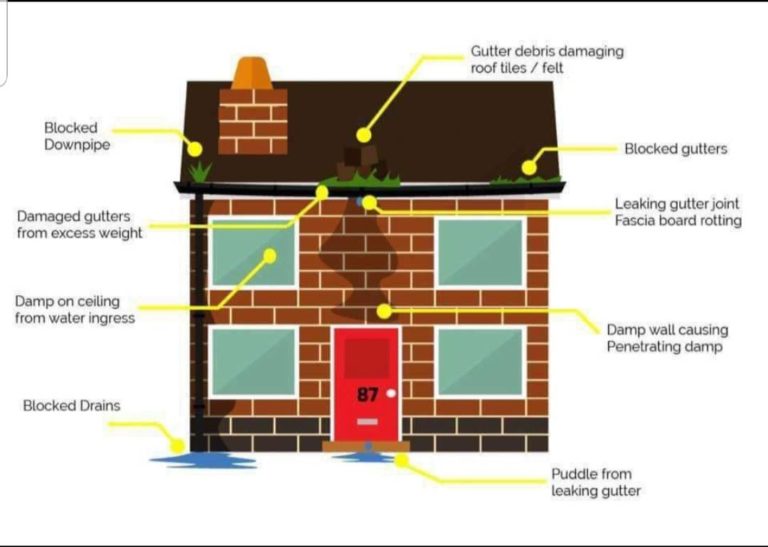 Leaves, moss and other debris can accumulate in gutters and lead to overflows and leaks which can damage soffits and facias on buildings BUT if these materials are contained in the gutters then after a period of rain these materials can be washed into downpipes, then into drains and suddenly it becomes clear how maintaining gutters can be a big part of drainage maintenance!  If the debris isn't a problem in the drain then there is every possibility it would cause problems blocking the downpipe (something else that we can fix, believe it or not!)
As Metro Rod are at the forefront of Health and Safety we use the Metro Vac for gutter cleaning and clearing.  This uses long poles that can reach up to 10 metres high in order to clean gutters from ground level, no need for expensive and disruptive scaffold!
There is a camera mounted on top of the pole which shows our engineers (and customers!) the extent of the problem, we then use the Metro Vac which is a large industrial grade wet vacuum to remove all of the debris and the camera is again used to ensure that the gutter is completely clean and clear.  Effective and safe!
So, why use Metro Vac for gutter cleaning?
We have been told a few times that local 'handymen' can clear gutters using ladders, so why would you use Metro Rod for this service?
Cost Effective – it reduces the need for expensive access equipment
No Mess – the Metro Vac sucks gutters clean using wet and dry vacuum technology
Perfect for hard to reach areas – ie over atriums
Reduces Risk – Minimises the need to work at height
Precision Cleaning – The on-board camera is operated by a skilled, fully trained and professional engineer.
It makes sense really!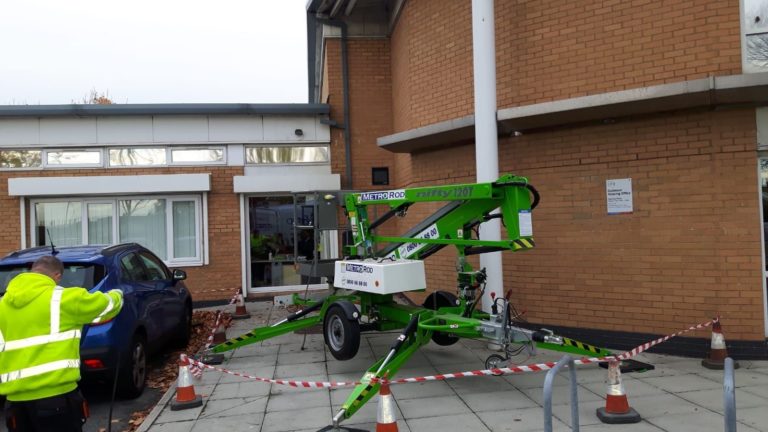 Of course, there are always going to be times when the Metro Vac is unsuitable, for example if the area to be reached has bad access or is too high and in these cases we here at Metro Rod in Liverpool have a cherry picker and can utilise scaffolding if absolutely necessary.
We carry out gutter cleaning on a wide variety of sites – from local schools and universities who have gutter cleaning carried out as a regular part of pre-planned maintenance to domestic properties who like the reassurance of having a professional company with a plethora of Health and Safety qualifications to carry out works on their home.
Of course, Metro Rod don't just carry out gutter cleaning, this is just one of the many services that we offer.  We pride ourselves on also carrying out activities on a daily basis such as;
Drain unblocks (including sinks, toilets, showers and external drainage)
CCTV Surveys on new or old drainage
Grease trap/interceptor emptying
Graffiti Removal
Drain repairs, excavation where required or non invasive patching or lining works
Precision robotic cutting
Tanker Services
Preventative Maintenance
We operate genuinely 24 hours a day, 7 days a week and work around our customers – if it's convenient for us to attend out of hours we will be there!  If you need to contact us please either
Email us on [email protected]
Call us on 0151 909 2807 (Calls to this number are always answered directly by an on call manager)
Visit our website, metrorod.co.uk/Liverpool
Go to our Twitter or Facebook Pages
Connect with our Business Development Manager, Jenny, on LinkedIn
We hope to hear from you soon!