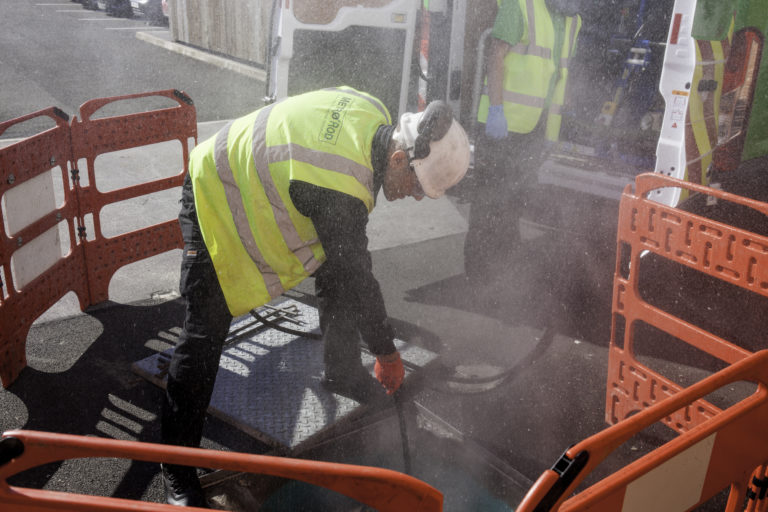 In many ways Metro Rod Slough's name is a misnomer as a blocked drain will more often than not be cleared by us using the latest high-pressure water jetting technology.
Our engineers are unblocking drains across Berkshire and the Thames Valley area every hour of every day and whether you are in Swindon or Maidenhead, Reading or Slough, Henley or Bracknell and all points inbetween you can rely on Metro Rod for any drain care or drain repair need.
In recent years the traditional manual "rodding" of blocked drains has been increasingly replaced by high pressure water jetting. This technique involves water being directed through the drain at very high pressure by a jetting nozzle and is particularly effective at removing even the most stubborn drain blockage. Nowadays we would only use rods for very straightforward blockages located close to the manhole access into the drain and, even than, are likely to "jet through" to ensure that the drain is totally clear.
High pressure water jetting of drains is a highly skilled and potentially dangerous activity in the wrong hands. At Metro Rod Slough all our engineers are fully professionally accredited to use this technique and all their vehicles are equipped with properly maintained and fully effective jetting machinery, hoses and nozzles in order to deliver the best possible customer service.
A blocked drain or blocked toilet is something which can have an adverse effect on householders and businesses alike and we are proud to unblock drains for homeowners, tenants, Facilities Managers, Property Managers, schools, hospitals, factories and offices across Slough and all surrounding areas such as Windsor, Ascot, Maidenhead, Bracknell and beyond.
You can read more about Metro Rod high pressure water jetting by clicking here. Don't let a blocked drain, blocked toilet or blocked sink add PRESSURE to your life. Contact us and we will quickly and professionally apply the right sort of pressure and remove your problem.
To find out more about how Metro Rod Slough can support YOUR business or solve any problem with your drains just  call us on 0808 208 2654 . Alternatively you can call our emergency helpline on 0800 66 88 00 24 hours a day.
You can also contact us by:
Going to www.metrorod.co.uk/local/reading
Emailing us at [email protected]
Connecting with Andrew, our Managing Director on Linked In