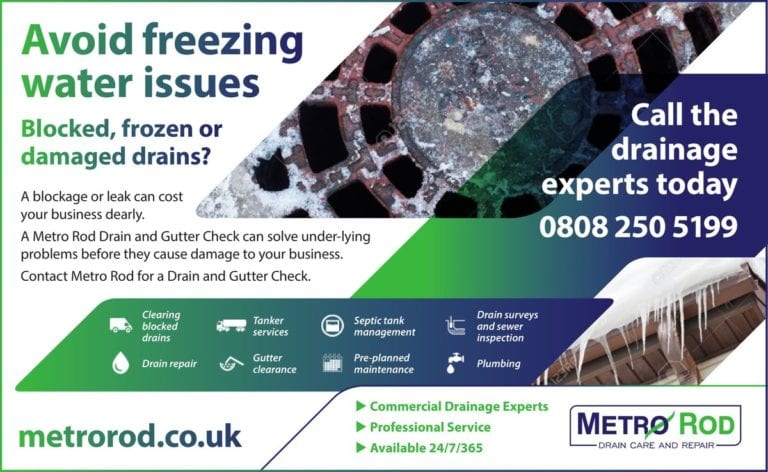 Our drains in London perhaps have an easier time of it than in more northerly parts of the UK when it comes to problems caused by freezing weather but, with sub-zero temperatures now appearing on the London forecast for the first time in many months, it's a good time to remind you that Metro Rod is here to help should these impact on your drains.
With colder weather looking inevitable, and some even talking about a possible second "Beast From the East", it's a good time to ensure your drains are free of defect and clear of any build up of materials which mean that freeze and thaw of water is likely to cause you problems. Every year London businesses and residents suffer disruption, expense and inconvenience when a blocked drain or blocked toilet occurs or when the thaw from a cold spell reveals issues with damaged or inadequately free-flowing drains.
At Metro Rod we are available 24/7/365 to deal with any such reactive emergencies and our trained engineers are unblocking drains across London each and every day. We aim to provide
rapid response…typically within a maximum of 4 hours and often more quickly than this where a situation is critical
a first time fix wherever possible. We will typically achieve this in over 90% of blockage cases. Where a more complex issue requires a drain repair then we will diagnose the problem and appropriate solution, typically using CCTV drain survey, and carry this out at a time convenient to you, our customer, wherever in London you are. We operate across London from tand Dulwich in the East, through the City of London and West End and across to Ealing and Acton in the West. We have other depots covering the entire country so you can be assured that Metro R0d can assist with any drain care and repair issue wherever you are in London and beyond.
a technically proficient service. All our engineers are equipped with high pressure water jetting and electro-mechanical drain cleaning equipment to clear your blockage quickly and effectively. Our CCTV drain survey equipment means we can quickly inspect your drains and identify the problem. Not all damage caused  by frozen water in drains is quite as obvious as the example below !   Where a repair is required we have the technical expertise to carry this out and will do so without the need for excavation and replacement of your drain wherever possible.
A professional and SAFE service. Our Health and Safety training and accreditations reflect the fact that nothing is more important to us than ensuring the safety of every job for our engineers and customers.
For commercial sites in London, particularly:
Sites with high, regular usage of toilet or drain facilities by the general public
Large office buildings with numerous employees using the toilets and drains
Sites susceptible to build up of materials which can block drains e.g. the restaurant and hospitality sectors
we would always recommend a pre-planned maintenance programme to ensure that any drainage issues are avoided by ensuring that your drains are regularly cleaned and inspected at an interval appropriate for your site. This "prevention is better than cure" approach will give your business the best possible protection against any potential problems caused by a "Big Freeze" this Winter.
Contact us today for a free site assessment for your commercial premises and ensure your drains are free flowing in 2019, whatever the weather 
You can contact us on:
by emailing us on [email protected]
Going to our website; www.metrorod.co.uk/local/central-london/
or connecting with Gary, our Commercial Director on Linked In
We look forward to hearing from you soon!