We are fully committed to servicing all customers in the current circumstances. Our engineers are working hard 24/7 to support all domestic and commercial customers.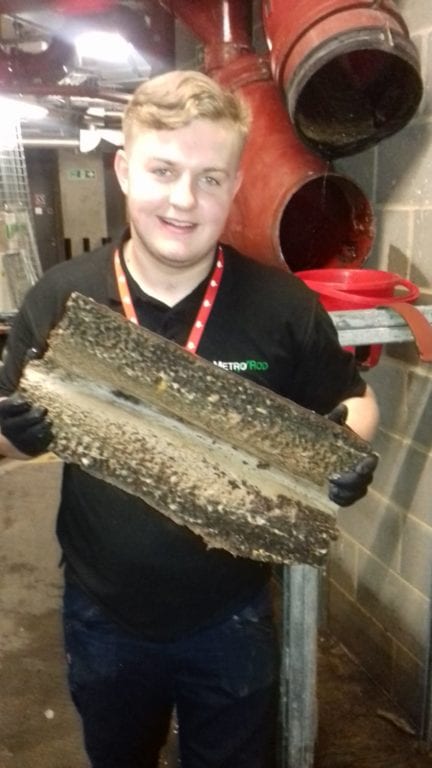 As commercial drainage specialists Metro Rod Central London carry out both emergency drain unblocking and pre-planned drain maintenance cleaning at many large office sites and high-usage public buildings such as hospitals, museums, sports and leisure facilities and hotels.  Our working area includes the high density built up areas of the  City of London and West End as well as Central London areas from Stratford to Dulwich , from Ealing to Putney and all areas of London inbetween.
A blocked drain has many potential causes but one of the most commonly found in large commercial sites and public buildings in London is build up of uric scale in the pipework of the foul drainage system. When the calcium and protein deposits found in urine come together in a toilet or urinal they react with one another to form this solid compound . … It is often more pronounced in urinals, where there is little to no flowing water to break down and wash away the deposit of scale but, if drain maintenance is neglected, scale deposits can eventually accumulate and block even large diameter pipework.
At Metro Rod we recently attended a large office building occupied by a Financial Services business, in Central London. Serious problems were being experienced with the foul drainage system in the building and investigations cam to focus on the soil stacks and suspended pipework found throughout the building and in it's basement.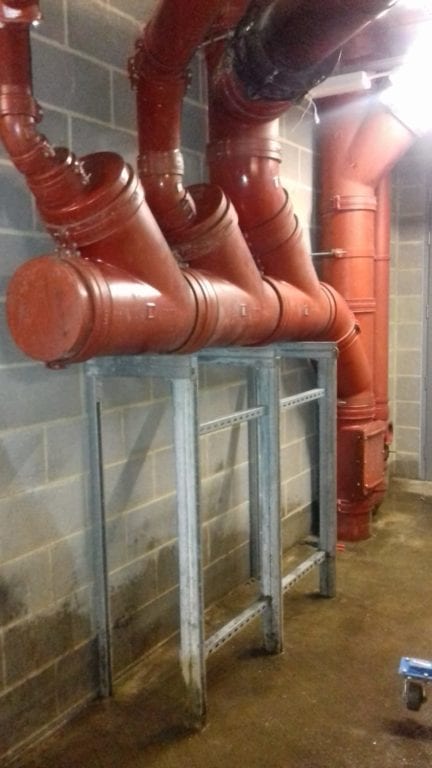 When this pipework was accessed by Metro Rod engineers the impact of a number of years of neglect, in terms of drain maintenance, became apparent with much of the pipework up to 90% packed with build up of uric scale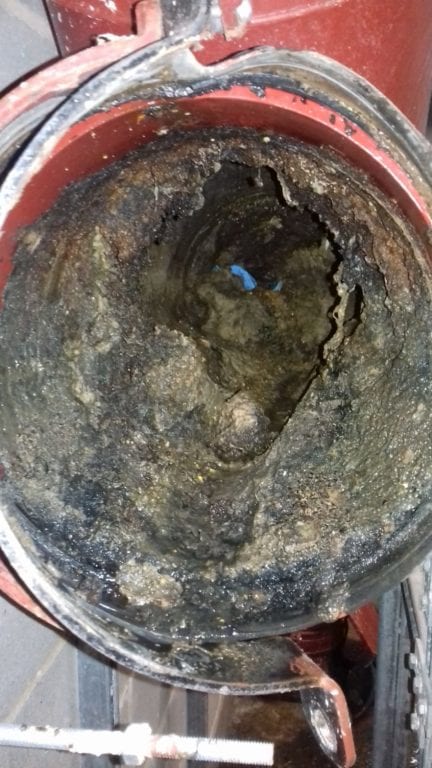 The photograph at the top of this article shows Louis, Metro Rod Central London drainage engineer, holding a single "lump" of scale which we subsequently removed as part of out subsequent extensive clean of these pipes which are now, happily, restored to full bore with the building's drainage system free-flowing and business able to continue free of the costly interruptions which were previously seen.
Ultimately, because of the previous neglect,  this work was time-consuming and relatively costly for our customers. a Metro Rod pre-planned maintenance programme has now been established which will ensure that this building's drains are easily and efficiently cleaned at appropriate intervals to keep them free of potential blockages and interruptions to business.
If you are a Property Manager , Maintenance Manager of Facilities Manager in London then we will be delighted to hear from you to discuss how Metro Rod can assist you.
We are available to react to a blocked drain, blocked toilet or other drainage issue 24/7 . Where your property and it's drainage systems are subject to high usage though remember Prevention is better than cure and our pre-planned maintenance programmes can save you valuable time and money by keeping your drains in tip-top condition.
If you need any drainage services from Metro Rod in London please don't hesitate to get in touch.
You can contact us on:
by emailing us on [email protected]
Going to our website; www.metrorod.co.uk/local/central-london/
or connecting with Gary, our Commercial Director on Linked In
We look forward to hearing from you soon!