We are fully committed to servicing all customers in the current circumstances. Our engineers are working hard 24/7 to support all domestic and commercial customers.
What is a Grease Trap?
A grease trap is a plumbing device that is designed to intercept most grease or solids before they enter the wastewater disposal system. Even common wastewater contains small amounts of oil that can enter treatment facilities or septic tanks. This could form a layer of floating scum.
The purpose of a grease trap is to collect and reduce the amount of fat, oil, and grease that enter the sewage. A grease trap acts as a dam holding wastewater and solids that enter back from the sewer. As the wastewater cools the fat, oil and grease harden, and the solids settle. Therefore, the hardened solids will float to the top of the grease trap and reduce the grease being let into the sewers. Hence, lessening the number of blockages, pest infestation, and odors coming from the sewage pipes.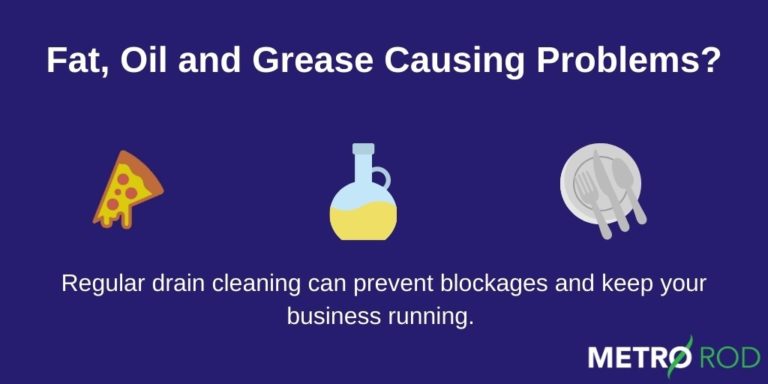 Grease Trap Management
How Often Should I have Grease Traps Cleaned?
Grease traps should be cleaned at least every 3 months.
Grease traps must be cleaned often. This is because when the trap is a quarter full, the trap becomes useless. After hitting the quarter mark the trap will no longer catch the grease and oil,  but instead, they will escape into the pipes. This dramatically increases the chance of blockages and overflows.
What is the procedure for cleaning a Grease Trap?
We at Metro Rod have the ability to supply, install and maintain grease traps that meet the needs of your business. We provide regular pre-planned maintenance that can be either every 1-3 months depending on the business of your business. Businesses can also have ad-hoc grease trap maintenance and cleaning.
The cleaning procedure starts with removing the build-up of grease and solids using a high-pressure water jetter. This jet has the ability to clear the drains from any additional build-up that is caused or was let through by the grease trap. Metro Rod replaces the enzymes that break down the fat, oil, and grease so the build-up will always stay at the same pace. This is dependant on the business keeping up its workflow.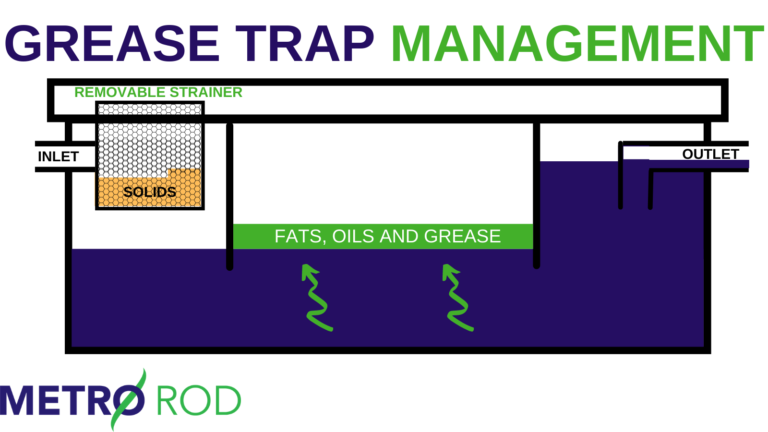 How does a Grease Trap work in commercial businesses?
If you own a commercial business like a restaurant or kitchen, particularly a busy one then grease traps might have to be cleaned and serviced more frequently. The busiest of restaurants have their traps cleaned every month or so to ensure that there is no chance in leakages that could increase the risk of food contamination or fires.
Grease Traps are used in a wide range of environment, including:
Restaurants
Cafe's
Hotels
Schools and colleges
Bakeries
Takeaways
Pubs, bars, and inns
Are you in need of reliable and efficient drainage or plumbing solution? Metro Rod Newport, Hereford and Gloucester can help you and your businesses or home with our services
Call us on; 01495 305578
Visit our websites; Newport and Hereford or Gloucester
Email Us; Newportand[email protected]
Find Us On; Twitter or Facebook or LinkedIn
Metro Rod Newport, Hereford and Gloucester are available 24/7 where we are able to deal with multiple types of drainage problems and issues including:
Unblocking drains
Gutter cleaning
Drain clearing
CCTV drain survey
Septic tank pumping
Vacuum tank maintenance