We are fully committed to servicing all customers in the current circumstances. Our engineers are working hard 24/7 to support all domestic and commercial customers.
Emergency? 24/7 helpline
0800 66 88 00

UK WIDE SUPPORT - 24/7/365

A NATIONALLY-SUPPORTED, LOCAL APPROACH

ALWAYS ONE OF THE FASTEST TO REACH YOU

#1 FOR PROFESSIONALISM AND TECHNICAL ABILITY

APPROACHABLE AND FRIENDLY PROFESSIONALS

A TEAM YOU CAN TRUST
Services available from Metro Rod Newport and Hereford
All of our engineers are highly skilled and experienced in a range of drainage services suitable to your needs, including:
High-Pressure Water Jetting
CCTV Surveys
Tank Emptying
Pipe-lining
Sewage Treatment Plant Maintenance
Pump Repairs
Leave Some Feedback
We appreciate everything you have to say about our visit to you, our customers. Whether we have frustrated or pleased you, let us know so we can improve our services.
If you've had recent work carried out by a member of the Metro Rod Newport and Hereford team, feel free to complete our short survey or review us on Facebook or Google.
Areas We Cover
Abercarn
Cwmbran
Pontypool
Abergavenny
Cwmtillery
Presteigne
Abersychan
Ebbw Vale
Rhayader
Abertillery
Gilwern
Rhymney
Beaufort
Griffithstown
Risca
Bettws
Hay On Wye
Rogerstone
Blackwood
Hereford
Ross on Wye
Blaenavon
Knighton
Six Bells
Brecon
Ledbury
Talgarth
Brynmawr
Leominster
Talybont-on-Usk
Builth Wells
Llandrindod Wells
Glasbury
Caerleon
Llantarnam
Chepstow
Caldicot
Magor
Raglan
Crickhowell
Monmouth
Usk
Croesyceiliog
Nantyglo Crumlin
Newport
Cwm
Pontllanffraith
READ WHAT OUR CUSTOMERS THINK ABOUT US
Google My Business Rating
A job well done by Metro Rod!
Metro Rod recently attended to a property in Newport - the job was carried out on behalf of the property owner's home insurance provider. The property owner had reported a blocked drain in his garden that had started to overflow and cause h... Read moreis toilet to block.

"The initial call at 3pm was to my insurance company as I had a below ground drainage problem. By 5.30pm, a Metro Rod service engineer from the Newport & Hereford office was on site. In little over an hour the problem was solved in the most cheerful and willing manner. Some companies excel at what they do, and this is one of them. Well done!"

Metro Rod work on behalf of a wide variety of clients, ranging from the insurance sector, blue-chip companies, housing associations and domestic customers. We pride ourselves on providing a quality service through every step of our work, from the moment a call is made through to job completion we care about every step of the process. We ensure that our clients and customers are at the heart of all we do.
Metro Rod save the day!
Our engineers were recently called to deal with a blocked drain in Newport. The homeowner had called our office to inquire about our services and availability, we were able to attend within an hour. Upon arrival at the property our engineer... Read more was able to diagnose the problem immediately and proceeded to clear the blockage with our specialist high pressure water jetting equipment.

"Your engineers saved the day! I was very satisfied with their work, they were very professional and nice guys. I would not hesitate recommending Metro Rod to anyone - thank you again!"

We are able to guarantee our clients that our engineers are always fully equipped to carry out their work - our engineers are trained to the highest standards, we take pride in our work and always aim to exceed our customers expectations.
Old drainage system not an issue for our engineers
Our engineers were recently called to investigate a blocked drain at a property built in the 1940s, located in Ebbw Vale. The old drainage system had posed some problems for the homeowner that was causing repeated blockages. The homeowner e... Read morenlisted our services after searching for a reputable drainage company on Google.

"Your engineers came out for a simple jetting job that turned into a larger than expected job on a drainage system from the 1940's. They were very professional, knowledgeable and dedicated to doing a good job, I would highly recommend both engineers, they are an asset to you company - thank you"

All of our engineers are trained to the highest standard, each hold all of the relevant industry standard qualifications meaning that we are both capable and safe to carry out our work. You can be safe in the knowledge that Metro Rod are the industry leaders in drain care and repair.
Trusted By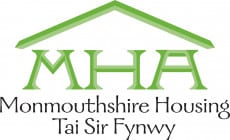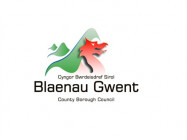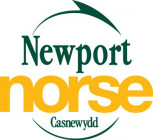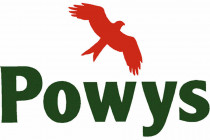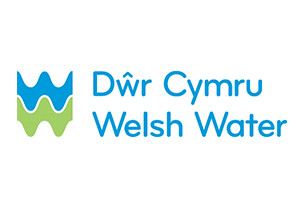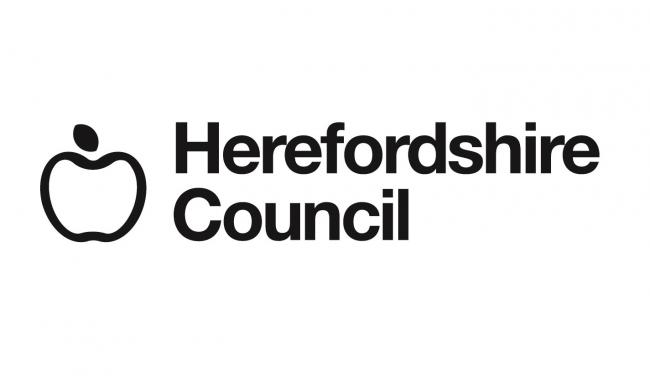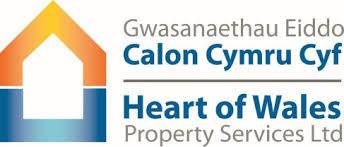 Our Team
DAFYDD JAMES
Business Development Manager
CRAIG LEWIS
Office and Training Manager
NOEL HALE
Senior Engineer
DANIEL LANGLEY
Scheduling Manager
DANIEL ATKINSON
Welsh Water Scheduler
SHANNON WILLIAMS
Marketing Manager
DARREN ALLEN
Tanker Operative
LLWYS HILL
Tanker Operative
RYAN HOOPER
Drainage Engineer
BRYAN EDWARDS
Drainage Engineer
AARON PRICE
Drainage Engineer
NEIL TRAFFORD
Drainage Engineer
STEVE WILLIAMS
Drainage Engineer
BEN SIMPSON
Recycler Operative
TERRY CALLOW
Drainage Engineer
CHRIS PRICE
Drainage Engineer
MARK PASSMORE
Drainage Engineer
DAVID WILLIAMS
Drainage Engineer
NEIL BENNETT
Engineer Assistant
MARK WORLOCK
Engineer Assistant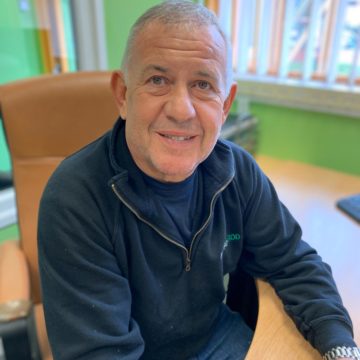 Colin became a franchisee in 2006, he shares the role of Director with his son Ben. Colin has grown the business from a single van operating out of his garage into the business we are today. Colin now enjoys helping out in the business 2 days a week where he undertakes a variety of jobs, from van and jetting unit repairs, vehicle fit-outs and general maintenance and of tools and equipment.
Colin is a proud grandfather to Maggie, Penelope and George, who keep him very busy when he is away from the business.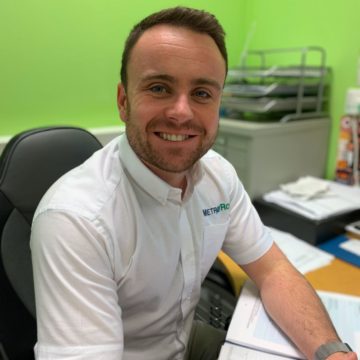 Ben started working at the franchise in 2006 under his father, Colin, as an engineer where he developed a vast technical knowledge and a large array of skills. Ben became the franchisee in 2012, and since then has been the driving force behind the growth of the business since then.
Under Ben's management, the franchise has expanded, incorporating the Gloucester area. In 2016 Ben won the HSBC BFA Young Franchisee of the Year Award.
Now Ben's work includes managing all members of staff, finances, future growth, and investment.
Ben is an avid swimmer and enjoys playing golf. Since Ben was young, he has always had an interest in business.
In his spare time, Ben enjoys walking with his spaniel and wife and going on adventurous holidays.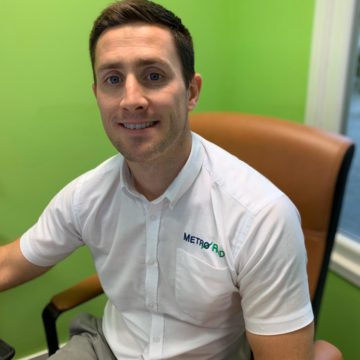 DAFYDD JAMES
Business Development Manager
Dafydd joined our business at the start of 2014 and has since taken up the responsibility of dealing with all our tender applications, as well as a range of other day to day management responsibilities. Dafydd has transformed our franchise with his tender successes having won numerous contracts since joining the business, these include:
·         Reactive drainage maintenance for Newport City Homes
·         Reactive drainage maintenance for Bron Afon Community Housing
·         Maintenance of sewage treatment plants for Monmouthshire Housing Association
·         Maintenance of sewage treatment plants for Powys County Council
·         Maintenance of grease traps for Aneurin Bevan Health Board
·         Deep cleaning of town centers for Blaenau Gwent County Borough Council
His greatest success came in August 2018 when the business secured the wastewater network operations contract for Welsh Water in the Herefordshire and Powys areas. Our work involves all reactive blockages and follow on works, including CCTV mainline surveying, de-silting, root cutting.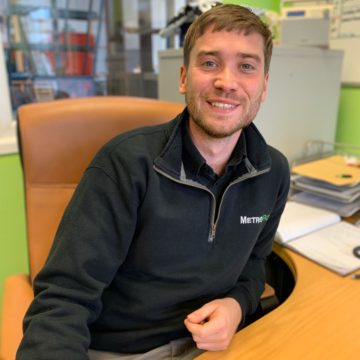 CRAIG LEWIS
Office and Training Manager
After starting as an engineer in Metro Rod in 2012, Craig spent the early part of his employment learning the hands-on side of the drainage industry.
The training as an engineer served him well, as Craig now manages the work conducted by engineers, and trains the engineers in health and safety as well as much more. He is also responsible for the continuous allocation of work to the engineers.
The most common question Craig hears from customers is 'If I flush will everything overflow?' To which the answer is normally no.
Craig's favourite sport is golf, but he is a huge fan of Newcastle FC.
A fun fact about Craig us that he has never been able to whistle and still can't!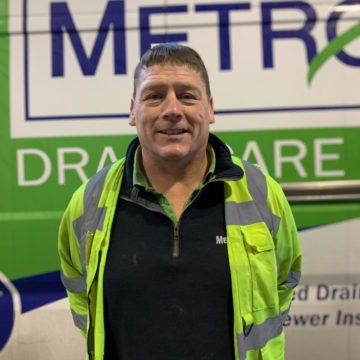 NOEL HALE
Senior Engineer
Noel has worked for Metro Rod since 2012 and takes a great deal of pride in always delivering great customer service. As a senior operative, Noel is known for helping out other engineers and taking younger engineers under his wing in order to train them. As a former miner, his experience comes in handy for tackling most of our excavation work.
Our phone and social media are always buzzing with praise from our customers due to Noel's excellent work. As a result, Noel has won BFA Engineer of the Year 3 times since joining the team.
Noel's most common question is whether he could help out on a job that needs someone with more experience- which Noel is always keen to help with.
During his time out of work, Noel enjoys sleeping, watching rugby and spending time with his wife caravaning in Brecon.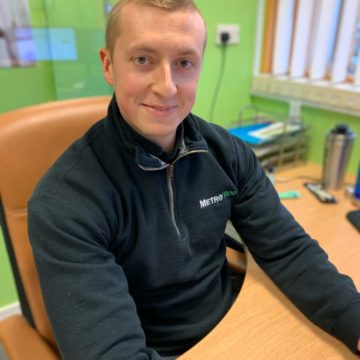 DANIEL LANGLEY
Scheduling Manager
Daniel joined Metro Rod in 2015 as an office assistant. Daniel has worked hard to become a key member of the office team. Therefore Daniel is now primarily responsible for scheduling engineers and jobs they need to complete along with incoming and outgoing calls to customers and engineers.
The most frequent question Daniel is asked by customers is for job updates.
Daniels favourite sport is rugby and his favourite team in football is Manchester United. A fun fact about Daniel is he once microwaved a cabbage which he then ate warm (ew!)
In his downtime, Daniel likes to relax by sleeping, going to the gym and watching Netflix documentaries.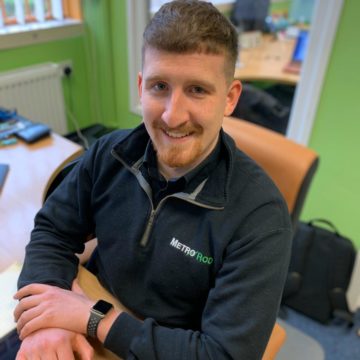 DANIEL ATKINSON
Welsh Water Scheduler
In 2018, Daniel joined the team due to an increase in work thanks to Metro Rod's win of the Welsh Water contract. Daniel also plays a pivotal role in the management of our day to day work received, liaising with Welsh Water clients and our engineers.
Daniel said that his most asked question from customers would be 'Where are you' talking about the engineers.
Daniel enjoys swimming and supporting Wales in the rugby. In his spare time, Daniel enjoys creating new recipes in the kitchen and doing cardio in the gym.
A fun fact about Daniel is that he used to teach spin classes in the gym he worked in previously.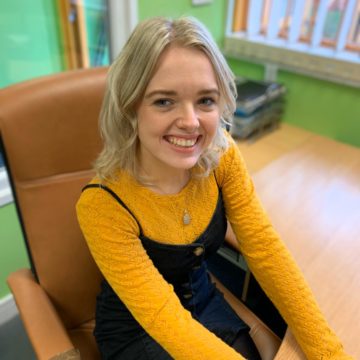 SHANNON WILLIAMS
Marketing Manager
Shannon started working in Metro Rod in late 2019 after graduating from university with a First Class Hons Degree. Shannon's roles include overseeing and developing campaigns, conducting research into the target audiences, presenting ideas and strategies and maintaining social media updates and responses.
A fun fact about Shannon is that she cannot cook to save her life, as she has blown up 2 microwaves already!
In her spare time, Shannon enjoys hiking with her dog and son, Luca, As well as drawing and running a blog where she reviews films, books, and other activities she has taken part in.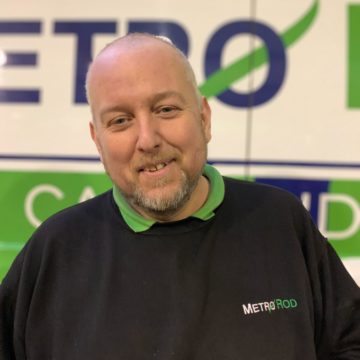 DARREN ALLEN
Tanker Operative
Darren has worked in Metro Rod since August 2019 and operates one of our fleet of tankers. Before Darren worked at Metro Rod he used to work on the concrete. However, since getting a job here, he has been trained to the highest standards of all things drainage including upgrading from a drainage engineer to a tanker operative. A tanker operative will be responsible for the uplift of sewage from a variety of different tanks to include cesspits, treatment plants, septic tanks, and interceptors. 
Darren enjoys going on mini weekend breaks when he's not at work and sleeping. Darren enjoys activities such as clay shooting while not at work.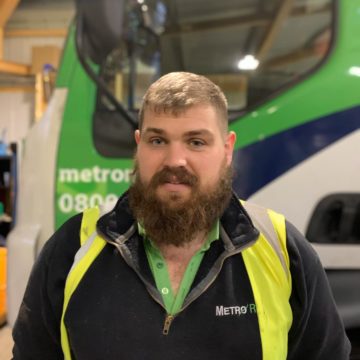 LLWYS HILL
Tanker Operative
Llwys has been a member of the team since March 2014 after beginning as a general assistant. Llwys was trained by Metro Rod via an inhouse scheme. Throughout the scheme, Llyws built up his skills becoming one of our youngest engineers until last year.
Llwys specialises in operating our vacuum tankers. And has developed a vast amount of knowledge in carrying out high-pressure water jetting of large diameter pipework along with the maintenance of sewage treatment plants.
Llwys isn't into sports apart from watching car racing.
In his spare time Llwys loves to go around the country to different car shows varying from vintage to supercars.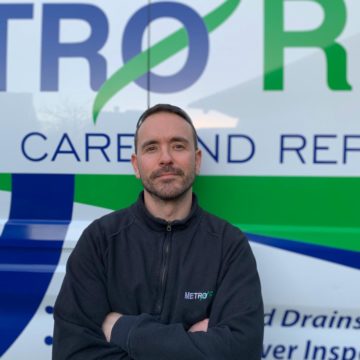 RYAN HOOPER
Drainage Engineer
Ryan has worked for Metro Rod for 5 years. Ryan trained to be a drainage engineer after already training to be a plumber in college. Lots of the skills that Ryan learned as a plumber have been transferable to the position he holds in the company. These skills include answering technical enquires from both customers and office staff depending on the level of the job at hand and to explain what is causing the said drainage problem.
Ryan enjoys rugby where he supports the Ospreys. In his spare time, Ryan loves settling down by watching sports, going to the gym or casual dating. A fun fact about Ryan is that he can breakdance!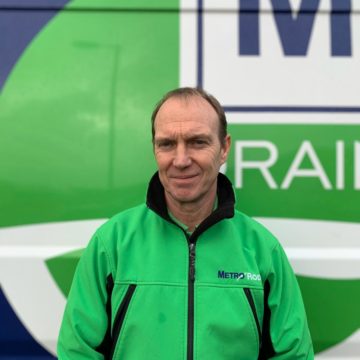 BRYAN EDWARDS
Drainage Engineer
Bryan started working in Metro Rod on the 28th of January 2019. Bryans's work includes working personally with clients to ensure that their requirements are fulfilled and expectations met. This could be through their drainage problems being fixed or emptied etc.
Bryan loves football, mentioning to everyone how much he enjoys watching or listening to it. His team is Cardiff City who he has supported since he was young.
In his spare time, Bryan enjoys watching Cardiff City play and winding down by walking his dog, a Cavachon. If Bryan were to pick a holiday, he would always pick somewhere with sun and no activities. Bryan prefers to sunbathe at the pool and beach or walk around the resort.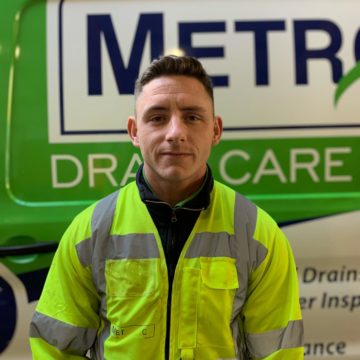 AARON PRICE
Drainage Engineer
Aaron has been apart of Metro Rod Newport, Hereford and Gloucester since September 2019. Before coming to Metro Rod Aaron was trained and employed by another drainage company. After switching, Aaron has been able to further his skills with the intense work around the clock. As a drainage engineer, Aaron's main job is to assist any customers in drainage situations, ranging from jet vacuuming to CCTV surveys.
Aaron isn't into any sports but will watch the rugby as a last resort. A fun fact about Aaron is that he is a perfectionist. This means that Aaron is used to doing things to a high quality including his professionalism among clients.
When Aaron isn't working, he likes to go to the gym, swimming or rock climbing to ease off any excess energy. Aaron is very fond of caving which he does in Yorkshire when he gets time off, as it lets him experience different things than he's used to at work.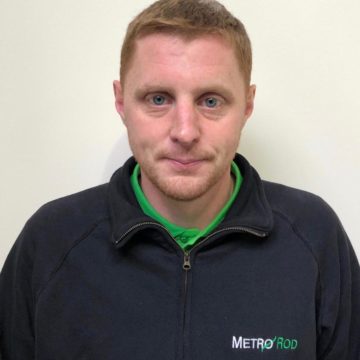 NEIL TRAFFORD
Drainage Engineer
Neil began working for Metro Rod Newport, Hereford and Gloucester in late 2018 but has been trained in the drainage business for 12 years. Since switching Neil works mainly in the Hereford and Leominster areas as it is closer to home, although he does venture into the Newport and Gloucester areas as well. Neil is trained in surveying drainage systems with CCTV surveys where he has the ability to find any possible problems. As a drainage engineer, Neil also repairs and unblocks pipelines depending on the job at hand.
Neil supports Liverpool in football and enjoys playing for his local team. Neil has two children so when he isn't at work tries to spend as much time with them as possible. Neil goes abroad to Spain once or twice every year with his family as his father lives out there and it's basically a free holiday!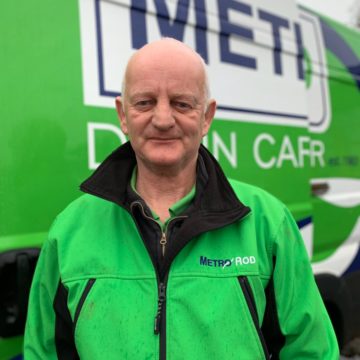 STEVE WILLIAMS
Drainage Engineer
Steve began working in Metro Rod in 2018 after working for Blaenau Gwent Council for 39 years. Steve's 22 years past experience as a sewerman gave him the unique ability to work as a drainage engineer for Metro Rod with little other training. As a drainage engineer, Steve's work includes surveying multiple different types of drainage systems as well as repairing and unblocking pipelines on a daily basis. 
Steve is a big supporter of Cardiff City FC and mainly only watches football compared to other sports.
In his spare time, Steve and his wife take their touring caravan around the UK meeting with friends they've met previously. Steve's favourite place to pitch up camp is in Brean Sands or Bury Port in South England, as they have great pubs and lots of trails to walk.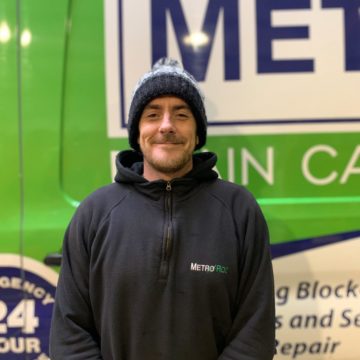 BEN SIMPSON
Recycler Operative
Ben started working in Metro Rod in 2019 where he works continuously on the recycling tanker. Ben is trained in controlling the recycler and making sure it is working correctly before a job. Ben makes sure the recycling system of the recycler allows him to vacuum and jet at the same time. In other words, now Ben and other engineers would not have to find somewhere to refill with clean water as the recycler does that for them.
Ben's favourite sport is motocross due to it being fast and exciting. 
Ben has a young daughter who he loves to take out on her quad bike in his spare time, although she is still getting the hang of it.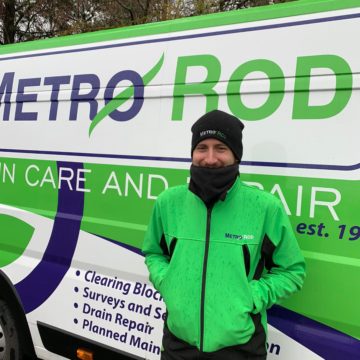 TERRY CALLOW
Drainage Engineer
Terry started in the business in 2019 with no previous experience in the drainage industry. However, since joining Metro Rod, Terry has learned a lot about the trade and how to do CCTV surveys, high-pressure water jetting and much more.
At the moment Terry is learning how to operate the recycling tanker, which is much like a regular tanker but is more powerful. Therefore, can clean bigger or dirtier pipes faster and without wasting water.
While on the job Terry hears the question 'How is the job going?' a lot! As we need to know what is happening at a job and how it is being dealt with.
Terry enjoys watching rugby where he supports Cardiff Blues and Wales. Terry has 2 young daughters who he loves spending time with when he's not working. One thing terry loves is taking his daughters on holidays to new and exciting places.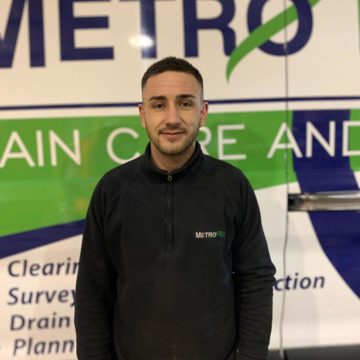 CHRIS PRICE
Drainage Engineer
Chris has been in the drainage industry since 2014 and came to Metro Rod in 2019. Chris moved to Metro Rod after hearing about how well the planning of the work was distributed and how the company looked after their staff. Chris worked on mainly CCTV surveys before moving to Metro Rod where he has expanded his knowledge and been able to get all his skills up to the same level
Chris is a huge football fan and supporter of Manchester United. He also likes to follow Gerwyn Price (Gezzy) in the darts. When Chris has time off work he likes to keep fit in the gym or watch football and rugby with his mates. Chris has a young daughter who loves to go on day trips with the family.
A fun fact about Chris is that he is clumsy. Once, Chris climbed through his window, fell off the windowsill into the house, slipped on the rug and landed with the palm of his hand going through some glass! (Ouch!)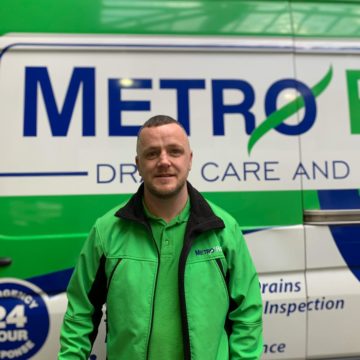 MARK PASSMORE
Drainage Engineer
Mark started with Metro Rod in January 2020 and has been in the drainage industry for 5 years. Mark spent his first 3 years of his career as a drainage engineer before doing 2 years of drainage surveying with his previous employer. At Metro Rod Mark does maintenance, surveying, and repair of drainage pipelines including sewage and wastewater.
Mark doesn't like football but instead is a rugby lad who supports Wales and Newport Dragons. A fun fact about Mark is that he is a fussy eater and won't eat food that he doesn't like the smell or look of. 
When Mark is not at work, he likes to go to the gym, and do outdoor activities like hiking. Mark's dream is to see the world, so he tries to go to new places every time he goes away.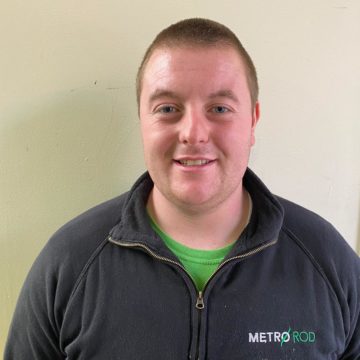 DAVID WILLIAMS
Drainage Engineer
David started working for Metro Rod in November 2020 during the COVID19 pandemic. He has been in the drainage industry for 3 to 4 years. At Metro Rod David's job includes drainage unblocking and CCTV surveying.
In his spare time, David likes to be a part of anything car-related, including watching the rallying and the formula one.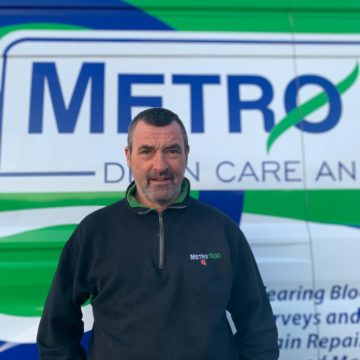 NEIL BENNETT
Engineer Assistant
Neil Bennett has worked in Metro Rod since 2013. As a general assistant, Neil goes with engineers to complete two man jobs. Some of the jobs aren't known to be a two-person until one engineer as already tried, these can vary from the van being too far from the drainage issue or a manhole cover being too heavy for one person. Although, some jobs are known in advance to be 2-person jobs, for example,  excavation jobs, and jobs with vulnerable people.
Neil's favourite sport is golf, with his favourite player being… himself! In his spare time, Neil enjoys playing golf, and going on holidays to new and exciting places including Jamacia.
A fun fact about Neil is that he is brilliant at everything (according to the man himself).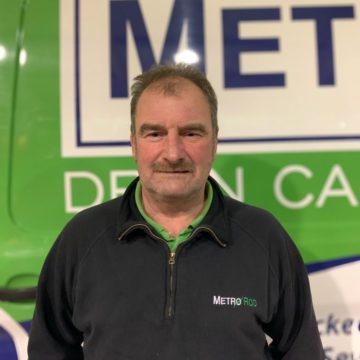 MARK WORLOCK
Engineer Assistant
Mark has worked in Metro Rod since 2006 and started as a drainage engineer. Mark now does a lot of work alongside the drainage engineers, assisting with any 2-person work that comes in. These could vary from jobs that come is as 2-person jobs like those for vulnerable people and excavation jobs. However, they could also include jobs that were tried previously by one person but weren't able to do it, these would include when a manhole is too heavy or when the van cannot reach the drainage problem.
Mark's favourite sport is rugby where he supports Wales. In his spare time, Mark enjoys walking his King Charles Cavalier and going down the pub for a pint and to watch The Chase.
A fun fact about Mark is that he is a huge fan of Bradley Walsh and rarely ever misses an episode of The Chase.
Mark enjoys going on holiday to Tenerife where he enjoys activities like jet skiing and sunbathing.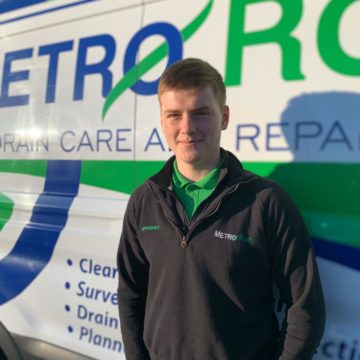 Gethin started his 3-year apprenticeship in September 2019. Throughout the apprenticeship, Gethin will learn far more than unblocking drains, including the latest iTouch CCTV reporting software and how to use a robot CCTV crawler survey system.
Gethin chose to do an apprenticeship as he believed he would enjoy it more than if he were to carry on with his education. 
In 3 years Gethin sees himself as a qualified drainage engineer who is well trained and highly competent to take on any job that comes his way.
In his spare time, Gethin likes to take part in physical activities including playing rugby for his local team.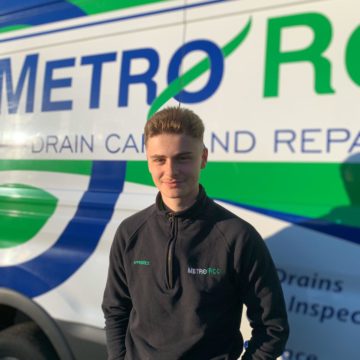 Matthew started at Metro Rod in September 2019 on a 3-year apprenticeship. During the apprenticeship, Matthew will be training in home emergency plumbing surveys, operations with Tanker Jetting units and excavation. Matthew chose to do an apprenticeship as he sees it as a great start to his working life and an opportunity to develop as a person. 
In 3 years, Matthew sees himself still working at Metro Rod but as a highly-skilled and experienced drainage engineer with many qualifications to his name.
In his spare time, Matthew enjoys playing all different types of sport, especially football and golf.