Drain Clearing – How can Grease traps help my business?
I'm sure you've seen the huge 'Flushing Wipes, Blocks Pipes' campaign run by Yorkshire Water, urging people to stop flushing wipes down the toilet to save our planet! And you'll have also seen fatberg articles on the news urging people to not pour FOG (fat, oil & grease) down the drain. These two topics are not only important to prevent drain clearing situations but they're also to try and save our planet.
A large proportion of the jobs we attend for drain clearing are due to fat, oil and grease causing blockages, especially in commercial kitchens. Installing a grease trap will not only reduced costs of drain clearing but it will also keep you in line with the laws and regulations on fat, oil and grease disposal in a commercial kitchen.
What is a grease trap?
A grease trap is a drainage device which intercepts fat, oil and grease before they enter your wastewater pipes. Grease traps have been a proven success to reduce drain clearing costs since the late 1800s and Metro Rod has been installing and maintaining them for over 30 years across Doncaster, Rotherham, Sheffield and Barnsley!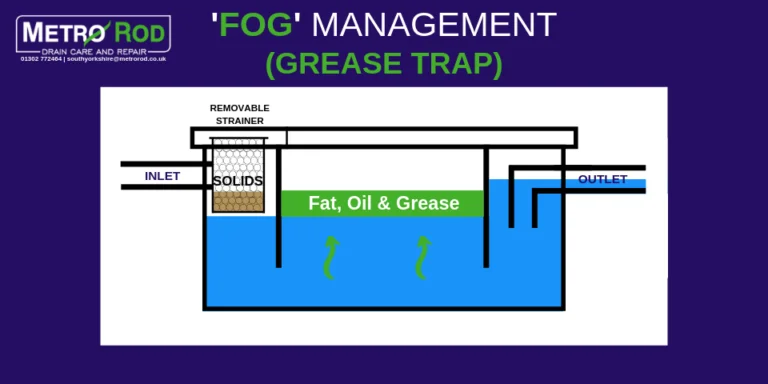 When fat, oil and grease go through the pipe, usually they would settle in the pipework causing smelly drains and blocked pipes. Installing a grease trap will catch the FOG and you can arrange for them to be emptied when required – this can be once a month or every 3-6 months depending on your business needs.
Key Benefits of installing a Grease Trap:
Save costs of drain clearing
Prevent Fat, Oil, and Grease blocking your drains
Avoid rotten smelly drains
Environmentally friendly
Blocked drains are a huge inconvenience to any business and sometimes it may lead to having to close a kitchen, reducing turnover and profitability. We always advise our clients, prevention is better (and cheaper) than cure so book in today for a FREE site assessment for a grease trap installing and reduce costs on drain clearing bills.
Remember – only flush the 3 P's! Pee, Poo & (toilet) Paper.
For a FREE no-obligation quotation, please call us on 01302 772464 and we can arrange a FREE site visit to discuss your requirements.
Metro Rod Doncaster, Rotherham, Sheffield and Barnsley
Visit: https://www.metrorod.co.uk/local/sheffield/
Call us on: 0808 208 2655
Email: [email protected]
Leave Us Some Feedback