We are fully committed to servicing all customers in the current circumstances. Our engineers are working hard 24/7 to support all domestic and commercial customers.
NEW ADDITION!
We are constantly trying to better ourselves here at Metro Rod Newport, Hereford, Gloucester, and Cardiff.
Recently we have been busy adding to our green fleet! Our newest addition to the Metro Rod family is a Bucher CR140 recycler.
Mainly used for those tough jobs, the recycler unit can go where access to water is limited. For instance, the recycler stores 3,079 UK gallons of water and is 14.5 psi pressure approved. The tank has a movable partition that divides it into two compartments. Consequently, the compartments are able to change size as the engineer jets and vacuums, keeping the water and sludge separate at all times.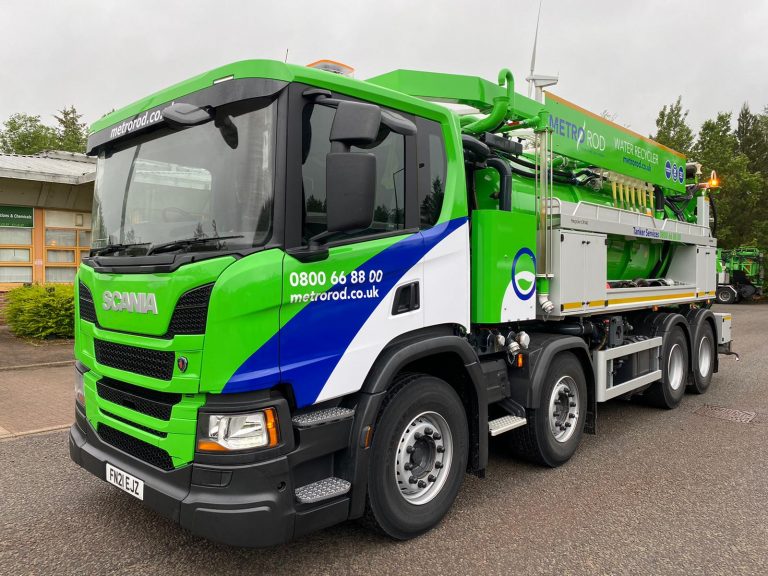 Get to know our Recycler
The bucher recycler is the market's most powerful recycling unit. With impressive power and top-quality performance for even the toughest jobs. Equipped with an extra compressor, the recycler can lift heavy material from more than 30 meters in depth.
Designed to save water and protect the tank and sewer lines from excessive wear and tear, the water recycling system has centrifugal cyclones, a course, and a fine filter to clean the water from the sludge. Therefore, the previous sludge that has been filtered can be reused safely for jetting. Having a recycler improves the environment, infrastructure, and above all, our business.
The recycler also has a hydraulic end cover that opens upwards automatically. As a result, minimizing obstructions on roads or sidewalks for all citizens.
Our recycler comes with a wide set of accessories, for example:
Nozzle set;
Detachable vice;
Hoses with couplings;
Suction pipes;
Reduction adapters;
Cover hooks set;
Suction pipe with cassette and hose.
Our amazing new recycling tanker has been on the road as of May.  As a result, it is ready to create new opportunities and increase productivity.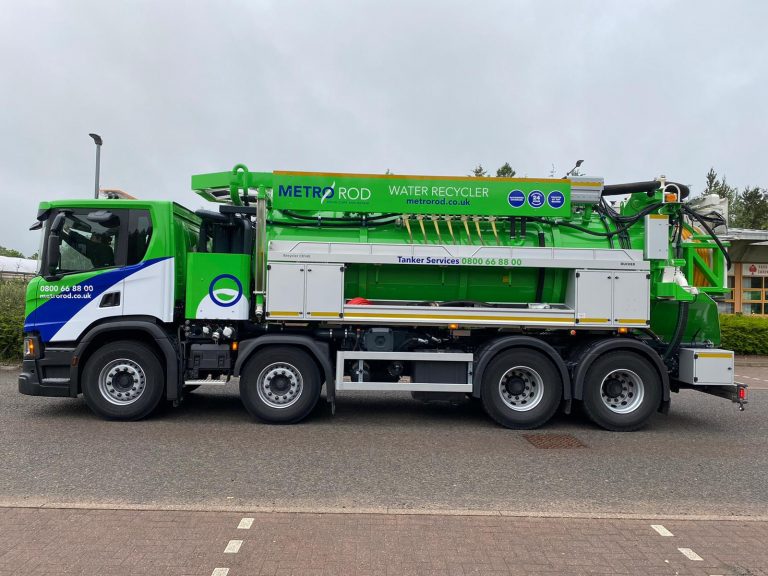 Are you in need of reliable and efficient drainage or plumbing solution? Metro Rod Newport, Hereford and Gloucester can help you and your businesses or home with our services!
Call us on; 01495 305578
Visit our websites; Newport and Hereford or Gloucester
Email Us; Newportand[email protected]
Find Us On; Twitter or Facebook or LinkedIn
Metro Rod Newport, Hereford and Gloucester are available 24/7 where we can deal with multiple types of drainage problems and issues including:
Unblocking drains
Gutter cleaning
Drain clearing
CCTV drain survey
Septic tank pumping
Vacuum tank maintenance