When it comes to drain maintenance and unblocking, many people face a dilemma: is it their responsibility to rectify the issue or the responsibility of the local water company? As there are many pipes, drains and sewers interconnected in and around a household, it is understandable that drain responsibilities can often become a cause for confusion. Knowing when it is your responsibility to maintain, repair or unblock a drain or when it is the water company's responsibility can save you time and money.
An Overview of Drainage Responsibility
To understand when you need to take ownership of fixing a drainage issue and when it becomes the water company's responsibility to do so, you need to know whether the drains in question are private or shared (public sewer).
Private Drains – Homeowners Responsibility
Private drains are the drains connected directly within your house and up to your property's boundary. If one of these drains becomes blocked, needs repairing or requires general maintenance then it is your responsibility to rectify the problem. A private drain only serves you.
At Metro Rod, we can help you identify where the problem is located and resolve your drainage issue or refer you to the local water company if the problem is with a sewer or shared asset.
To see our list of domestic drain care, repair and unblocking services click here.
Shared Drains (sewers) – Water Company's Responsibility
Things become a bit more complicated when your private drain connects with several of your neighbours. These are known as shared drains. If the drain is shared with several other properties before they join a public sewer, then it becomes the responsibility of the water company to rectify any problems that occur. A shared drain will run from left to right along a full row of terrace houses, taking your waste, and your neighbours, to the public sewer. If you are the homeowner of the property where the drain flow starts, you will be responsible for maintaining it until it connects to the shared drain system – then it becomes the responsibility of the water company to resolve any issues.
Originally, the responsibility to maintain, repair or unblock shared drains lay with the homeowner. However, in 2011 the government transferred ownership to water companies, meaning they are now responsible.  If a contractor has been summoned to fix a blockage on a shared drainage system, they should cease work and report the issue to the water company.
To help you gain a better understanding of drain responsibility, we have provided a useful graphic.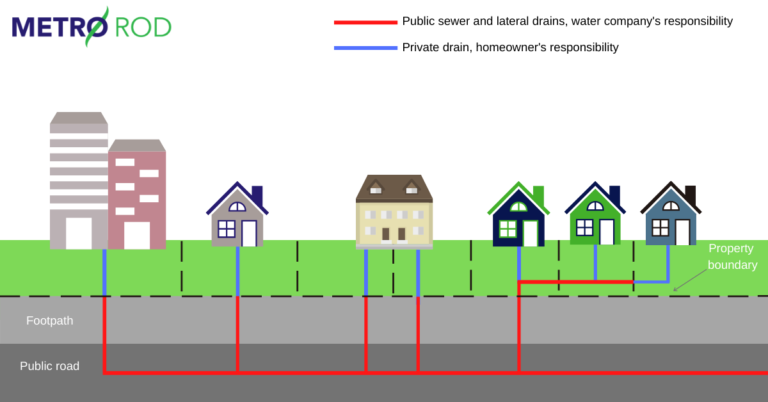 How Metro Rod Can Help You
We provide expert drain repair and unblocking services for commercial and domestic customers throughout the UK 24/7/365, ensuring your drains remain flowing. Our highly trained, professional engineers will only work on private assets and will provide full transparency where the responsibility of the asset changes. We can also liaise with the water company to help you report the issue.
If you are experiencing any drainage issues and are unsure where the problem lies, contact your local office or call us on 0800 66 88 00.