We are fully committed to servicing all customers in the current circumstances. Our engineers are working hard 24/7 to support all domestic and commercial customers.
Emergency? 24/7 helpline
0800 66 88 00

UK WIDE SUPPORT - 24/7/365

A NATIONALLY-SUPPORTED, LOCAL APPROACH

ALWAYS ONE OF THE FASTEST TO REACH YOU

#1 FOR PROFESSIONALISM AND TECHNICAL ABILITY

APPROACHABLE AND FRIENDLY PROFESSIONALS

A TEAM YOU CAN TRUST
Welcome to Metro Rod (Deeside and North Wales), your local drainage company, on call to homes and businesses in the area 24 hours a day, 365 days a year. We provide services ranging from the simple clearance of blocked drains, to CCTV surveys and excavation services.
You can be assured that we have the expertise required to complete your drainage works to the highest standards. We began trading as Metro Rod (Deeside) in 2006 and have grown year on year to provide the most cost effective, professional and effective solutions to our customers.
Our attentive office based staff can help you to organise an engineer to visit your home or business to clear your blocked drain. We can even put together a CCTV Survey visit to ascertain the exact cause of the blockage with our specialist camera equipment, iTouch systems. For larger scale issues we are able to provide Tanker Services with our range of Tanker fleet vehicles. Along with these we can also offer patch lining, full lining, descaling services and more. Please give us a call to discuss the options available to you. From this call we can help you decide what the best course of action to take will be for your home or business. Take a look at the services we can offer you below;
• Clearing Blocked Drains
• Inspection & CCTV Surveys
• Drain Repair & Excavation 
• Pipe Lining & Renovation
• Tanker Services
• Pre-Planned Preventative Maintenance 
You can be assured that all our engineers are credited and trained to be on any and every site, for every situation they may encounter. Engineers are in constant contact with our office to keep us updated on progress of works. This in turn means we can keep you, the customer, updated every step of the way. Communication is key here at Metro Rod Deeside & North Wales. We want you to feel assured that any problems will be resolved quickly and efficiently, with minimal disruption to your homes and businesses.
"We have built our reputation on providing excellent communication with our customers keeping them updated every step of the way. We hold a good local standing for providing a reliable and honest service. It is vitally important to us that we can be contacted 24 hrs a day and you will be able to speak to a member of our team." – Roy Dean, Franchisee
Leave Us Some Feedback
At Metro Rod Deeside North Wales we appreciate feedback from our customers so that we can continue to improve our services. If you have recently had work carried out by Metro Rod Deeside North Wales, please feel free to complete our short survey here. We're also on Facebook and Google, take a look and please leave us a review!
Read Our Testimonials
Metro Rod Deeside North Wales are dedicated to customer satisfaction. For your peace of mind, why not take a look at our recent testimonials from satisfied customers.
Metro Rod Careers
Looking for your next challenge? Visit our jobs page to see our latest vacancies.
Areas We Cover
Abergele
Anglesey
Bangor
Betwys Y Coed
Buckley
Caernarfon
Colwyn Bay
Connahs Quay
Conwy
Criccieth
Deeside
Denbighshire
Flint
Flintshire
Gwynedd
Holywell
Llandudno
Mold
Porthmadog
Prestatyn
Pwllheli
Ruthin
St Asaph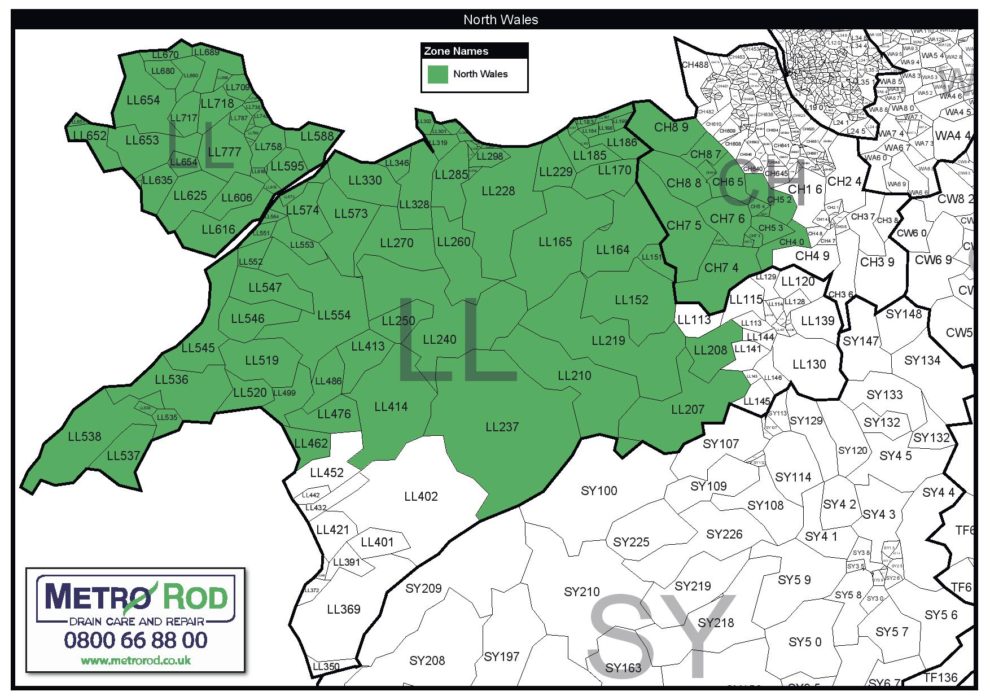 READ WHAT OUR CUSTOMERS THINK ABOUT US
Google My Business Rating
Friendly and Helpful Throughout! | Metro Rod Deeside
We love to hear from our customers and clients when our engineer have done an excellent job on site. Whether it be a simple blocked drain, a CCTV Survey or larger work involving our Tanker Services.

Anna enquired via our website, stating... Read more she had an issue with a blocked drain at her property in Wrexham. We were able to be flexible with getting to site for her, working round her needs and schedule.



The blockage was cleared in no time and we recently received this lovely commendation from her about the engineer who attended, our Senior Engineer, Paul!



"I just wanted to write and say thanks for the efforts Paul went too when he came to work at our house on 8th July.

He went out of his way to do a thorough check of our drainage system, and was friendly and helpful throughout.

Please pass on my personal thanks to him."



No matter your schedule, or whether you're a property or larger business, we have the capability to clear blocked drains in a jiffy!



01244 288809 | 0808 250 9915 | [email protected]

www.metrorod.co.uk/local/deeside-north-wales

www.metrorod.co.uk/local/chester

www.metrorod.co.uk/local/wrexham
Helping Our Local Schools! | Metro Rod Deeside
We take pride in being able to assist our local schools and colleges on a daily basis. From blocked toilets to a leaking sink. All facilities in schools and colleges need to be kept in top condition to ensure their learning environment is n... Read moreot affected . This keeps their day to day life running smoothly!
So when we attended to a local High School who had been suffering with repeat issues, we were happy to help them get to the bottom of their drainage issues!
"Just want to send an email to praise the member of staff who carried out some work for us yesterday at Connah's Quay High School. Your engineer found a blockage which he thinks had been causing us issues for a long time."
All in a days work for a Metro Rod engineer!
Our engineers are the pride and joy of our work force. We're glad to see their hard work being noticed! If you need a hardworking engineer, don't hesitate to give us a call on the details below. Our office can discuss arranging for your own engineer to help with your drainage issues!

We cover North Wales, Chester and Wirral for all domestic and commercial drainage needs. Due to the fact we have engineers based in Llandudno, Chester and Wirral we are able to provide 24/7 drain care and repair wherever you are!



01244 288809 | 0808 208 2620 | [email protected]

www.metrorod.co.uk/local/deeside-north-wales
Going above and beyond!
Our engineers work hard to make sure their work is completed to highest standard. But, sometimes they really do go above and beyond the call of duty! Whether it's a blockage, a leak or an overflowing manhole, they provide first class servic... Read moree on time, every time!
Take a look at this customer who emailed our office to let us know how amazing our engineer was!
"Your engineer on Friday afternoon was an absolute hero! My mother who lives in Victoria View got into trouble with her car a very kind gentleman from Metro Rod managed to push her up the slope into the car park! Her car decided to stop on the entrance to the car park, he came over tried to start the car. In the end he had to push it into the car park. There would have been a chance of a accident if she rolled back into the main road. He then offered to help her into the lift with her shopping! Because she was a little shaken about what had happened but she was okay. I'm disabled so unable to get down to say thank you to the gentleman, but I could see out of the window. He looked very busy and he got stuck straight back into work! What an asset to your company, not many gentlemen like him around anymore so please thank him!"
Domestic Customer, Wirral 


Our engineers are the pride and joy of our work force and we're glad to see their hard work being noticed! If you need a hardworking engineer, don't hesitate to give us a call on the details below to discuss arranging for your own engineer to help with your drainage issues!

We cover North Wales, Chester and Wirral for all domestic and commercial drainage needs. Due to the fact we have engineers based in Llandudno, Chester and Wirral we are able to provide 24/7 drain care and repair wherever you are!



01244 288809 | 0808 208 2620 | [email protected]

www.metrorod.co.uk/local/deeside-north-wales
Trusted By