At Metro Rod Manchester and Macclesfield, we pride ourselves on guaranteeing our clients a safe, professional and honest service day and night. The most important aspect of our drain cleaning, maintenance, and repair work, for both you and us is safety. This is exactly why our engineers are trained to the highest industry standard, and are all DBS certified, working across all sectors, ensuring the safety of you, your staff and your clients. You can read more on some of our health and safety certifications here.
A school's facilities have to put up with a lot of wear and tear throughout the year, with some issues being unavoidable, especially given the high volume of students that use the facilities. It's for this reason that Metro Rod Manchester and Macclesfield is the number one choice of drain cleaning, maintenance, and repair service provider for Cheadle Hulme School, providing the full range of drain cleaning solutions on both emergency and planned bases.
The school itself has a rich history, dating back to it's foundation in 1855 as The Manchester Warehouse Men and Clerk's Orphan Schools. Next to Stockport, it's been at its current location since 1869, and was used by the Red Cross during World War 1 to treat over 1,400 injured soldiers.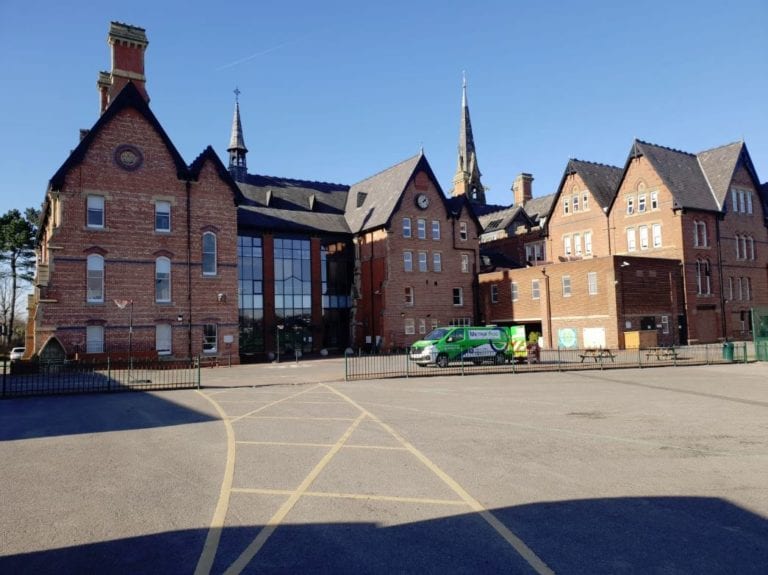 Cheadle Hulme School uses Metro Rod Manchester and Macclesfield for all of their reactive callouts for drain cleaning, from foul smelling systems, to the 'larger scale' works such as drain patching and lining, as well as tanker works when necessary. We most recently attended the school at the beginning of February 2019 to carry out drain cleaning work on an overflowing manhole that was affecting their Junior School and Pavilion. 2 engineers spent just over 2 hours high pressure water jetting the drainage system to clear through the blockage and wash down any remaining debris. The following day, we returned to the school and spent an hour and a half carrying out a CCTV drain survey to determine whether there were any further issues down the line and whether further drain cleaning works were needed.
School Estates Manager, Pete Holbery, has been impressed with our service since he started using us:
"We have worked with Metro Rod for a number of years now on a range of projects and continue to be impressed by their level of commitment and quality of their work. The team are always polite, responsive and respectful of the school environment and our policies and procedures. I would highly recommend them to other schools".
More Information
If you want to find out more on how Metro Rod Manchester's drain cleaning, CCTV drain survey, or other services can help your home or business, see our website here. Additionally, to see the areas of Manchester, as well as Stockport, Macclesfield and surrounding areas of Cheshire that we cover, just click the relevant title. Alternatively, you can get in touch with us on the details provided below.
To book a drain cleaning task or CCTV drain survey for your property or business, or for a no obligation free site assessment, call Metro Rod Manchester and Macclesfield today on 01625 879035, or email [email protected].
For up to date news and information surrounding the drainage and plumbing world of Metro Rod Manchester and Macclesfield, you can Like us on Facebook here, or follow us on Twitter here. Lastly, if we have completed work for you in the past, please feel free to leave us a review on our Google page here.

"We guarantee our clients a safe, professional and honest service day and night."