We are fully committed to servicing all customers in the current circumstances. Our engineers are working hard 24/7 to support all domestic and commercial customers.
We've all been there when we start to notice the sink draining slowly, or water pooling at your feet in the shower. Then comes some strange and unpleasant odours. These are signs of a blocked drain, which can put an end to your good day.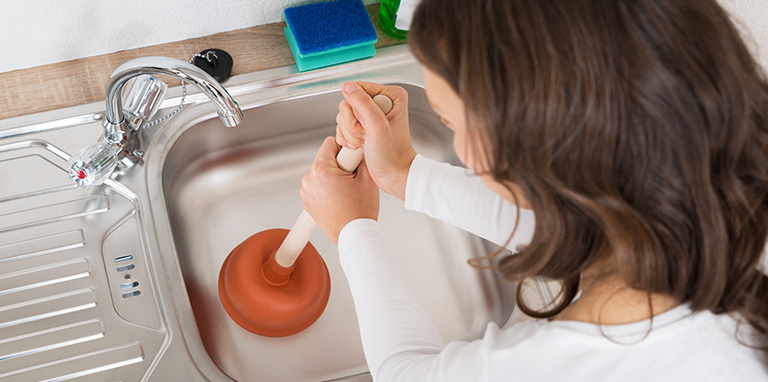 You'll want a blocked drain to be sorted quickly so you can carry on with daily life. Metro Rod Stoke have put together this guide to show you what you can do yourself to unblock a sink, toilet or drain. 
It is important when dealing with a blocked sink or drain to keep yourself protected from any germs. We recommend always wearing long rubber gloves and some goggles and glasses as well as putting down some newspaper if dealing with a blocked toilet to protect your floors. 
Baking soda and vinegar 
Perhaps one of the oldest tricks in the book is baking soda and vinegar. Pour about a cup of baking soda down your drain, followed by one cup of vinegar and one cup of water. It should start fizzing straight away, so plug the plughole and let it sit for about an hour. The two ingredients react and cause a fizzing that helps break up the blockage. After an hour, pour boiling water down the drain to help flush it through, you should hopefully notice the sink draining much better.
The bent wire hanger
Take a regular wire coat hanger and straighten it out as much as you can, then using the hook end you can try fishing out the gunk causing the blocked sink and drain. Remember to be careful as you want to be pulling it out and not pushing it further in. When you've got as much out as you can, run the hot water and you should find its cleared up nicely. 
Boiling water
Boiling water is especially useful to help dislodge the build up of fat, oil and grease. By pouring boiling water down the drain you can soften the solidified mass of fat allowing it to be flushed through. It's important to pour the boiling water slowly and in stages to allow the hot water to work properly. 
A Plunger 
If you have a plunger you can try placing it over the toilet hole, or plughole ensuring it's completely covered and begin to gently push and pull whilst always maintaining the seal, to loosen what is blocking your drains. If using a plunger for a blocked sink, you'll want to ensure that there's enough water in the sink to submerge the head of the plunger. 
Metro Rod Stoke offers services across Stoke-On-Trent, Stafford, Wolverhampton & Worcester, from dealing with blocked drains, drain repair, CCTV surveys and septic tank maintenance. We believe in simple things and make sure we follow them through; available 24/7, professional, value for money service during and after the job and peace of mind in the fact that all our engineers are highly trained, DBS checked and fully insured.
Make sure you get in touch with us through any of the following:
Enquire through our website: click here
Get in touch with us via email: [email protected]
Connect with us on LinkedIn: click here
Call us on 0808 208 2658
Handling all your drainage needs, we are the drainage experts. We look forward to hearing from you soon!