We are fully committed to servicing all customers in the current circumstances. Our engineers are working hard 24/7 to support all domestic and commercial customers.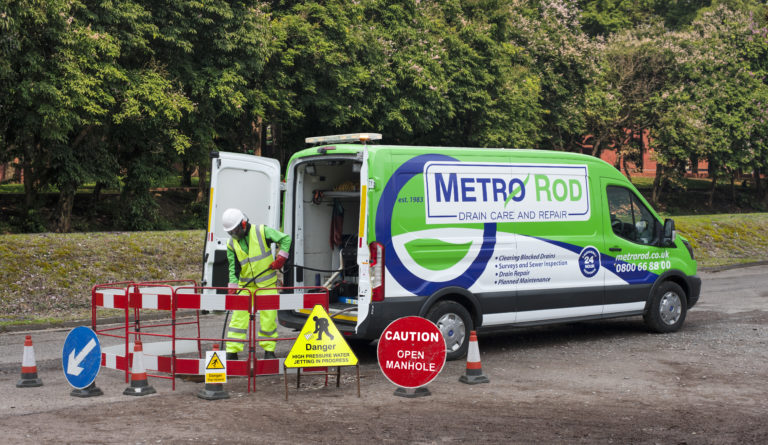 At Metro Rod Reading we want to be your first choice for drain care and repair in the Thames Valley. If your business, amenity-site or home is in Reading, Berkshire or anywhere in the region from Ascot to Swindon and you have a drainage issue such as a blocked drain, blocked toilet, blocked sink, bad smell or flooding then we do understand we are not your only option to get things resolved.
However what we also believe is that when you call us at Metro Rod Reading you are contacting a trusted and reliable drainage company, established for over 30 years, who will live up to our stated aim of delivering a safe, professional and honest service day or night.
Our team of drainage engineers are fully trained and accredited and we operate within a structured health and safety regime with every job subject to risk assessment and conducted using safe systems of work.
When you call us at Metro Rod Reading you can be sure of a proactive approach to safety and work quality. From using handheld technology for carrying out our on-site risk assessments, to using 'no-dig' drain repair technology to minimise the costs and risks associated with traditional excavation works, we build safety in to everything that we do.
No need to just take our word for it….   Our work quality and safety standards are independently verified by external accreditation partners who look at the way in which we work, our systems and controls, and how well they are communicated and utilised in the field.
At Metro Rod Reading we are very proud of our accreditations as an indication of the effectiveness of our safety arrangements  and the quality of our drain care and repair work serving Berkshire and the Thames Valley.
3 of our key accreditations are shown below :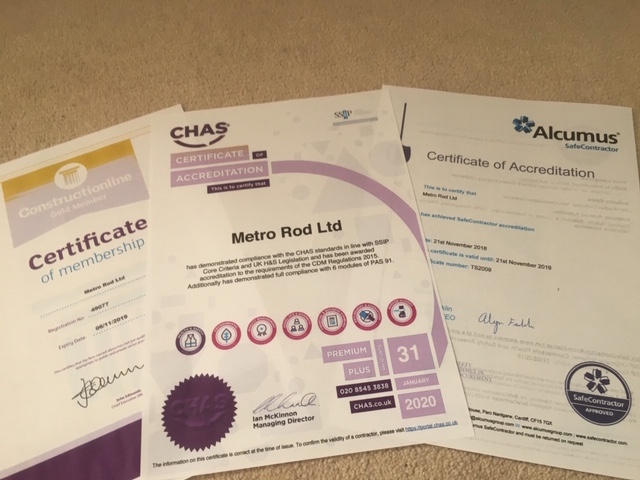 Constructionline Gold membership ,,,,buyers across the construction sector take Constructionline accreditation as evidencing a Suppliers ability to professionally and safely complete construction and maintenance related works. With Gold status achieved this accreditation is independent evidence of our effective drain care working standards.
CHAS (Construction Health And Safety) Scheme certification…..universally recognised as a key third-party accreditation and evidencing our safe working methods. At Metro Rod we supplement this with
Safe contractor accreditation
We also hold key accreditations from the International Organisation for Standardisation (ISO). Through compliance with ISO International Standards businesses evidence that products and services are safe, reliable and of good quality and customers of  Metro Rod Reading can have confidence that we have achieved certification to the latest standards including the recently most recently introduced ISO 45001 covering Occupational Health & Safety standards, and it's predecessor ISO 18001
We are also certified re ISO 9001 (Quality Management) and ISO14001 (Environmental Management)
So whether you have a blocked drain in Woodley or a blocked toilet in Caversham or are a Facilities Manager looking to arrange a pre-planned maintenance visit in Slough or a Property Manager with a collapsed drain in Reading you know you can rely on Metro Rod Reading to resolve your issue in the right way.
Contact Metro Rod Reading today for a safe, professional and honest service by :
Calling us on 0118 950 4477
Going to www.metrorod.co.uk/local/reading/
Emailing us at [email protected]
Connecting with Andrew, our Managing Director on LinkedIn