We are fully committed to servicing all customers in the current circumstances. Our engineers are working hard 24/7 to support all domestic and commercial customers.
Keeping things running smoothly at local schools…
As you may know, Metro Rod have all sorts of customers including hospitals, police stations and a number of local schools and colleges.
Last week Metro Rod Bedford went to fix a major fracture in a water pipe at a local school, taking advantage of the fact that pupils are still off enjoying their summer holidays.
The major leak was originally noticed when staff at the site saw standing water on the ground, with no reason or clue as to where it might be coming from. The next thing required was a CCTV camera survey to establish exactly where the underground leak could be coming from. Did you know that Metro Rod carry out CCTV camera surveys? These take photos and provide you with a detailed look at the insides of any pipes related to your buildings.
The first thing Metro Rod do at every job we carry out, whether it's unblocking drains, carrying out a CCTV survey or clearing gutters, is to access the site and install all required safety barriers.
It was engineers Jack and Simon who carried out the job at a local school earlier this week, and you can read what they had to do below…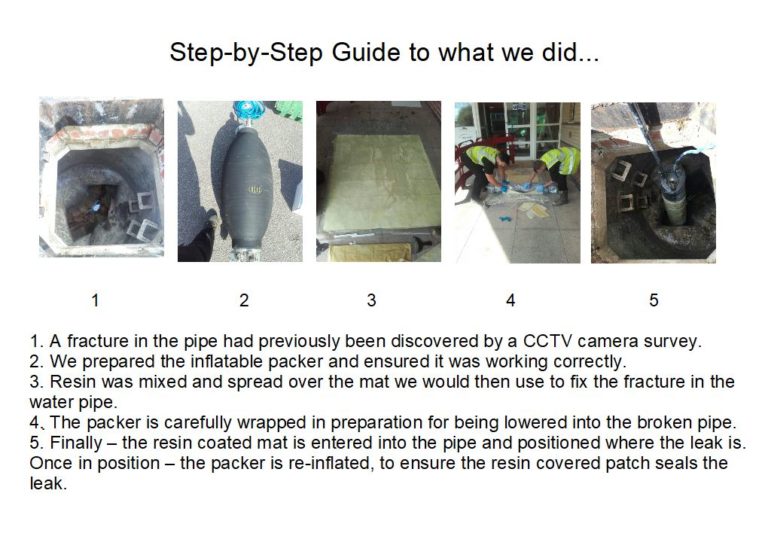 So, remember, if you think you suspect a leak, even if it's below ground and you can't locate it yourself, contact us at Metro Rod Bedford now in any of the following ways, and we will be with you as soon as possible to carry out a FREE site assessment.
Call us – 01582 666543
Call us out of hours – 0800 668800
Email us – [email protected]