We are fully committed to servicing all customers in the current circumstances. Our engineers are working hard 24/7 to support all domestic and commercial customers.
Is your septic tank meeting the new emptying regulations that came into force on January 1st, 2020?
Septic tanks: What are they?
Small-scale sewage treatments such as septic tanks are an onsite sewage facility for those who are not near to a sewage system. Septic tanks are an underground chamber that reduces solids and organics by using an anaerobic process.
The wastewater is discharged after treatment into the ground through a constructed drainage field. However, this does not include soakaway put, tunnel, crate or Ezy Drain as these are not allowed for septic tank effluent disposal.
What is Drainage Field?
An infiltration system is where a drainage field has a trench with pipes. Over the pipes is a drainage stone which is a closed-loop design that allows the wastewater to drip through the ground for further treatment by soil bacteria.
Soakaways, a method for draining water, cannot be used anymore.
If your current septic tank system includes a soakaway, it will need to receive a permit from the environment agency to assess the risk to groundwater or change to a drainage field.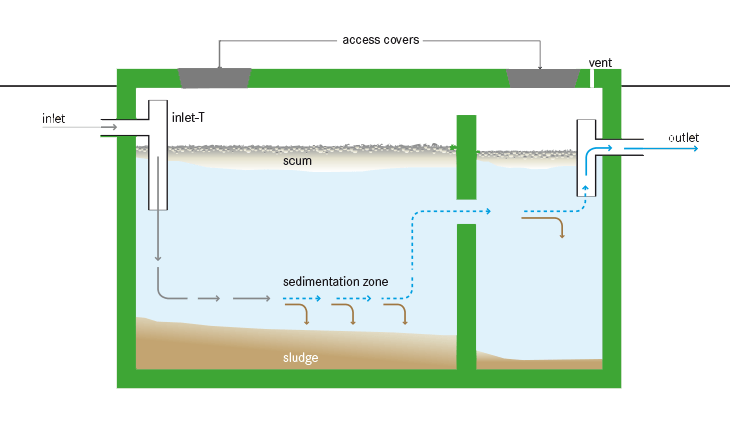 The General Binding Rules
To protect surface water resources general binding rules ensure that septic tanks and other small scale sewage plants are free from pollution.
If you have a septic tank that discharges directly into a watercourse, for example:
rivers
streams
canals
ditches
surface water drains
If discharge enters these areas, the septic tank must be replaced or upgraded as soon as possible.
What regulations your septic tank must abide by.
Replacing – must use a sewage treatment plant with a full BS EN 12566-3 Certification
Redirected – discharge to a watercourse must be stopped and diverted to a drain field that is constructed to the British Standard BS6297 2007.
Be CE marked.
Documentation proving your tank has a British Standard Certificate of compliance.
Be on the British Water list of approved equipment for BS EN 12566-1.
It is recommended to ensure ongoing optimum performance that small scale sewage systems and septic tanks receive yearly checks. Metro Rod offers maintenance contracts as well as installation services.
Septic Tank Emptying
Regular needs for septic tanks include maintenance and emptying. A septic tank, like many systems, requires regular maintenance. The responsibility of septic tank emptying is often the property owner or resident. However, most septic tank owners often leave their system untouched until problems of smells or blockages arise. Removing sludge from the system is extremely important before it reaches maximum capacity. As a result, being too late to avoid the soak away blocking can result in additional and sometimes expensive work. Consequently, depending on the design capacity and use septic tanks should be emptied at regular intervals. A well-designed septic tank can have a capacity where maintenance intervals can be up to 12 months. In conclusion, this can and will reduce significantly depending on the number of people living in a property.
Neglect and abuse: Septic Tank Management
Flushing non-biodegradable waste items down the toilet.
Remember the 3 P's: pee, paper, and poo. Do not flush wipes, cotton buds, sanitary items
Using the toilet as disposal for food. This can cause a quick overload of the system leading to failure.
Disposing of oils, grease and fats can cause the 'inlet' drains to block. They are difficult to degrade and can cause bad smells.
Using water softeners can harm bacteria that break down the wastewater.
How we can help with the new rules
As drainage experts with over 30 years experience septic tanks aren't new to use. As a result, our tankers are capable of tackling the biggest drainage problems that can arise.
For properties that are not connected to main sewer systems due to being located in rural areas, it is common to have septic tanks.
Thanks to our growing fleet we can send a tanker to empty your septic tank and dispose of the waste in the most environmentally friendly way with ease.
Metro Rod is able to clean septic tanks, making sure that everything is in working order with no potential problems. In conclusion, it may also be worth finding out more information on our pre-planned maintenance service where we can schedule in the emptying of your septic tank months in advance meaning that you don't have to worry about getting in touch every time you need us.
Are you in need of reliable and efficient drainage or plumbing solution? Metro Rod Newport, Hereford and Gloucester can help you and your businesses or home with our services!
Call us on; 01495 305578
Visit our websites; Newport and Hereford or Gloucester
Email Us; Newportand[email protected]
Find Us On; Twitter or Facebook or LinkedIn
Metro Rod Newport, Hereford, and Gloucester are available 24/7 where we are able to deal with multiple types of drainage problems and issues.