We are fully committed to servicing all customers in the current circumstances. Our engineers are working hard 24/7 to support all domestic and commercial customers.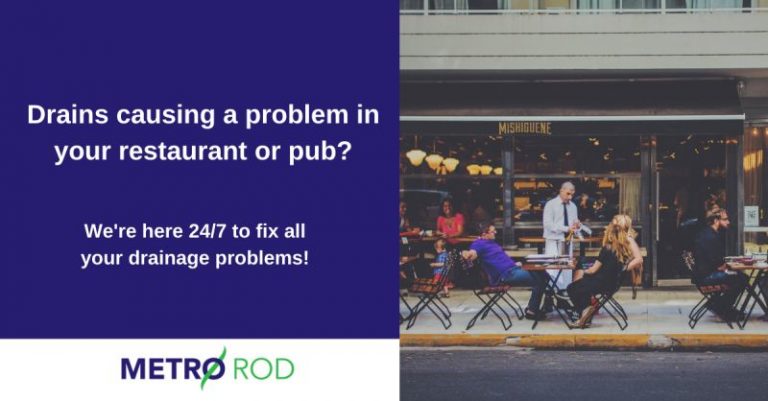 Drain care from Metro Rod is actively supporting London's vibrant hospitality sector's recovery from the restrictions seen during the corona virus pandemic. We are working with our restaurant, pub, hotel and cafe customers with 17th May 2021 seeing reopening of indoor facilities following the initially al fresco only reopening which was the first stage of the Government road map for the sector.
At a broad estimate London's economy includes :
18,000 restaurants
8,000 takeaway food businesses
3,500 pubs
3,000 cafes and
1,500 hotels
generating a multi-billion pound contribution to GDP.
Effective, free-flowing and hygienic drainage systems are essential to any hospitality business, whether it be the sinks in the kitchen, the customer toilets or the external drains serving the building. Two particular issues which currently impact on our hospitality customers are :
drainage systems which have not been regularly cleared over the past 12-18 months meaning that deposits of FOG (Fat, oil and grease) and food wastes have "settled" and solidified within drains meaning that a pre-opening maintenance flush through is needed to avoid potentially damaging blockages or even offputting bad odours.
restoring planned maintenance regimes so that, as customer footfall increases again, problems associated with blocked drains are avoided going forward.
A blockage can result in costly business closure until it is resolved, as well as reputational damage in the eyes of customers.
Using both electro-mechanical  and high pressure water jetting methods of cleaning drain pipes Metro Rod's qualified drainage engineers are here to support London business and support the hospitality sector move back into prosperity. We can also offer
Maintenance and installation of grease traps
Maintenance and installation of pump stations
CCTV survey of drainage systems
Repair works of all kinds to drainage systems
If your London hospitality business is on the road map to recovery from the pandemic period don't let issues with your drainage system get in the way of  this. Call Metro Rod today and we can ensure your drainage system is an asset to your business, not a costly impediment.
CALL METRO ROD :   0203875 6780
EMAIL  : [email protected]