After 5 months away in lockdown we're sure you'll be keen to reopen your business and it's important this goes as smoothly as possible – so how can Metro Rod Edinburgh help?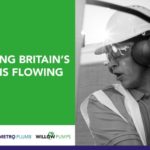 Now that lockdown is starting to ease off, and more and more businesses being given the all clear to reopen we know that you'll want to make this reopening process go as smoothly as possible. When it comes to reopening there are a number of things you have to take into consideration, one of these things should be your property's drains. When a building is suddenly left abandoned and unused certain aspects, like a drainage system can start to deteriorate so its important that you have it checked over before reopening to avoid any unwanted and unnecessary complications. 
Metro Rod Edinburgh have two options we can carry out to help reopen your business, both are best carried out while the property is still unused and will check for any problems which may have occurred over the lockdown period. By using one of these services you will ensure that when it comes to reopening you wont be faced with any unnecessary problems and setbacks.
These two options are: 
An interim visit to test and flush through the existing underground drainage system and inspect the wet wells and then report on their condition.

 

A full site clean including the replacement of perished seals, emptying pump chambers and grease chambers and a CCTV inspection of the underground pipework to check for blockages and damage.
As well as carrying out these services there are a couple of tell-tale signs that something may be wrong with your drainage system such as, poor performance – water not draining from sinks, toilets not flushing properly, – unpleasant odours and an increase in rodent activity. Should you find yourself with any of these problems then please get in contact with Metro Rod Edinburgh using the contact information below and we will be more than happy to assist you.
Metro Rod Edinburgh offer services from dealing with blocked drains, drain repair, CCTV surveys and septic tank maintenance. We believe in simple things and make sure we follow them through; available 24/7, professional, value for money service during and after the job and peace of mind in the fact that all our engineers are highly trained, DBS checked and fully insured.
Make sure you get in touch with us through any of the following:
Enquire through our website: https://www.metrorod.co.uk/local/edinburgh/ 
Get in touch with us via email: [email protected] 
Call us on 0800 66 88 00
We any drainage needs, we are the drainage experts. We look forward to hearing from you soon!