We are fully committed to servicing all customers in the current circumstances. Our engineers are working hard 24/7 to support all domestic and commercial customers.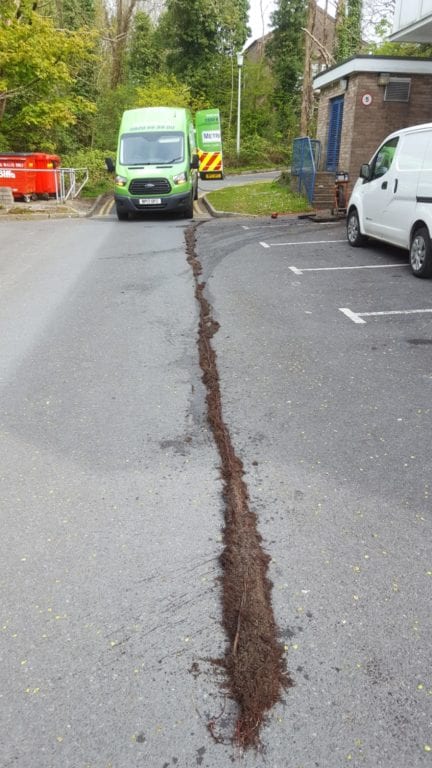 At Metro Rod Slough we unblock and repair defects in drains in Slough and all surrounding areas in the Thames Valley such as Maidenhead, Reading, Caversham, Newbury, Henley, Marlow, Marlborough and Swindon.
Obviously a blocked drain, blocked toilet or damaged drain will be in that condition for a particular reason and often this is caused by "misuse" with inappropriate material or objects being introduced into the drainage system by human activity.
Sometimes though Mother Nature causes the problem without any help from mankind ! Did you know, for instance, that tree roots are a common source of drain blockages and structural damage to drains in the Slough area ?
Drains provide a ready source of water for thirsty tree roots and, consequently, roots will "attack"any potential weakness or crack in the structure of an underground drain pipe and force their way through this. To make things worse where a root system has started to grow inside a pipe there is more chance that debris such as tissue paper and fats will then become stuck and accumulate, impeding flow in the pipe.
One potential sign to look out for with drainage flow issues can be gurgling noises from the toilet.
Blockages
If a root structure has been growing for some time in a pipe it can grow to tremendous size……just see the example we found , and removed, in the above photograph !
Such a root will have taken over most of the the inside space of the drain and caused considerable flow problems and blockages.
Drain damage
If left unchecked over time, the pressure exerted by a growing root structure on a pipe will cause it to break. Whether the pipe is for sewage, or water drainage one that is broken will serve no function at all as the contents will spill out into the surrounding soil.
For drain pipes that connect a building's drainage system to the main sewer pipes, any damage or blockages are the liability of the property owner.
To ensure that any pipes serving your property or site in the Reading area are in good condition we advise you to have them checked and serviced regularly. Where root ingress is found and roots need removing from a drain, our drainage engineer will use various methods such as high pressure water jetting, root sawing and the use of mechanical cutting equipment to ensure the root is removed. We can than act to repair any damage to the drain and reseal the pipe , using "no-dig" drain repair techniques wherever possible.
If you manage property or own property in the Slough and Thames Valley area then Metro Rod Slough are here to serve you.
Metro Rod Slough can help with any drainage issue from a single blocked drain or blocked toilet through to planned maintenance visits, CCTV drain surveys and drain repairs. Tanker services are also available to support our drainage engineers fully equipped vans and please contact us to discuss how we can help you or your business with any drainage need.
You can contact us by:
Calling us on 0118 950 4477
Going to www.metrorod.co.uk/local/reading
Emailing us at [email protected]
Connecting with Andrew, our Managing Director on LinkedIn