We are fully committed to servicing all customers in the current circumstances. Our engineers are working hard 24/7 to support all domestic and commercial customers.
This year Metro Rod are rounding up the North East for an Easter Egg Collection, with the aim to supply local food bank with as many as possible! An Egg-cellent project for you to get involved in, everyone deserves a bit of chocolate at Easter!
Easter is just around the corner, you may have a few people in mind of who you're buying one for this year, or even one for yourself! Well spread the love and buy an extra egg (or 2) and bring them over to our Morpeth based office before Tuesday 16th of April. Where we will then donate them to Wansbeck Valley Food Bank later that day.
Unit 1, Craig Court, Coopies Lane, Coopies Field, Morpeth, NE61 6JT
0191 231 2310 / 01642 616 525
Metro Rod North East have for a number of years spend the run up to Christmas collecting Selection Box's to donate to local food banks along with gathering & acting as a drop off point for Mission Christmas; a charity appeal for Christmas presents for Local disadvantaged children and families. This enables us to do our part and involve the whole team, helping to make a difference to other families Christmas day.
From this we wanted to continue our efforts throughout the year, along with our regular donation of non-perishable foods to Wansbeck Food Bank we wanted to send the Easter Bunny their way!
Our amazing team are joining together along with their friends and family members to collect the Easter Eggs, If people have been unable to buy or bring in eggs we have been more than happy to accept a donation and purchase the eggs for you, I think the local stores just think we love chocolate, which we do… but have been amazed during our shopping spree's when the general public queries what we are doing and make a contribution. We thank you all for this kindness.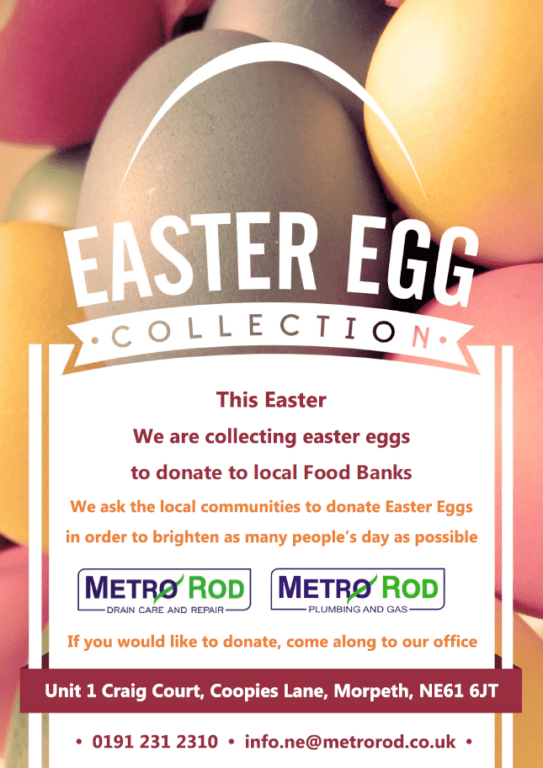 So C'mon, Share some love through an Easter Egg!
Want to know more about Wansbeck Valley?
You can head over to Wansbeck Food Banks website and find out what their shelves are lacking each week, meaning we can help them get what's needed!
You can also locate your nearest Distribution Centre here to get more details and opening times.
Wanting to donate a shopping trip? Here's a needed shopping list from the Food Bank to help!

Shopping List

Cereals
Tinned Fruit
Tinned tune fish
Rice pudding
Pasta Sauce
Tinned meat
Custard
Tinned Vegetables
Tea bags
Sponge puddings
Tinned Beans
Dried or UHT milk
Biscuits
Tinned Spaghetti
Dried Potato
Cereal bars
Soup
Jam/Marmalade
Peanut butter
Thank you for your donation.
We will keep you posted with our latest Charity News and how you can get involved.
Take a look at our website for a list of services we offer
Follow our Twitter page for up to date info
Like us on Facebook