We are fully committed to servicing all customers in the current circumstances. Our engineers are working hard 24/7 to support all domestic and commercial customers.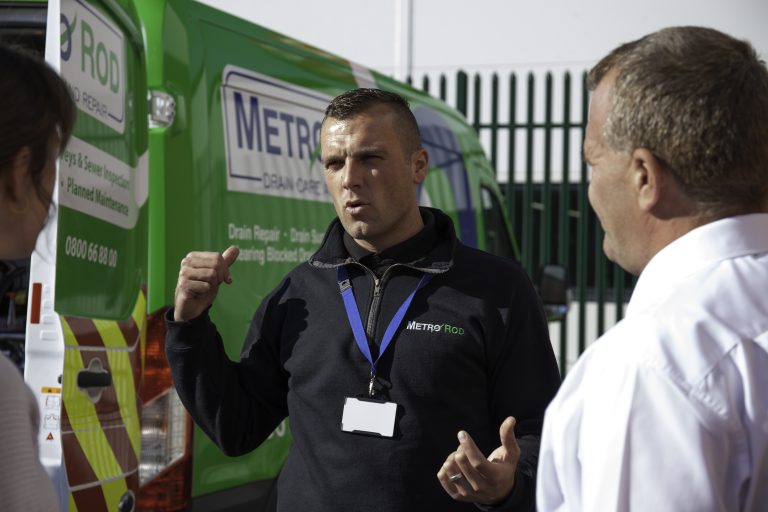 Metro Rod Reading supports Facilities Managers with drain care services in Reading and surrounding  areas in Berkshire every single day. Facilities Management companies and individual Facilities Managers are responsible for making sure that buildings and their surrounds meet the needs of the people working within them. They are accountable for services such as cleaning, maintenance, parking and security in order that the occupants of a building or commercial site can simply get on with what they are there to do . At Metro Rod Reading we understand  the vital importance of dealing swiftly and efficiently with any drainage issue on their behalf.
Even a single blocked drain or blocked toilet can cause a high degree of disruption to business and our work alongside Facilities Management companies does much to keep the economy of Reading, Newbury and the rest of Berkshire moving. With the Berkshire and Thames Valley economy forecast as going from strength to strength we know that our customers will never settle for less than a 5 star service.
Working with some of the biggest names in the Facilities Management Industry
At Metro Rod, we have a long-standing relationship with many of the UK's largest Facilities Management companies. Their customers include many major retail and hospitality brand names, blue-chip Head Office sites, manufacturing plants, NHS Trusts and Local Authorities  across Reading, Berkshire and the Thames Valley area as a whole.
A sizeable proportion of our total work  comes from Facilities Management companies, meaning we have vast experience across out team in meeting the sector's needs and expectations on behalf of the end-client on site.
Metro Rod's national network and Support Centre means we can draw on expertise from across the whole of the UK if necessary but our major strength is our expert knowledge of what it takes to operate in the local, Reading area, environment and our DBS-checked and fully-certified drainage engineers can back up their service with excellent local knowledge.
We deliver a first-class service
Providing an excellent customer service is our number one priority. That's why when things go wrong with your drains Metro Rod is the leading choice across the Facilities Management sector.
There is always a Metro Rod engineer close at hand at all times to deal with any drainage issue for Facilities Management companies in Reading – 24 hours a day, 365 days per year.
Our services include:
Clearing blocked drains – Even a single blocked drain can cause a huge amount of disruption to the operation of a business. Drains in kitchens can become blocked by grease, fats, oils whereas toilets can become blocked by nappies, sanitary items and other foreign objects. However, if you are unsure of what's causing the problem within the drain, you'll be pleased to know that we also offer a drain survey and inspection service. So, no matter what the cause of your drainage issue, we will diagnose and resolve this quickly and efficiently.
Drain lining and repair – Damaged drains can occur for a number of reasons, but symptoms can include blockage,foul smells and even cracked walls and floors. It's very important to repair damaged drains as soon as possible to ensure you can run your business as normal and don't lose custom. Our drain inspection service can identify the most cost-effective and efficient solution and , wherever possible, we implement "no-dig" solutions in order to minimise costs and disruption to Reading's Facilities Managers.
CCTV drainage surveys and inspections – Our CCTV survey service enables us to view and annotate footage from drain runs. We can then use this data to create and send a report detailing information about the survey, including any defects identified in the drains. We have invested in the state-of-the-art cloud-based iTouch CCTV survey system meaning we can deliver survey results to facilities managers in Reading and surrounding areas faster than ever before.
Pre- planned maintenance – This service has become widely recognised as a "must have" across the Facilities Management industry to ensure buildings do not  run into any unexpected issues causing disruption and loss of reputation and  revenue. PPM consists of a tailored programme of care designed to suit your business, your premises and your pocket . Where bnecessary for the functioning of a site our PPM visits can take place through the night emphasising the 24 hour nature of Metro Rod's business in Reading.
You Are in Safe Hands
All our engineers are fully qualified, insured, trained and DBS checked. They also pride themselves on customer service. For Facilities Managers and the Facilities management sector in Reading, Metro Rod is your premier drainage solution.
If  you would like to find out more call us on 0808 208 2654 . Alternatively you can call our emergency helpline on 0800 66 88 00 24 hours a day.
You can also contact us by:
Going to www.metrorod.co.uk/local/reading/
Emailing us at [email protected]
Connecting with Andrew, our Managing Director on LinkedIn