We are fully committed to servicing all customers in the current circumstances. Our engineers are working hard 24/7 to support all domestic and commercial customers.
Metro Rod Stoke Developing the Talent of the Future through Apprentices and Apprenticeships Programmes
This past week has been National Apprenticeship Week. National Apprenticeship Week is an annual week-long celebration of apprenticeships across England and is a time to recognise and applaud apprenticeship success stories across the country. Apprenticeship employers use the opportunity to promote the success of their apprentices and highlight the huge benefits to other employers, of all sizes, who are thinking of taking on an apprentice.
Here at Metro Rod Stoke we currently have two apprentices, Aemillia and Beth, who both work in our head office. They have recently passed their IT section of an NVQ apprenticeship programme within Office Admin via a local college they are attending. A great accomplishment and wonderful progress from these two. They couldn't be happier!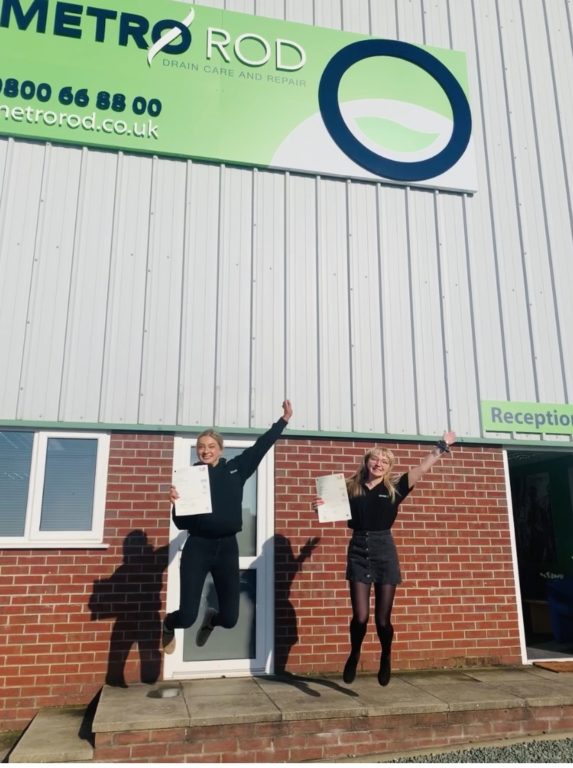 At Metro Rod Stoke we also offer our own Apprenticeship Scheme:
The 'Apprenticeship in Drainage Inspection, Maintenance and Repair' has been designed specifically for Metro Rod.
An industry first, it focuses solely on drainage & plumbing and has been accredited by The Institute of Training & Occupational Learning (ITOL). The programme consists of 37 internal courses and 12 external courses to make it the most comprehensive apprenticeship within the drainage industry.
This bespoke programme means that we do not depend on colleges for training input. This brings two big advantages for your career development:
Your training and development will be individually tailored to make you a "multi-skilled drainage specialist". You will be mentored by expert drainage technicians and business owners with years of experience.
Your training and development will take place while you are in the work-place and dealing with "live" problems – meaning you earn money as you learn.
The apprenticeship has been designed to provide a structured learning programme that will give you the necessary skills to become a successful and professional member of the Metro Rod community. For more information, click here.
Metro Rod Stoke offers services across Stoke-On-Trent, Stafford, Wolverhampton & Worcester, from dealing with blocked drains, drain repair, CCTV surveys and septic tank maintenance. We believe in simple things and make sure we follow them through; available 24/7, professional, value for money service during and after the job and peace of mind in the fact that all our engineers are highly trained, DBS checked and fully insured.
Make sure you get in touch with us through any of the following:
Enquire through our website: click here
Get in touch with us via email: [email protected]
Connect with us on LinkedIn: click here
Call us on 0808 208 2658
Handling all your drainage needs, we are the drainage experts. We look forward to hearing from you soon!