We are fully committed to servicing all customers in the current circumstances. Our engineers are working hard 24/7 to support all domestic and commercial customers.
HAPPY NEW YEAR TO ALL OUR FRIENDS, COLLEAGUES AND CUSTOMERS.
All of us here at Metro Rod Bedford would like to wish everyone a very Happy New Year. Today we've been talking about our New Year's Resolutions…  a tradition, most common in the Western Hemisphere but also found in the Eastern Hemisphere, in which a person resolves to change an undesired trait or behaviour, to accomplish a personal goal or otherwise improve their life. If you've made (and already broken?) any new year's resolutions, why not make this the year you resolve to carry out some home maintenance?  Whether you'd like some work carrying out on your gutters, need a CCTV survey or have issues with blocked drains, our professional engineers work 24/7 and are only a phone call away.
Around 50% of people who make a new year resolution will have broken it by the end of January! Sound familiar? So, what's the secret to keeping them? Apparently a good way to ensure you stick to them is to share your resolution with others or tell people on social media and the peer pressure to stick to them will help you succeed.
So, take a good look at your property and remember to call us on 01582 666543 if you need any help!
Here are a few things to be particularly aware of when any drops in temperature signal the start of colder weather…
One of the most obvious problems caused by cold weather is frozen water pipes. Should this happen, the best way to solve this temporarily is to use a heat source to thaw the pipe. A hairdryer or towels which have been soaked in hot water around the pipe will help restore water flow. You can keep the ice at bay by wrapping some tubular insulation around the pipework, which can be purchased from any hardware store for very little cost, then give us a call to take an expert look for you.

Ensure any guttering, downpipes and drains are clear of any debris such as leaves and silt before the cold sets in. Metro Rod can give you a hand with your guttering using our MetroVac technology, which you can read more about here! Piles of leaves and silt can freeze over and cause a blockage when the frost comes, so best to tackle it before then!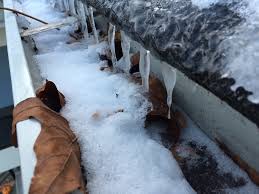 Call in our team of local drainage experts to undertake a FREE assessment, ideally before the cold weather sets in and we will make sure you then get the help you need from our engineers to clear your home or business of any blockages. Winter is also the time of year you need to avoid pouring fats and oils down your sink/plughole. These can freeze against the walls of your pipes and restrict water flow. This will eventually block the pipe all together. Should this happen, you can pour some hot/near boiling water down the plug slowly in short bursts to break apart the frozen fats/oils, but remember, it's best not to pour fats and oils down the sink at all but to leave them to cool and pour them into a container for the bin.
Whatever your winter issues, (new year's resolutions or not), we are always here for a friendly, no obligation chat –  you can call us on 01582 666543.
Metro Rod Bedford are your one-stop shop for drainage and plumbing solutions across Beds, Bucks and Herts.  Areas we work in include Milton Keynes, Dunstable, Bedford, Luton, Watford, St Albans and Stevenage. To find out more information on our specialist services, along with the rest of our full range of drainage solutions, you can see our services page here.
For up-to-date information and news surrounding the world of Metro Rod Bedford, you can follow our Twitter page here, and Like us on Facebook here.
For queries relating to blocked drains, clogged up gutters, frozen pipes, CCTV surveys, or any other drain care and repair services, call Metro Rod Bedford on 01582 666543, or email [email protected]
Metro Rod Bedford and Milton Keynes – always professional, always on call, always on time!