We are fully committed to servicing all customers in the current circumstances. Our engineers are working hard 24/7 to support all domestic and commercial customers.
Fats, Oils and grease are a huge problem in the catering industry causing blockages in sinks and drains even leading to the dreaded fatbergs! We can help with Grease!
Nearly half a million tonnes of Fats, Oil and Grease will enter our sewage systems every year and will inevitably cause blocked drains. Grease forms a sticky layer when put down sinks or drain pipes, this layer builds up, causing blockages. F.O.G will damage wastewater equipment leading to costly repairs. If these elements reach natural watercourses they will damage the environment you've heard of Fatbergs right?! Oh and boy do they stink!!
F.O.G management in commercial kitchens should be adhered to within the food service – implementation and maintenance of these systems are highly recommended to avoid costly repairs in the future.
What is a Grease Trap?
Restaurants and commercial kitchens produce lots of waste in the form of fats in the cooking process and these fats will be present in drain lines, sinks, dishwashers and ovens. If not removed successfully from a drain line this will cause the build-up in sinks and drains as discussed above and will lead to blockages.  A grease management system is called a grease trap, they are designed to intercept these fats and solids before they enter a wastewater system and cause blocked drains. These can also be known as grease interceptors, converters, catchers, grease recovery/management devices or FOG traps.
The following diagram shows how a grease trap successfully traps F.O.G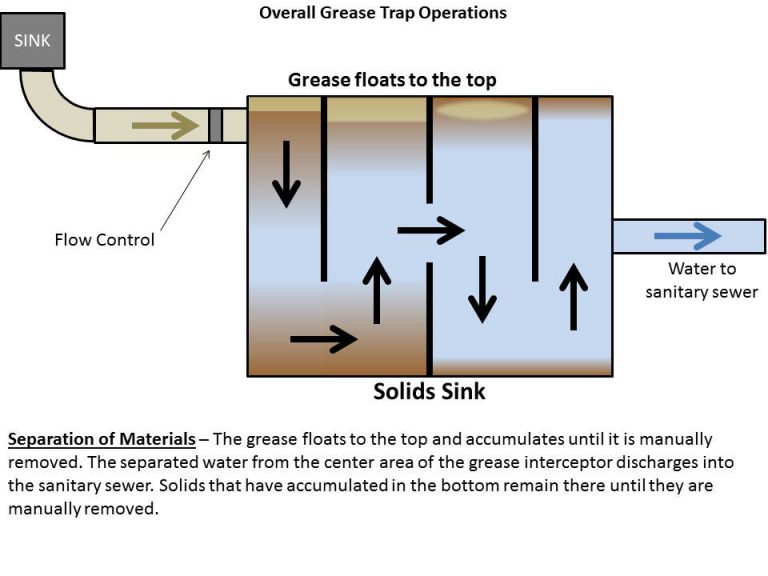 Grease traps are used in a variety of kitchens such as hotels, cafes, bakeries, restaurants, schools. pubs and takeaways in the Cambridge, Royston, Cambourne, Fulbourn, Newmarket, Kings Lynn, Thetford, Brandon, Downham Market, Bury St Edmunds, Hunstanton and Red Lodge areas.
The Importance of Maintenance
It is important to clean out grease traps on a regular basis. Over time, solids and grease build-up, accumulating to the point they can flow back through the inlet causing blocked drains. This could mean a blocked sink or a blocked drain in your commercial kitchen – imagine that happening at your busiest time of the day or indeed the busiest time of the year! We can arrange to keep your grease trap in top-notch condition with a pre-planned maintenance package, this would involve an agreed pre-planned schedule depending on your business to frequently empty and maintain your grease trap.
Metro Rod Cambridge can work out with you the optimum time to empty your grease trap, this can be from 3 months to 12 months depending on the tank and the usage. This can be adjusted at any time to suit your business and can be arranged at the most convenient time in order to cause the least amount of disruption to your services.
Examples of Blocked Grease Traps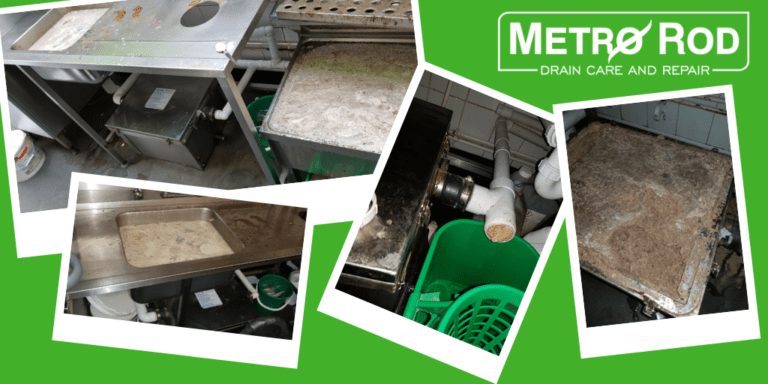 Don't have a grease trap?
Please get in touch and let us know how we can assist you with either a grease trap installation or grease trap maintenance. We install grease traps as well as maintain them so can offer your business a complete package, tailored just for you!
Get in touch with one of our friendly team on 01353 650947